2014 has clearly become the year for running. After a productive morning sorting out paperwork at home I treated myself to another attempt at Dusk 'til Dawn 50, an entry for Oakley 20 and paid for my place at the Great North Run in September after having to defer my place last year. Ashby 20 in March was already booked up… I'll have to email the organisers closer to the time and see if any places have become available.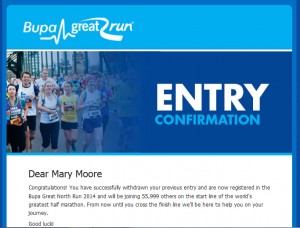 I posted about my race sign ups on Facebook and a friend from my uni days commented back to say that she has been running for the past few months and had just applied for a ballot place at the Great North Run. I made her aware of the Parkruns and I think she'll be heading to some of those soon as well!
At club tonight there were even more people than last Thursday. Last Thursday saw 20 runners in Group 5. Tonight there were 23! I was chatting to a couple of runners at the back when we came down to a walk and I noticed that the runners were circling around a grassy triangle in the walk. It wasn't until then that I realised we were doing a 1k rep session and we'd already completed the first rep. I'd just casually been jogging along at the back chatting to Kev about the Country to Capital race he'd run at the weekend and had missed all instructions about pushing it for a kilometre!
Rep two and I thought I'd give it a bit more of a push but on a single track pavement and starting from near the back I just couldn't get past anyone with that many people there. Reps 3,4 and 5 were the same. 23 people is too many to attempt a speedwork session! Rep 6 though I managed to break free about halfway round and completed the rep in around 8mm pace. I concentrated hard on making my feet turn over quicker rather than anything else and felt really strong again. Two strong runs back to back after my great run yesterday, can't be bad!