So for the last fortnight I have been a bad teacher. I haven't really planned my lessons, I don't know how the day is going to go, I've literally just gone with the flow.
It's mock exam season at the moment and so our ten year elevens have been sitting their exams, along with three of last year's year elevens retaking theirs. Last Wednesday I turned up to school fully geared up to get my classes engaged in learning only to be told there was no one to moderate the English exam and could I sit in?… Fully unprepared to moderate I had nothing with me to do. I managed to find a pen in my pocket so doodled out some web designs and blog ideas on some of the extra time paper, but it was a very boring two hours! I moderated four exams last week and this morning I was in the hall again.
As a state school teacher there are lots of ways to entertain yourself in large exams… For example, the Pacman game as you walk up and down the aisles of students. I won't go into game details but you can probably work out how it's played! But to sit in complete silence in a hall on your own with ten kids you are limited as to your options.
I've always said that to be a good teacher you don't have to have amazing subject knowledge. All you really need are two qualities… The ability to think on your feet, reacting well to changes in situation and to be organised. The two can contradict each other sometimes. I haven't organised any formal lessons for my classes for the past two weeks as they have been so up on the air. I've even been taken out of younger classes to go and moderate. It's very frustrating! Can't wait to return to some sort of normality!
Day 15 of Janathon today. I still can't quite believe that we're halfway through the challenge and I have exercised every day of 2014, and also blogged about it!
Tonight was my regular Wednesday night trail run and the five of us managed to cover just under seven miles after work.
I started out severely lacking in energy and it took a little while for me to get into my groove tonight. I blame this entirely on my choice for lunch. I was after something quick and easy that I could take out onto the playground and ended up with a Cuppa soup. I didn't expect it to be very filling as I used to have Cuppa soups a fair bit when I worked at the stables and was always starving afterwards. They always ended up as flavoured water. This packet was amazing though, – really thick and filling. It was the potato and leek flavour and nice and chunky.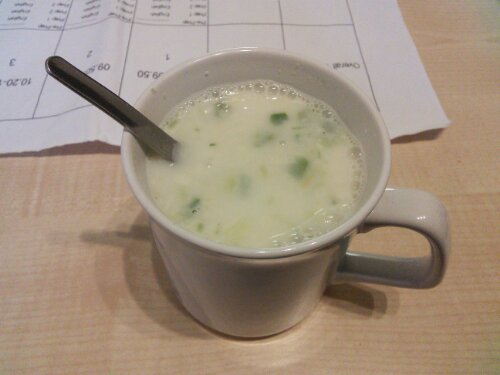 However it wasn't enough to run close to seven miles on tonight and I won't be having it for lunch on a running night again!
The mud on the field tonight was that tacky kind of mud. The stuff that adds to the bottom of your trainers and leaves you several inches taller than you actually are. By mile three I actually felt as though if a molehill appeared infront of me I wouldn't be able to lift my legs high enough to jump over it! My legs were so heavy. There weren't so many puddles this week though so no repeats of last week's Vicar of Dibley reenactment thankfully!
At mile four we crossed through a field with horses. I've always been a horsey person so this wasn't too much of an issue for me but at this point the girls shot off up ahead for fear of being chased! At our practice Shires and Spires run in the Summer, Kev actually clambered through a bramble filled ditch and over a barbed wire fence to avoid a horse that had been spooked by us coming past. Luckily the owner was in shouting distance at the time and held the horse for the rest of us as we passed through, whilst it continued to rear up and squeal! It's cows that I'm wary of after hearing about several charges and one severe trampling of a guy in our club.
Which animal makes you quicken your place when out for a run?…