This morning was a struggle getting out of bed. My alarm went off at 6:00 and although I didn't go back to sleep I rolled over and groaned a lot before getting out of bed at 6:35.  This is very unlike me.
On a Wednesday and Thursday things get crazy as these are my busiest and longest days of the week.
I'm up early to pack my bag for running and get some core training in.  Then I let the cat in, grab a quick shower, then let Bella roll around in the bath in the remaining water (she is an odd cat!), feed her and chill out doing nothing for 5mins before facing the traffic to work at 8am.  I teach all day, staying at school until 5:45 before I head to the Tesco toilets in town to get changed for run club in a small cubicle and then meet the other runners at 6:30.  I go for a 1-1h30m run and end up getting home for 8:30.  Next up is making the tea which we tend to finish eating by 9:15 and since the start of the year I've also been managing to blog before bedtime.
Tonight it was raining so hard and the traffic heading into town was so bad I ended up queuing past the time that I should have been at club so continued driving and ended up back home by 6:45 giving me a chance to make some tea for us both and sit down with Dan in the lounge, which I am pretty sure he appreciated.  He's had a lot of hassle with the aftermath of his car crash on Monday.  He was given a courtesy car initially but they have decided that the value of his car is less than it would cost to fix.  Because they have made a decision about his car they now require the courtesy car back tomorrow, even though he is yet to receive any compensation to purchase another car.  We have been warned that when he does receive compensation this may be as little as £200…barely any money at all with which to buy another car!  So, although he was not in the wrong with the crash he lost a day's work on Monday, spent Tuesday evening filling in paperwork for a courtesy car and with the police, spent hours on Wednesday and today on the phone trying to sort out when a decision about money and cars would be made and this weekend we will have to head out on a car hunt at a cost to us for buying another car!
The world can be a very unfair place!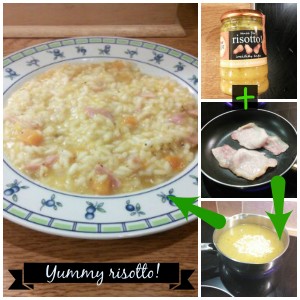 Guess who has just discovered PicMonkey?!  I have fallen in love with this risotto sauce just lately.  It's the Butternut squash flavour and the only risotto sauce in a jar I've ever found in Tesco.  It's nice and easy as a quick meal to make (15mins ish) and it makes enough that I have some for lunch the following day as well.  We had some left over bacon from the weekend so I chopped that up to cook in the sauce as well.  I discovered the magic of using kitchen scissors on meat this evening.  Normally I struggle with a knife and end up sawing the meat to bits.  Never thought of using a pair of scissors before, but a couple of snips and I had lots of lovely bacon chunks in the meal.
I discovered when I got home that Roger Lloyd-Pack had died today.  I love both the Vicar of Dibley and Only Fools and Horses.  This makes me very sad.  He actually lived quite close to my old school in Norfolk and people would often see him out and about.
Just after Christmas whilst ebay were running free listing on their website I listed bagfuls of odd clothes, some books and bags.  The last of the buyers paid up yesterday so as one of my students (in a class of one!) didn't turn up before lunch I asked my year 11 girls where the nearest Post Office was.  This is what I got…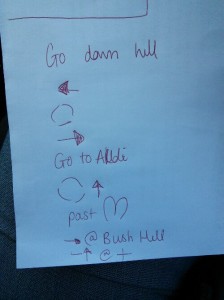 (The big M was for McDonalds!)  Luckily, their directions did get me there, in seven minutes infact so I picked up a more filling lunch than yesterday (chicken and bacon salad) and some Christmas chocolates for 25p for the girls to thank them for directing me safely.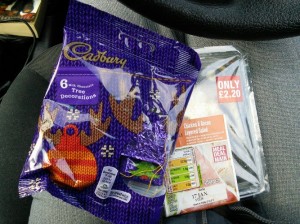 On Monday I decided that I was going to try some of the 30 day challenges that have been going round on Facebook.  Just before I got injured in November I found 30 day Plank and Squat challenges, which I was then unable to complete due to my stupid foot injury!  This time round I wanted to add a couple more challenges so found some 30 day Push-up and Crunch challenges too.
I have to say, four days in and I'm feeling worked, but definitely stronger already!
Gah.  Just reread this post.  Possibly the most unstructured yet.  That is how my mind is working today.  Incredibly tired with lots of thoughts about different things rushing around in my head!  I shall hopefully return with a more structured post tomorrow!