This morning was the first of the Wellingborough multi terrain series races. There are three races, each a fortnight apart and you can choose to run either 5k, 10k or 15k at each one.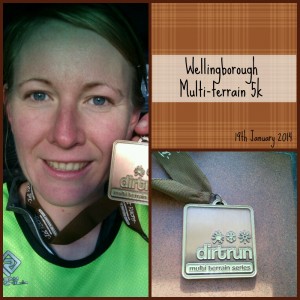 Our club runs a trail series competition over the course of the year and all three of the Multi-terrain races count towards the championship. Today it was the 5k that counted, the next one it is the 10k and the last is the 15. I've never run a 15k before so it will be a guaranteed PB for me that day!
Today was the 5k though, the distance I am always most nervous about. You have to get everything spot on first time when running a 5k. From the second the gun goes you've got to be alert and running at your best. There's no time to come back from mistakes like there is in a marathon. I've never run a 5k with chip timing either. Even though I'm not the fastest runner by any means I'm still incredibly competitive with myself and like to see evidence that I am improving. 5k is without a doubt my least favourite distance and the one I'm most likely to work myself up over!
These races are different though. Not only do the multi terrain series rely on speed, they also rely on tactics…Directly through the mud which is bound to slow you down and potentially slip you up or queuing behind others wimping around the edges?… I'm a through the middle kinda gal every time!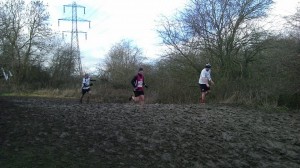 I arrived pretty early as I had planned on entering on the day. Very glad that I had chosen a long sleeved top under my club vest. It was lovely in the sun but standing around for 45 minutes before heading to the start meant I resorted to jumping up and down for warmth in the end.
As these races are on our club's doorstep we had several running for Wellingborough today. Two in the 5k, five in the 10k and ten in the fifteen.
All runners start off together as the race is run in laps. There were 489 runners out there this morning and it was a lovely day to be out for a run. Sunny, a little breeze, no rain and not too cold. I positioned myself somewhere towards the back and set off steadily, knowing that the first sharp bend was the muddiest bit and with about 350 runners infront of me was going to soon get even more slippy!
I ploughed through the middle, barely slowing my pace and overtaking at least 25 people as I did so. I don't think a single person passed me over the whole distance but I happily got into a rhythm of spotting a person in the distance, steadily catching up with them, letting them pace me for a few seconds and then passing them and moving towards the next runner.
I really enjoyed the whole race, even the massive muddy hill about a mile in. I'm pretty sure this hill claimed a few casualties in the mud and I saw several people walking by this point. The hill is about 200m (ish) of pure mud with a pretty steepish gradient. I'm glad I ran it several times when out on the training runs as it gave me the confidence to power up and pick off several more runners on the way up. I'm always stronger going uphill than I am down. Very thankful of my long legs and stride on these occasions.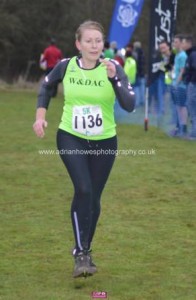 A rare nice race photo of me, although I look like I haven't put in enough effort here!  This is the grassy finish.  It was nice to be able to pick up a little speed along this straight.
I was actually pretty disappointed when I turned in for the finish. I could easily have run for several more miles (clearly should have pushed harder over the 5k!) But at least it did give me a chance to support some of the rest of the club coming in and chat to some of the supporters. It was very cold hanging around for another hour and a half though! I was physically shaking by the time the last runner came over the line and jumping up and down to try and keep warm. I didn't want to leave and miss anyone though! Our club always hangs on until the last runner is over the line. This is something I really love about the club. One of our female vets made it into first place on the podium as well so we stopped for prize giving.  They even gave out an award for the muddiest competitor.  I saw a few people come through the finish with a dividing line of mud along their body and face!
It's been a little while since I got my last medal, (Mablethorpe marathon at the start of October) and today's medal was a nice one for the collection!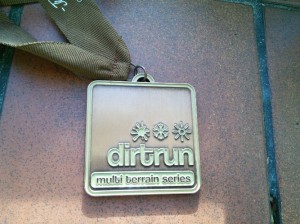 I also managed to pick up some free gels and bars to try…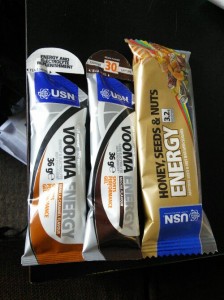 My official finishing time was 31:50. My current 5k PB is 26:55 so considering the conditions on this course I'm relatively happy with my time.
Overall position: 79/146
Gender position: 38/87
{Today is day 19 of Janathon and my fifth run of the week for Jantastic!}