As a runner I started out trying my absolute hardest on every single club night, running my heart out desperate to prove myself and get to the front of the group, eager to be moved up as soon as possible so that I may progress further. The past few weeks I've run at the back of my group. By choice.
The last six months have been so good for me (not for injury!) but in helping to recognise that I don't have to prove myself to anyone but myself. Times on a club night don't matter. Club nights are best used for me to run with others which wasn't always something I had a chance to do in the weeks before. Tonight I flitted between encouraging the back runner on, to chatting with a group in the middle of the pack to being right out front with the coach. Plenty of variety!
This Saturday I am headed to Ferry Meadows Parkrun in Peterborough with Dan and our friends Vicki and Alex (both non runners). Dan plans on running round on his own and trying to beat his previous 5k time. I plan on running with Vick and Alex to encourage them round the course. This would have been such a hard thing for me to do a year ago. I would have had the mindset that I wouldn't want others to think I had slowed down but now, I don't care. They can think what they want. I run for me. I know my body is strong enough to get round an ultramarathon. I want to help others enjoy the sport too.
Anyway, 'the lazy runner' actually refers to my legs. Or more specifically how lazy I've become with shaving them! When I first began as a runner I wore nothing but full length tights. Gradually I upgraded to three quarter lengths, and shaved the bottoms of my legs religiously before every run. This Summer saw me frequently running in shorts and due to my Operation Ultra training I was shaving six days a week before runs. I was running so much more.
This week I've not once wore full length tights and not once shaved my legs. I got Dan to do the hair-test from a distance, seeing if he could spot that they were partly hairy and at the same time knowing that we would be running in the dark on Tuesday. He couldn't detect a single hair so they have been left for a few more days before their destruction. Tonight's run was seven miles along a very hilly route but I really enjoyed it. I could feel how tight my legs were when stretching afterwards though! As long as no one managed to spot how stubbly they were!
Before heading to work this morning I laid out some uncooked pasta in a baking dish, mixed in some chicken, and left it in the oven, with a pot of Homepride tuna pasta bake. Now I don't actually like tuna but I can just about tolerate it.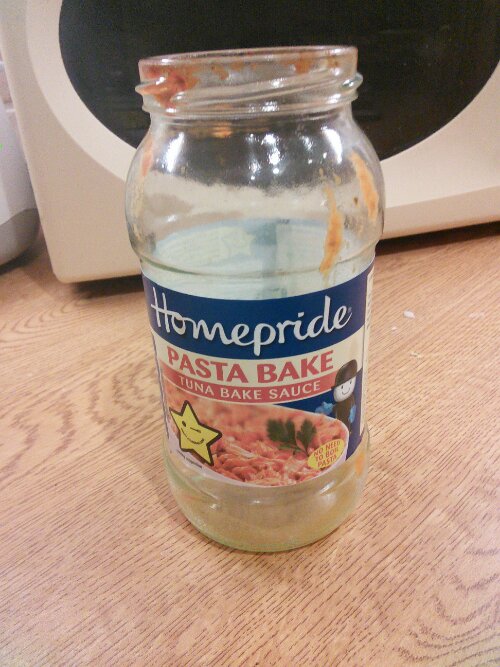 Fact: Tuna pasta bake was the first meal Dan 'cooked' for me three weeks into our relationship. I'm pretty certain I've never eaten a meal so slowly and managed to hide my gags so frequently! It wasn't until months afterwards that I told him for my dislike for tuna and he told me felt really bad for feeding it to me!
Anyway, I asked him to put in the pasta bake so that it was ready when I returned from club this evening. Excellent, he times it perfectly. I slightly screwed up my nose waiting for the tuna taste to hit me but knowing that a) tuna was good for me and b) the jar needed eating up out of the way in the cupboard. The taste never hit me! When I checked the back of the jar it stated that you just need to add the jar's contents to a tin of tuna and cook with pasta for results. Surely that just makes this Tomato pasta bake instead?!