…No different to any other Sunday then!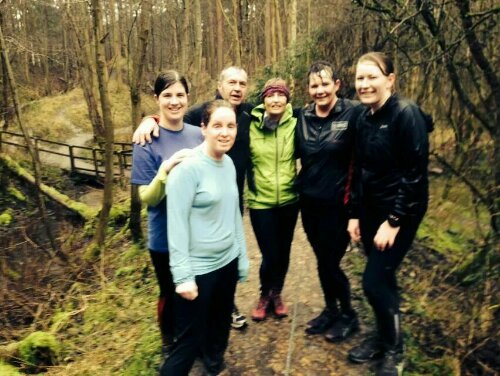 This was us about seven miles and ninety minutes in. After squelching through lots of mud and running up and down lots of steep hills. Kev treated us all to a hot chocolate afterwards and we spent half an hour trying to warm up in the park café before heading home and being insanely embarrassed by how muddy we were! For the first time though, my trainers are not covered in inches of mud. That'll be the ankle deep puddles we were constantly running through then! The rain was good for something at least!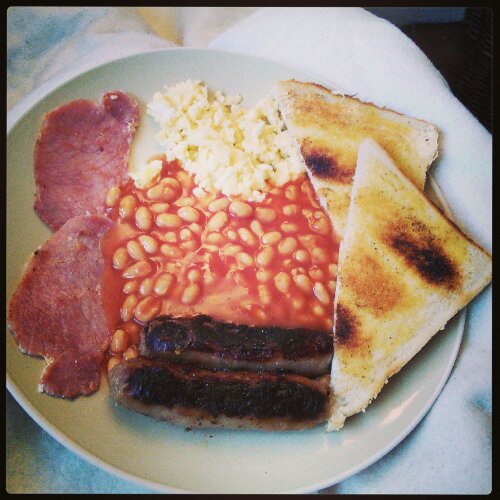 This was the breakfast that Dan cooked for me on my return. I'm not normally one for cooked breakfasts, I don't really like bacon but this was just what my body was after when I returned from the long run soaked through and shivering!
Since Christmas I have become rather lazy on the weekends. Working from home on Mondays and Tuesdays has meant that I have been able to relax a little more than I used to. It's been nice to spend some extra time with Dan each week whilst still being able to get things done.
However, it looks as if that is all about to change. On Friday the headmaster at my school asked me to up my working days to four and i also received a phone call from the estate agent to say we had had our offer accepted on a house a few miles away. The house needs quite a lot of work doing to it… We would like to knock through the existing utility and kitchen into one, extend on the side to include an office, downstairs loo and rip out a hedge which currently splits the large garden in half. The house has lots of potential but will also mean a lot of hard work and money spending this year. Alongside preparing for our wedding I think there is no better time for me to up my hours at school!