I was inspired by Anna's slow cooker meals post to pull out my own slow cooker from hibernation underneath the worktop last night…
I only have the basic Argos slow cooker which my future Mother-in-law bought for me a few years back but it had never properly been tested out until today.
I eagerly hunted out a few recipes at www.corriecooks.com before bed last night. My worry in the past has been how long I'm away from home in the day. Although I often don't leave for work until 8am nowadays. I'm normally at work until six and then stop off in town for a run with friends on the way home. Meaning some nights I'm not home until 8:15pm! Dan is often back by six though and I figured it must be pretty hard to burn something in the pot on low! (Crossing my fingers tightly here!!!)
I defrosted some chicken pieces overnight and after a quick dash to the Co-op when they opened for some cheese I threw the following into the pot…
-Half a pack of chicken pieces
-Half a pot of cheap tomato sauce
-Half a pot of Philadelphia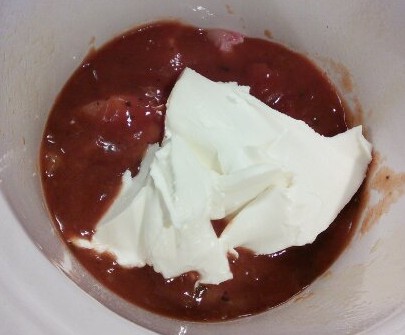 All day I had dinner on my mind and rushed home from work with a pack of tortilla wraps and some sour cream.  I was a little worried that the chicken would have been in the pot (allbeit on low) for more than ten hours but I returned to see this…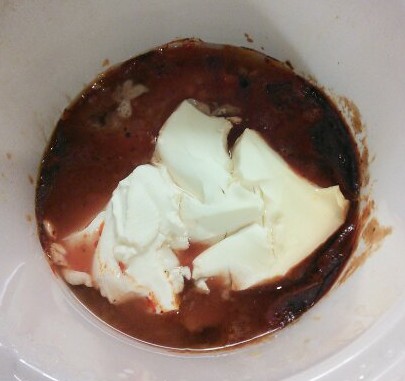 …pretty much exactly what I left in the morning with a few darker patches around the edge!  Although concerned it hadn't cooked properly, or there would be burnt patches, after a quick stir and pull apart of the chicken pieces the mixture turned a beautiful orangey-brown and smelt delicious!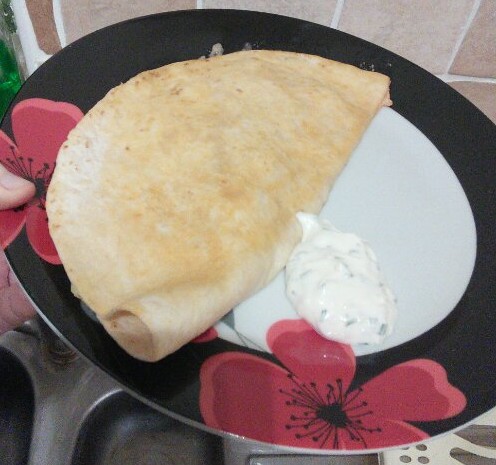 I realise this is a rubbish picture where you can't see the creamy colour of the chicken, just the bland colour of the tortilla but I was too excited and spooned it into the wrap with some grated cheese to melt and hold it all together.  Great with a side salad and some sour cream!  I love trying new food. 

  I have neglected food experimentation for too long!
I had a great run after work last night with four guys and a dog from club.  We ran 6.6 miles of trail, – mainly over fields which were a lot drier than I originally thought they would be.  They were still wet enough to suck one of our runners upside-down into a puddle though!  It was relatively warm last night and I surprised myself by running in a short-sleeved top and staying warm for the whole run.  I literally wore the big jacket I took to New York until the second our run began as I feared it would be so cold!  I was due to head to club tonight but for several reasons I decided to set my alarm for the morning and head out early instead.  (Not seeing Dan much this week, missing my alone runs, wanting to try out my slow cooker creation…!)
Are you a morning or evening runner?  I'm normally an evening runner but I love heading out in the mornings when it starts to head towards Summer and gets light.
What other all day slow cooker meals are out there for me to experiment with next?!