Yesterday I marshaled at checkpoint two for one of the Go Beyond ultra races-the Thames Trot 50.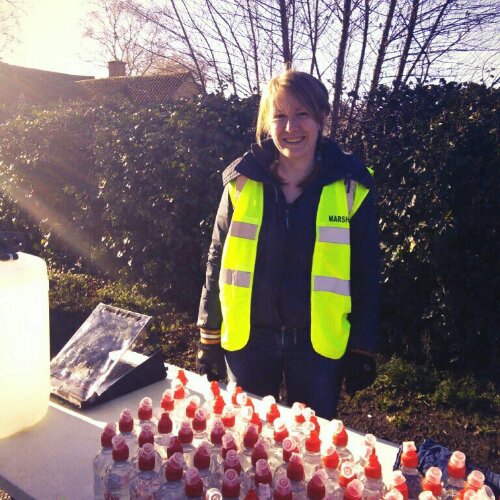 The Go Beyond races are designed by Steve Adams, a Wellingborough & District AC runner, with two other runners from our club also employed to help run the events. The only Go Beyond event I'd run before was the Shires and Spires 35m last year, which I shall be having another go at in June. After yesterday though, I'd also like to try the Thames Trot!
I was down to marshal at checkpoint two with two other runners from our club so we left at 8:30am to travel the two hours down before setting up. Set up was relatively easy, plonk a table in place, get the water caps undone and get the record sheets out ready to write. We were told to set up by eleven, but it's a good job we got there early as the first runner came through at 10:43, running a sub 6mm pace!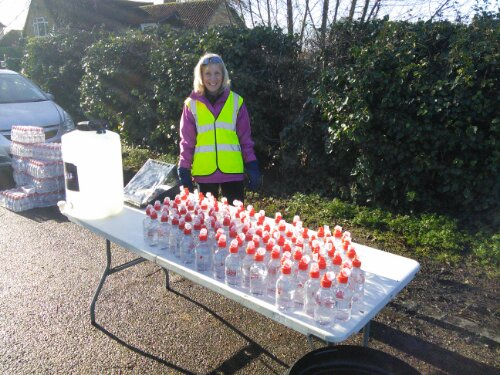 We had quite a cheer squad of supporters at the end of our road.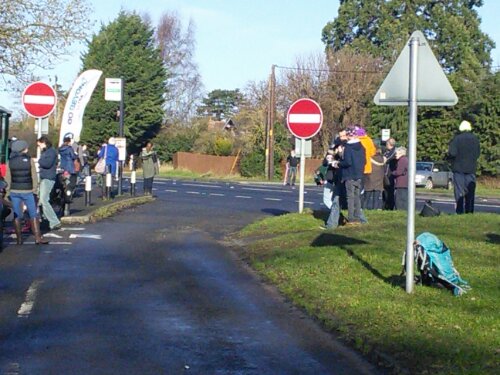 As runners came through Paul would ensure they tagged their chip against the electronic device and then shout out their numbers to me. I would shout the numbers back and write down their time next to their number on the record sheet incase the electronic system failed. Sally would then direct the runners on the next bit of their journey and help fill up water bottles, undo gel wrappers, and anything else people needed help with after running sixteen miles.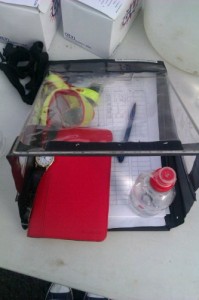 Most runners moved through quickly, although some stopped to change socks or shoes. Everyone was covered in mud already and they still had more than a marathon to run!
The team had forgotten to drop off food at our checkpoint so about an hour after the front runner had come through the van returned with fruit cake, packets and packets of jelly babies, a variety of gels and some salt tablets. These were much appreciated by everyone still to come through!
It wasn't long before I spotted Anne Marie, one of the other Operation Ultra winners from Women's Running last year. She'd told me on Twitter that she had gotten a place so I'd been looking out for her to come through. She was doing really well and I managed to grab a quick chat with her between frantically popping the tops off of water bottles. (My thumb has never been so sore as it is today!… Thankfully I don't need my thumb to run so shall be racing later this morning!)
Next through was Sarah, who I've been talking to on Twitter for ages now, and reading her blog since she was chosen as the Runner's World ASICS Target 26.2 runners. But we've never met. Obviously we used the brief opportunity to get a photo for Twitter/blogs!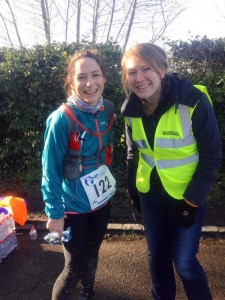 (Sarah's pic)
I felt like I knew all the 'celebrities'! 😛
A group of four came through at 1:17. We were supposed to shutdown the station at 1:00 initially, but the race had started fifteen minutes late due to all of the course changes they'd had to implement as parts of the route were completely flooded. We called through to find out if there were anymore runners left to come through and were told there were still two more out there on the course. Howard arrived with the Go Beyond van and we loaded everything inside. I took my phone and walked ten minutes in the reverse direction along the course to see if I could spot them, but no luck. We left Howard to try and call them to find out where they were on the course or if they'd dropped out and Paul, Sally and I headed to the finish, along with one of the two guys who had retired at our checkpoint who we were giving a ride to.
Just past our checkpoint was a sign saying 13 miles to Henley. Must have been so depressing for runners to read, knowing they actually still had 34 miles to go!
We got a little lost getting to the finish line ourselves and eventually spotted the second place runner coming through the town who we then followed through to the finish line. He came in eighteen minutes behind the winner, who took just 5h 23m 16s to complete the fifty miles! I recognised the guy in second place as Ed Catmur – the guy that had won Milton Keynes Marathon last year.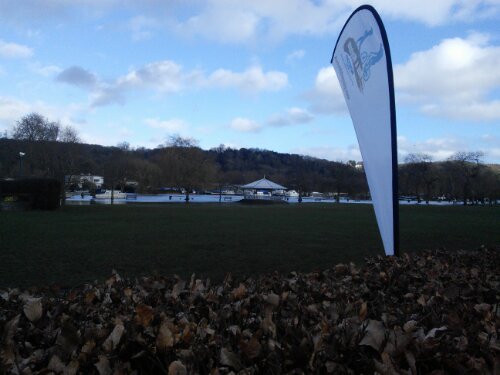 The field behind the finish line was so boggy and flooded and the river was moving so quickly. The water had actually risen and come out past the bandstand by the time we left.  Apparently it was pretty flooded throughout.  As people had gotten to us at Checkpoint two (mile 16) the majority of them were caked in mud well past their knees!)  I'm not sure what mile this was at, but check out Sarah's picture mid-route that she posted to Twitter earlier today…!
I was given the task of hanging medals around runners necks as they crossed the finish line, which I loved. I loved seeing their faces as they completed the race and hearing tales of their adventure.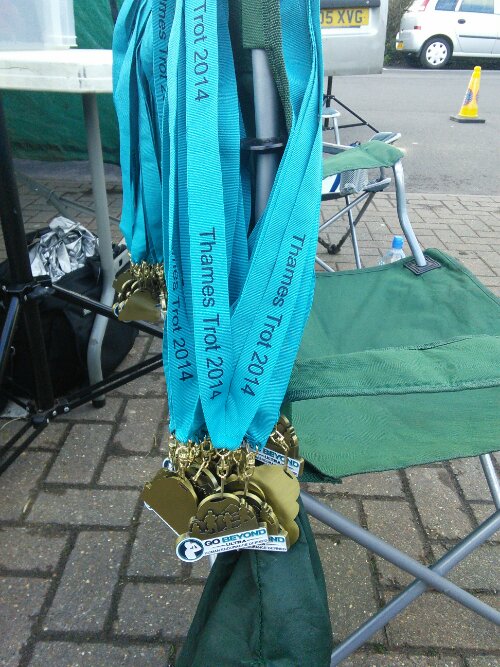 We had lots of banter happening and a pretty nifty chain going on. Runners would have their photo snapped, then I would swoop in and place a medal around their neck, congratulating them on their race whilst one of the two guys in the timing tent would take off their chip and return with a printout of their time. I would then point them in the direction of baggage and hot drinks. Most of them walked off in that general direction but some of them were hobbling and looked to be in excruciating pain. I offered my chair up on more than one occasion. When we headed back later I realised I hadn't actually sat down all day other than the brief car journey from checkpoint two to the finish line. I was so caught up in everything that was going on!
One runner hugged the photographer, then me when I placed the medal around his neck and I thought he was going to knock me over when he put his whole body weight on top of me!  There's going to be some fab photos sent out soon.  Check out these, that @Bubblegraphy posted from the finish line… Pic #1 | Pic #2
It was very frustrating how many runners would finish and then go and stand in the finishing chute! They had just come through, they should know other people needed to do the same!!! At one point a lady parked her rather large pram directly in the middle of the finish line! Do people just not think?! We also had several cars appear to try and take runners out as they gave their finishing sprints for the line.
We had to be on our toes as many of the runners were getting lost towards the end of the race and at least four or five came through the finish line the wrong way! We then sent them back through for their finish photo as all runners that completed the event were sent a free race photo.
I was so disappointed to be taken off the finish line at 6:15. None of our Welly runners had come through yet and I'd hoped to put at least one medal around a WDAC neck! As I was sharing a lift back though there wasn't a lot I could do and as I got in the car I realised just how hungry I was and tucked into the mix of items I'd picked up from the deli in Tesco that morning.  I did get to see Anne-Marie finish though, and placed a medal round Sarah's neck just before the clock turned over to 9 hours.
I loved my marshaling experience and chatted to so many people throughout the day. So many people thanked me on the course, after they had finished and later that night via Twitter. The running community really is a great one to be part of!
A MASSIVE WELL DONE to everyone that attempted a very tough course in very tough conditions yesterday!  I'm looking forward to reading some recaps of the race.