Firstly, some more pictures from the Thames Trot that have popped up on Twitter…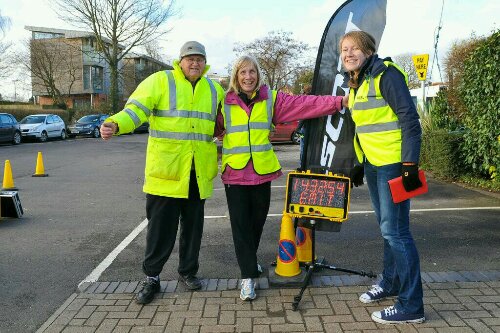 Waiting for runners on the finish line with Paul and Sally. @bubbleography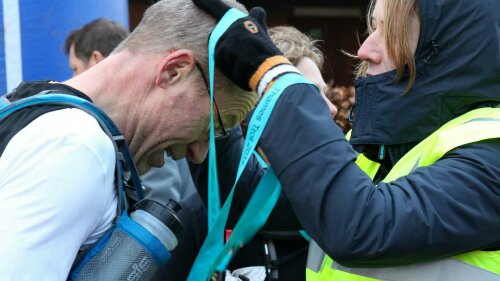 The best bit of the job… Placing hard earned medals around runner's necks. Whoops for having the Wolves gloves on show here! @apexsportsrun
On Sunday I was racing again in the multi terrain series over at Irchester Country Park. There are three races over six weeks and you can choose to run 5k/10k/15k. A fortnight ago I ran the 5k and this time round I gave the 10k a go.
I was running a little late in the morning (as always) but knew I wouldn't make it to Irchester without stopping for petrol so told myself it would have to be an F1 pitstop style topup.  I did it in three minutes.  Pretty sure that's longer than they do it in F1, and they have tires changed too, but I still impressed myself!  It involved tying one trainer whilst waiting for the petrol to filter into the car and tying the other trainer whilst waiting for the credit card payment to go through!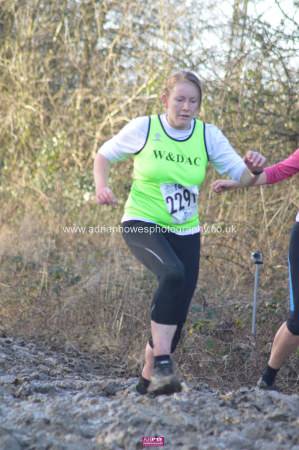 It was much muddier than the last round with a bigger bottleneck at the first muddy section. Luckily with all of the mud running I've been doing in training I wasn't phased by the mud and ploughed through the middle of most sections, whereas many runners were picking their way around the outside of bad places.
Most of the route was dirt track, although several places were covered in sticky, deep mud. There were also some sections of grass, gravel and tarmac, so we had a real selection!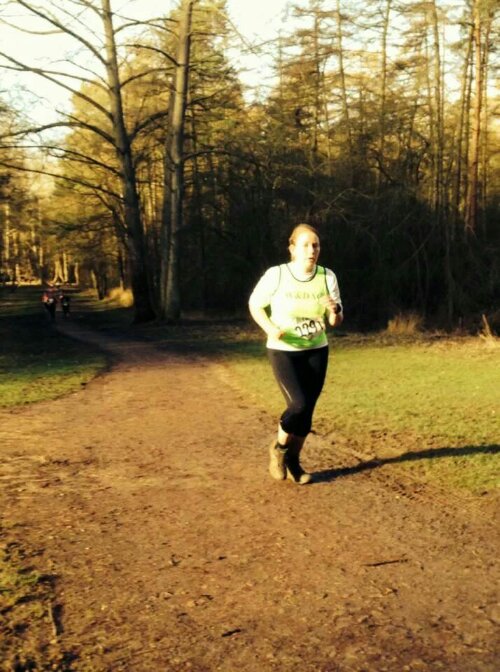 I've decided that the reason I don't take a good race photo is because I'm always working so hard during the race. Anyone that takes a good race pic clearly isn't trying hard enough!
I was much happier with my race than I thought I would be. Two weeks ago I ran the 5k in 31:50, a time five minutes slower than my PB but over a hilly, muddy, bottleneck course. On Sunday I managed a similar pace for the course despite the extra distance and my official finishing time was 62:53.
Overall position: 94/112
Gender position: 33/43
My 10k PB is 58:35 but I hadn't raced a 10k since my very first few months of running at the end of 2011. I'd like to see what time I could get in a road 10k this year.
And of course I got myself a shiny new medal which matches the one I got a fortnight ago!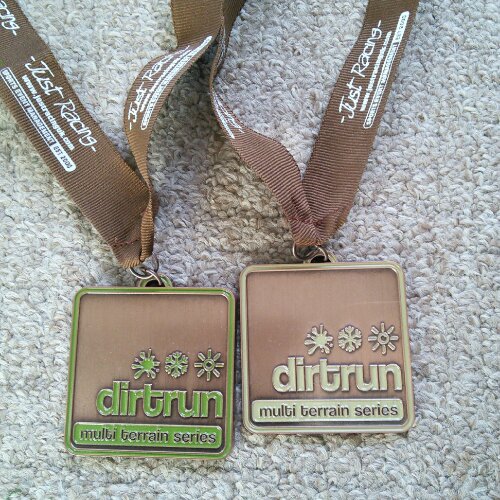 Although the medals are lovely it's a shame they are exactly the same (the one on the left isn't green, they're both gold, it's just the way the light is hitting it). I like to know exactly which medal I received for which race, especially if they were over different distances.