I'm not gonna lie.  I've felt a little bit out of my depth just lately when it comes to long runs.  My last few long runs have been pretty disastrous to be honest.  Many walk breaks and a constant red face was how I had come to assume they would continue.
And then on Monday night I boldy decided to organise an hour long group run for the Group 5 and 6 runners from club DIRECTLY AFTER an hour and a half run I had planned with Hayley.  The result?  A super easy 12.56 miles on a Monday night after work!

I felt super strong from the beginning but didn't dare say anything to Hayley for fear of jinxing it.  (I'm the type of person that raps on my skull and says 'touch wood' frequently.)  After a few long days over the weekend involving very little sleep and snatched meals I hadn't had high hopes for the run.
It got dark pretty quick and several times we lept up onto the bank so that cars could pass, just to be on the safe side, even though we were wearing all our hi-viz and both had headtorches on.  On average we probably ran at a 10:15 pace when we were running and afterwards we both commented on how comfortable it had been, and how easy it had still been to chat away.
We got to town for 6:25, and within a couple of minutes seven other runners had joined us as I led us off along one of my favourite five mile routes. The wind was bitter now and I was glad of my long sleeve top! Running in a group is so much fun and we had some proper banter going on between us. I was still shocked at how great I felt when I took the group up two large hills to finish! The key is obviously to run slowly and steadily in a large group to keep your mind off everything!
If you haven't already checked it out, the new UKRunChat website went live at the weekend and it has an article of mine on there! A desire to inspire.
Lots of excellent bloggers have contributed for the grand opening of the website which happened on Saturday and reading through the articles has taken up most of my spare time this week!
The other thing I want to show you is this amazing find on Pinterest.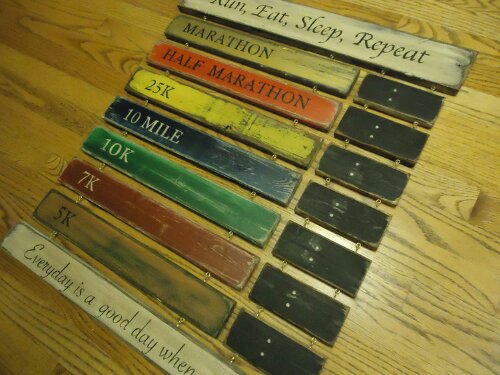 How cool would this be to display PBs?! Unfortunately the person I found it from hadn't pinned it correctly so I can't see where it came from. Any ideas? If I can't find out then this is definitely on my to-make list one day!