… in the bed that is!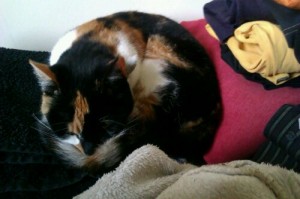 (amongst all the clothes here!)
Dan has been away in Birmingham all week on a course for work so Bella and I have been home alone since Sunday morning.  Dan doesn't often let Bella up to sleep with us at night, we've always tended to let her sleep in the lounge and shut the door from about 10pm, but as Dan's away and I'm lonely, I've been letting her up as a little treat!
She's pretty good and tends to sleep on the bottom of the bed by my feet…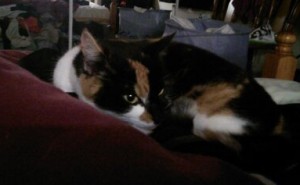 And she likes to have something of Dan's whilst he's away so I've been letting her sleep on his bag…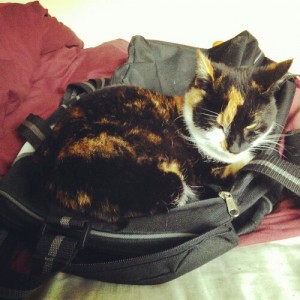 She's been guarding me from all the spiders on the ceiling…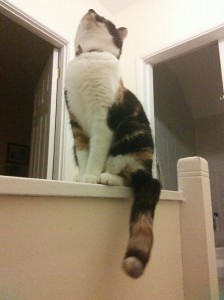 …still demanding baths in the morning…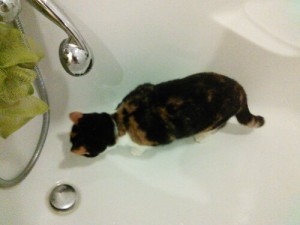 The second I get out in the morning, she's in the bath and rolling around in the water…odd cat!
And when I wasn't feeling very well the other night she snuggled up to my face…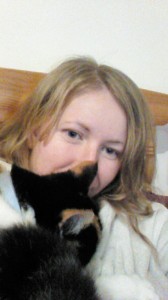 There hasn't been much sun, but when there has been, she likes to get it from a prime position…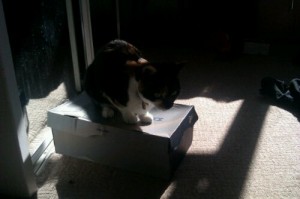 …and today she wouldn't even leave me to go outside when I got home…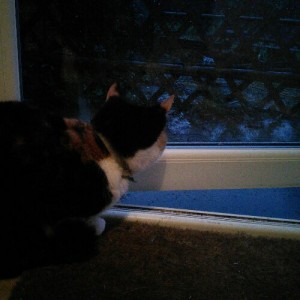 (Mainly because it was pouring it down outside!)
Anyway, in non-cat related news…(!)…I headed out on a six mile trail run last night where we drastically had to rethink our course when we heard trees cracking in the wood next to the field we ran through!  Kev was so busy keeping alert for any trees that might fall he landed smack bang on his butt in a massive muddy puddle!  We'd already had to climb round several fallen trees and there was some pretty loud snaps that spooked me quite a lot.  Despite my speed beginning to pick up again recently, I doubt I could outrun or dodge a falling tree!  Sidenote: My brother was actually felling trees once in my Dad's wood and lost control of the chainsaw, which then cut through his jeans and two packets of fags in his pocket before he managed to throw it at the ground.  He swears being a smoker saved his leg that day!  We spent most of the rest of our run running through the centre of fields but at some points when the wind was against us I swear we didn't move at all.  It was so muddy of the tacky sort through the middle of the field I felt about six inches taller by the time we reached the road!  Who needs ankle weights when you've got muddy trainers?!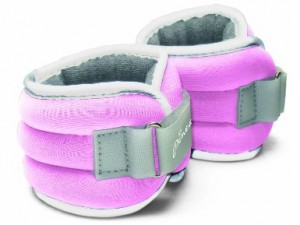 Today I also discovered that I will be Auntie to another niece born at the end of July.  Dan's brother's girlfriend is having a baby and today she had her scan to find out the sex.  Dan and I have always said we would not want to know what sex the baby was until it was born if we had children.  Several scan pictures came up on Facebook earlier but I'm at the age now where lots of people in my friends list have scans as their profile pics.  I'm really not a baby person at all I'm afraid.  This baby will be our fourth niece and we have one nephew; all on Dan's side.  I don't go near them until they can walk and talk though and I'm definitely not a coo-er!July/August seems to be the time for baby births this year.  My friend Amy, who I asked to be witness at our wedding is expecting twins the week before.  When I found out she was expecting I found her this cool 'Belly Book'.  I love things like this!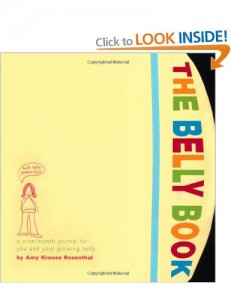 I'd better decide what I'm going to be making for all these baby births!  When our nephew was born in 2012 I taught myself how to knit and gave Sarah, Dan's sister a basket filled with brownies, a blanket and some animals I'd made.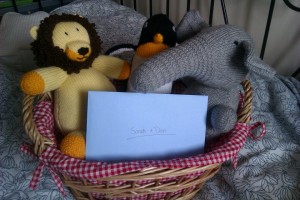 I'd like to do something similar for Jaye (Dan's brother) and Lydia when they have their baby.
Is anyone else at the age where all of their friends are having kids?!