Two weeks ago, Dan and I convinced our friends Vicki and Alex to try Peterborough Parkrun.  They both really enjoyed it and said they would go again.  With Dan away for work this week I suggested we headed up at the end of the week for 'Take Two'.  They agreed.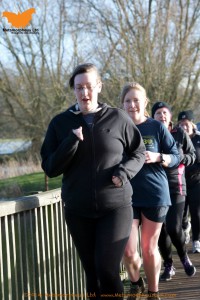 Alex ended up wimping out, but Vick manned up and jumped into my car at 8:35am yesterday morning.  I told her to take it really steady and she was determined to do a better job than last time.  I was surprised but proud of her when she managed to run a full mile non-stop.  This is someone that ran for the first time in her adult life a fortnight ago!  I bigged her up and ensured she stayed steady throughout.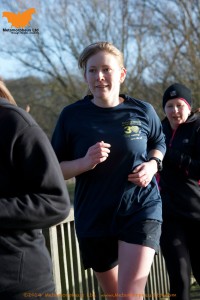 Check out my fringe!
The Peterborough Parkrun course is two laps, and unlike at the Northampton course, you cannot see the route out ahead of you – it is two large laps around a lake.  After about a mile the lead runner lapped us and then a steady stream of runners powered past.  There seemed to be barely any female runners out on the course…I think only two lapped us before we began the second lap.  As runners began lapping us I took to running just behind Vicki, or pulling out onto the muddy sidetrack so that I wasn't slowing down any quicker runners coming through.  When we began the second lap though I could run back alongside next to her again.
This week I was much better at having a one-sided conversation so that I could take her mind off of the running…I'd spent the week thinking of topics that didn't require her to comment back to me!
We passed two miles, then 2.5 and I knew then that she would run the whole course without breaking for a walk.  I kept checking my watch and was a little concerned to see the time ticking away – worried that if she didn't PB despite running the entire way she would lose any enthusiasm she had.  I let her get about 0.2 away from the line and then told her to sprint for the finish, picking off the two people we could see up ahead.  She can definitely sprint and sped past the two putting several seconds between her and them.
Vicki came in at 41:09 for her second Parkrun.  48 seconds slower than her first Parkrun had been.  But she did not stop running the entire way!  I was so super proud of her.  Luckily her enthusiasm stayed and she went away with the thought that if she could run the entire way she could then build on her speed, knowing that she was able to keep going the whole way round.
I came through the finish line at 41:12.  When Vicki sprinted off I was shocked at just how much energy she still had for her kick!  I was literally laughing out loud and cheering her through the finish from my own position behind her.
With about half a mile to go, a lady encouraging another runner behind us jogged alongside Vick introducing herself.  She stumbled out with the words "I'm really sorry, but if it was me, I would want to know…your leggings are rather see-through…I can see your spotty underwear!"  Vick's birthday is at the end of the month – she's one of the few people born on a leap year – 29th February – looks like I need to be buying her some workout clothes for her present!
After the run we headed back to Vicki's, as I had promised to help her address her Save the Date envelopes.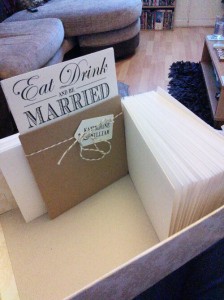 She's had them made professionally, and although they are beautiful I almost choked when I found out they cost £90 for 40 cards!  That's without the cost of the invitations which will go out closer to their wedding!
We had a little line going on…Vick would chop up a piece of card with the wedding website information on and pass it to me, Alex would place a Save the date inside an envelope, I would add the wedding website to the envelope, seal it and place a wedding sticker on the back to seal the deal.  Vick would then add the address and we boxed them up ready to be sent out.
In return for helping out, they cooked me a lovely lunch of stuffed pepper with new potatoes.  It was beautiful.  I've wanted to try something similar for a while now but all Dan would eat on this plate would be the potatoes!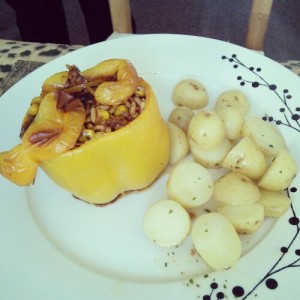 I commented on Facebook about how proud I was of Vick, and a teacher from work has asked if I will see her around the Northampton course next weekend now!  Looks like I'm about to become a full time pacer!  Have you ever paced anyone around a course before?