Last week I ran 42.43 miles, was on my running feet for just over eight hours and burnt off 5,125 calories.  My top mileage week since returning from injury although I really struggled with my Sunday run of fifteen miles.

The week went like this…
Monday: Run out with Hayley (6 1/2 miles ish) followed immediately by a 6ish mile route with other club marathon runners.
Tuesday: No running.
Wednesday: 6 miles trail running.
Thursday: 6 miles club run with tempo spurts.
Friday: Rest day.
Saturday: Easy Parkrun with Vicki.
Sunday: 15 miles with friends.
I decided to post mine and Hayley's fifteen mile plan for Sunday on the running club Facebook page as I felt a little guilty for joining in with lots of other people's runs but hardly ever mentioning my own.  Three people commented and said they would like to join us for the morning.  One runner from the group above us, and two from two groups higher.  I'll admit I was feeling pretty nervous before heading out for the run, worried that I would try and take things too fast to maintain.
And…that's what ended up happening!  Seeing three of them shoot off infront of me, panicked me a little.  My head told me I was rubbish and couldn't do it anymore, making my legs stop even though I wanted to continue on!  Stupidly I'd looked at the last time I'd run that route before heading out (A very hilly route, I might add!) which was in the build up to MK marathon two years ago, where I achieved an average of 10:10 pace, despite the three killer hills near the start and allowing myself to walk up a small hill close to the end.  Most of my miles had been in the 9s.  Where did my (little) speed go?!  Two out of the three quicker runners decided to take a short cut home, and instead of continuing to loop back every half mile as she had been doing whilst running with the other two, Laura decided to run the rest of the route with Hayley and I.  It was literally like magic.  My head shut up, I nattered away and barely remembered I was running – it turned into a social event!
I barely use Facebook much anymore but posted about my run totals for the week.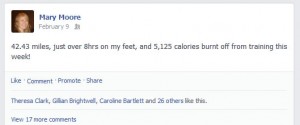 …which received a lot of likes, very quickly and sparked some conversation in the staffroom at lunchtime yesterday.  Another teacher wanted to know which charity I would be running for.  When I replied that I wouldn't be, lots of the staff appeared confused.  Why would someone run a marathon and not collect sponsorship for it?!  I explained that I'd already run three marathons supporting McMillan Cancer Care and Malawi Education Link and that the last race I had asked for sponsorship was 50 miles long!  Who would want to pay to see me run half that distance at a race I've always wanted to go to?  I will still continue to raise money for McMillan Cancer Care, but I think my days of asking for race sponsorship are now over.  Who wants to pay to see me do something I love?!  I need to get inventive with my fundraising activities now!