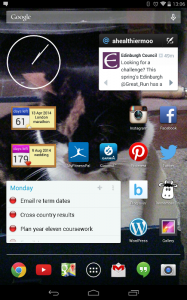 My tablet has a little app on it which reliably informed me yesterday morning that I am now 179 days away from our wedding.  Or more to the point – under the six month mark!  I feel a little more settled and less scattered at the moment although I'm sure that will change soon as we attempt to renovate and move house before that point as well!
This came through the post for us yesterday…

We're just waiting for the owners to officially accept our offer they suggested to us now.  It's crazy how long everything takes in the house moving market.  I first found this house in October.  That was nearly four months ago, and it'll be at least May before we move in if everything goes according to plan.
We had a little set back last week when I met with the council to discuss the possibility of purchasing some land infront of the house as well as the house itself.  The neighbours came out to talk to me and they seemed lovely.  They told me to ask them anything, so I asked the question that had been burning on my mind since my very first viewing months ago…"I'm really worried about bringing my cat here with the road, how fast are the cars?"  Apparentally not very fast, but the lady we spoke to told me that she had lost five cats since she lived there.
I would baul my eyes out if anything happened to Bella.  I ummmed and ahhhed all week, knowing the house was perfect for us in every other aspect, but that Bella is a big part of our little family too.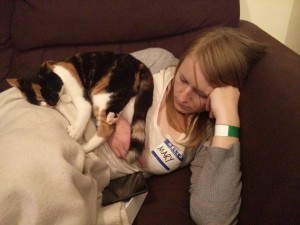 Where we live now we live at the bottom of a dead end road and she barely comes out onto the road infront of our house – only to greet us at the car.  We have a lovely big garden and behind that is a large field that has been left to grow.  She spends most of her days prancing through there.  The house we're looking at buying now has a lovely big garden again but the fields are all the other side of the road and I fear she'd try to get across.  When Dan returned back from his work course last weekend we spent quite a long while talking about it and he was still all for the house.  We decided that wherever we move we'll have an issue of Bella being in an unknown area and exploring, and it's just not going to be practical living in our current house for the next fifteen or so years.  But I'll still be a little apprehensive about the move when it happens.  She will be a housecat for a little while anyway to get used to her new home, but then I think I will do everything to make the back garden seem as exciting as possible for her.
Hollie, my Maid of Honour has arranged for my other bridesmaids and me to help put together our wedding invitations next Wednesday evening over at her house.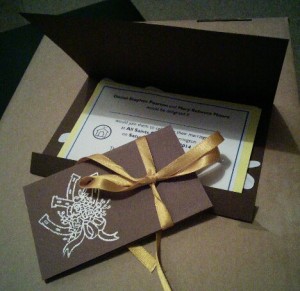 My bridesmaid Amanda rang me yesterday evening to tell me to reserve the 18th-20th July for something.  It's not my hendo, as that's already been arranged for May, so I have an extra surprise coming my way which is rather exciting!  I am guessing just for the other bridesmaids a little closer to the wedding.  Working in a private school I will actually break up for the Summer holidays on 4th July this year, so will still have been off of work for several weeks before the wedding and I'm hoping it will pretty much all come together in that time!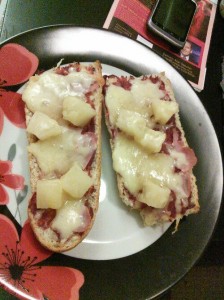 Dan and I talked suits whilst munching on some homemade pizzas over the weekend and the guys (all but my Dad) are coming up the weekend after this to have a look at some various suits for the day.  It's our last big thing! If anyone follows me on Instagram, they would have seen last week that I discovered the Debenhams website lets you strip your model!  Oo-er!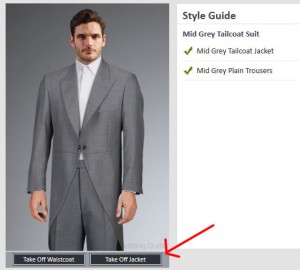 Two of my bridesmaids are also engaged and will be getting married to their other halves not long after me.  Zoe is getting married in October, and Vicki, the April after me.  I feel a bit bad about Zoe's wedding, as hers is less than two months after mine and we both share a bridesmaid!  She's had to wait to organise her hendo until I return from honeymoon…sorry Zo! 

  After Vicki's wedding though, and after attending 13 weddings in two and a half years, I will be all weddinged-out by the time mine and these two are finished!
A little while ago Dan and I happened to be talking to Dan's Mum about struggling to come up with some good ideas for favours, and that we didn't really want them to be food as we were both always so full from wedding food on the day.  She mentioned that the last wedding that she had attended had given out lottery tickets with a cute little rhyme on.
We weren't sure on the lottery ticket idea, as lottery tickets had just risen from £1 to £2 and not all guests would be able to check numbers on their phone that day.  However, we did like the idea of scratchcards.  £1 cost guaranteed for guests, and we were bound to have a few instant winners that we could congratulate during the speeches!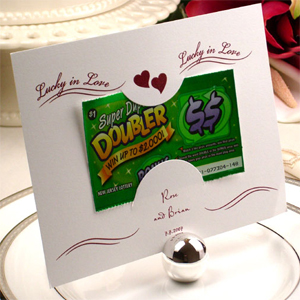 Have you ever changed your plans because of a pet?
What were the favours at your wedding?