I feel like I'm stuck in a vicious cycle at the moment!   I want to improve my speed, therefore speed sessions must be done but I'm so nervous about getting injured again that I don't want to push myself too hard.  My recent injury was on my foot, so extra pounding on my feet doesn't sound the best of ideas!  How do you know when you're pushing just the right amount?
I took about six months off from proper speedwork. Even though I've been back at club again since Christmas I haven't really been joining in properly on the speed sessions. Since Christmas there have been so many new runners in our group at club we're often running with up to thirty other people, making it incredibly difficult to complete a lot of the sessions that are run on pavements alongside the road. I knew I needed to start doing some speedwork of my own in the week rather than just relying on these sessions. I really enjoyed the progressive runs I ran whilst training for Operation Ultra last year. 15 minutes easy, 15 minutes steady, 15 minutes tempo. Maybe it's time I started introducing progressive runs during the week again.
Since my last physio appointment I've planned in six runs each week, with the aim of completing five of them. Often one of the days in the middle of the week I end up too tired after work and head home instead of out with club. If I wanted to run six days a week I would schedule in seven runs!
I need to do speedwork though…if I'm going to be running more ultra events over the coming years I'll need to pick my pace up otherwise I'll miss checkpoint cutoffs!
With all this buzzing around in my mind yesterday afternoon I headed out for a speed session of my own at my Mum's in Norfolk. I always love running when I'm back at my parents'… It's nice having somewhere different to run and I don't miss the traffic!
I set off for an easy mile and a half around the village before crossing the main road onto a farm track.  I felt that if I completed some speedwork on my own I could always drop back or slow down as and when required, so I kept the session simple and close to my parents' house.  Almost opposite their house is a long farm track where we used to walk our dog.  It's straight and flat and I knew I wouldn't be disturbed by any traffic at all.  I decided to pick up my pace to the bottom of the track to just quicker than my old 5k pace (8:40mm), then head back to the start as a jog recovery.  Repeat x4.  I was pretty consistent with my pacing at 8:31 then 8:36.  As I began the third set I could feel that I was going quicker from the start.  My foot felt fine – no twinges – so I let my body pick up the pace and achieved a 8:17mm.  I repeated this with my last set and finished with an 8:13mm.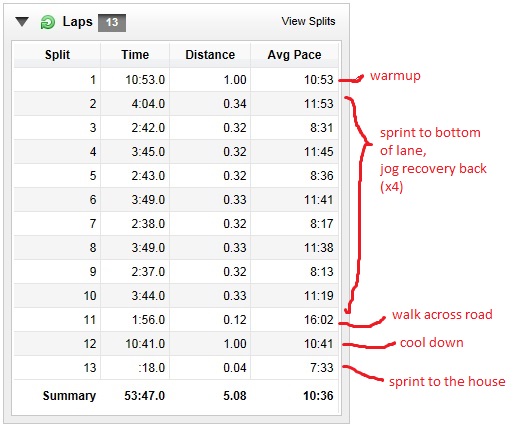 Nice and controlled, my session gave me confidence again.  I love running with others, but sometimes it's nice to have a session concentrating on just me!
What do you do for speedwork?  Love it or hate it?!  What are your favourite sessions?