With just seven weeks now before my first London Marathon, I thought I would find out a little about it.  I can remember my Dad having the marathon footage on when I was quite young and being amazed at how far people were running – continually taking his eyes off of the dinner he was supposed to be cooking.  I will be incredibly proud this year when I run the race that so many others have run before me.  The big one…London Baby!
Facts are as I thought of them – in no particular order!
The very first London Marathon was held on 29 March 1981 (three and a half years before I was even born) and has been held every Spring since.
In 2003 our own Paula Radcliffe set the London Marathon female record with an amazing time of 2:15:25.  That's at a 5:10mm pace.  I can't even hold that over a sprint session, never mind 26.2 miles!  This is also the world record for a female over marathon distance.  Nobody has come close to beating her course record!
This is the London Marathon course, looping around the River Thames and it will pass many famous landmarks on the way such as; The Cutty Sark (6.5 miles), Tower Bridge (12.5 miles), Canary Wharf (18.5 miles), St Paul's Cathedral (24 miles), The Houses of Parliament (25.5 miles) and Buckingham Palace (26 miles).I've still only seen most of these landmarks on TV.  Infact, I'd never been to London until Dan took me in 2008!
Apparently the most common occupation for runners in the London Marathon last year was 'teacher'!  [Source]  I shall be running for our field this year too.    Running is one of the best ways for me to unwind after a stressful day of working with students.
There are 15 people that have run every single London Marathon since the very beginning.  I kinda hoped I could do the same with Milton Keynes Marathon having run it the last two years 2012 | 2013 (Milton Keynes Marathon only began in 2012), but running the 12 hour Conti-run the day before this year's MK Marathon has made that rather impossible now.
The website everpresent.org.uk contains information about the fifteen remaining runners that have run every single London marathon since 1981.  They are all men, and one of them,-Chris Finill has run every single marathon under 3 hours.  Wow!
Charities can purchase a number of 'Golden Bond' places for £300 each which they then issue to fundraisers on the premise that they raise a large sum of money for the charity by collecting sponsorship for running the marathon.  I never realised the charities had to pay for their entries.  No wonder they often ask for amounts of £2000+!  I have used running to help fundraise several times now, but the pressure of raising so much money for one event, as well as the pressure of training would be too much for me.
More than £500,000,000 has been raised for charities by runners of the London Marathon since it began in 1981.  That's a tremendous amount of money, bucketloads of sweat went into raising that!
A full list of celebrity names were released not long back as to who was going to run the VLM 2014.  Confession: I recognised about four of them.
The marathon medal has changed a lot over the years.  Here is what the medal looked like back in 1982, in it's second year…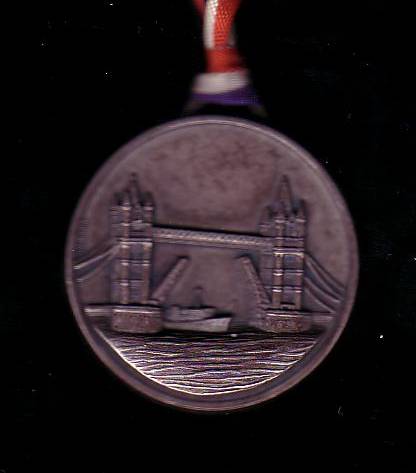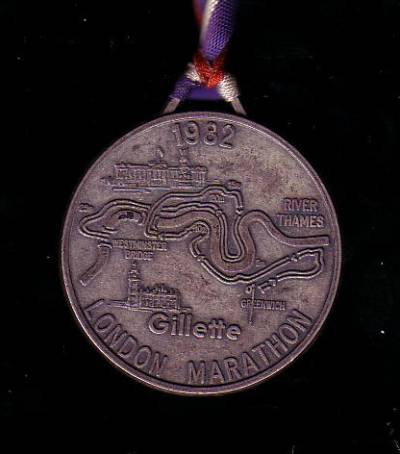 For a full set of images of the London Marathon medals, check out the photographs on the Ever Present website.  Can't wait to hang my VLM 2014 medal up on my medal holder this year!
What else can you tell me about the London Marathon?…