On Saturday Dan, two of his best friends and I headed to Northampton Parkrun for 9am (just!)
There was Me, with a 5k PB of 26:55 achieved almost exactly a year ago before I began concentrating on distance running. Dan, on his fourth Parkrun with a PB of 29:24. Usher #1 who regularly plays squash but was yet to experience a Parkrun and Usher #2 – with a PB of 21:06 set on a 'hilly' course.
The boys had all been out drinking until late the night before so had very little hopes of amazing times, although #Usher #2 told us there shouldn't be any excuses with a course as flat as Northampton.
The gun went…I'm pretty sure all four of us started too far back and we all ended up picking our way through the 254 runners out in the perfect running conditions.
I hadn't planned on aiming for a PB with my mileage this week hitting 49miles and so set off at a steady pace. I saw Usher #2 weave in and out of several runners and settle comfortably towards the front of the pack. Dan and Usher #1 set off together closer to the back. I was worried Dan's competitive nature would see him setting off too quick and ending up injured, but luckily, since he has been using my old Garmin he has kept his pace nice and steady.
I didn't feel like I'd set off too fast (8:50mm) but my body was telling me "No" towards the end so I ended up slowing right down.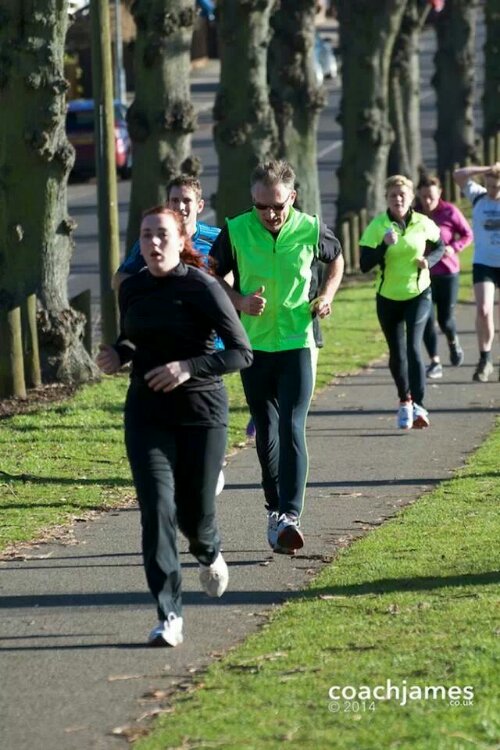 The one shot of me on this run was me doing my hair just before the camera! (Far right of pic) (Usher #1 in blue)
A PB for Usher #2 who finished 22nd in 20:41. Imagine what he could do whilst not hungover and having had sleep!
A 27:49 finish for first timer Usher #1 and no PBs for Dan or I as expected. I came through at 29:13 having slowed considerably during the second half.
Later that afternoon Dan was joined by his other two ushers and Dad for their suit fitting ready for the wedding (now only five months away!) Whilst the boys were out I managed to get in several hours of gardening; mowing, strimming and raking the front, back and side lawns and trimming back the hedges. Probably not the best plan before an eighteen mile long run the following day…
Sunday morning I was up brought and early again, ready to take on my first eighteen miles of the year. I have very low expectations of myself this time round for the marathon in April. I know I haven't completed as many speed sessions as I should have done since my injury in November and my pace has dropped considerably! These are the stats from my first Milton Keynes marathon in 2012…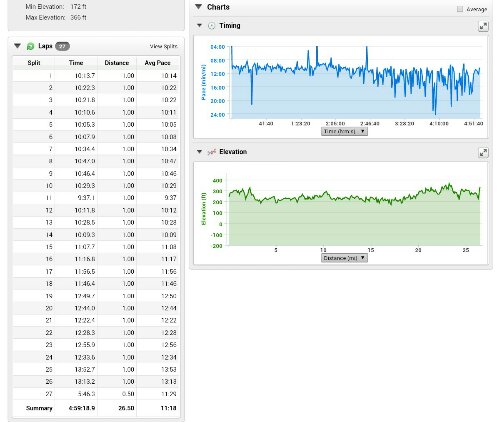 Although obviously fading towards the end I was quite happy with how consistent I had been for the first half of the race and how good I had felt on the day. It's worth pointing out that the weather was awful-severe flooding and high speed winds. I ran through puddles halfway up to my knees at one point a few miles before the end! My official chip time was 5:06:52 but my Garmin paused itself when I dived into the loo at mile 11. Stupid queue for the loo and stupid Garmin for letting me think I'd gone sub 5!
Most of my long runs in the build up to race day had been run at 10mm pace. A speed which is now a minute or more quicker than my current long run pace!
I obviously still had a lot to learn about running, marathons and my body at the time…as I still do now!
This time round I am much more motivated to get out and put the miles in… enjoying running five or six days every week but my head and chest aren't letting me pick up the pace back to where I was. One day I'll be back where I was again, I'm sure!
Anyway, yesterday was eighteen miles with Hayley before laying on my freshly mowed lawn (a mistake unless you want to look like a grass yeti) and stretching out on the floor because we could. At least my legs still feel good today!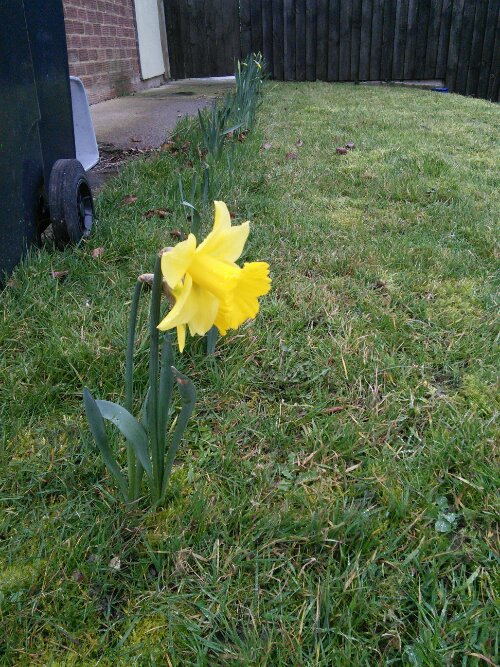 All being well my remaining long runs should go 18, 20, 15, 20m race, 15, 10, London!
What's the longest distance you go up to during marathon training?…