Friday morning I discovered the way to work out who got a place in the London marathon…If you head out for a run at 6am in the rain marathon runners are guaranteed to be the only other people out there!
You silently nod at each other as you pass and it's quite nice knowing that they're going through the same as you! (I hate it when you acknowledge another pedestrian/runner and they ignore you.)
Evening running just isn't the same… The streets are full of people and there is lots of noise.  Cars fill up the roads and you have to stop at every junction to cross over to the other side.
Last Summer when my year tens were on work experience and my timetable was a little lighter I often got up an hour earlier and ran an easy 4-5 miles in the morning sunshine – a great start to the day!  In my last job I left home in the mornings at 6:45am, but in my new job I can leave it as late as 8am…an extra hour ready made!  I was really surprised to head out on Friday morning at 6:30am and not need a headtorch…Spring is on the way! 

Saturday morning I had planned 18 miles around Pitsford Water with my friend Hayley, but I got a text early morning to say she wasn't feeling great and couldn't make it.  So there was nothing for it but to man up and get out there on my own instead!  Twitter gave me all the encouragement I needed…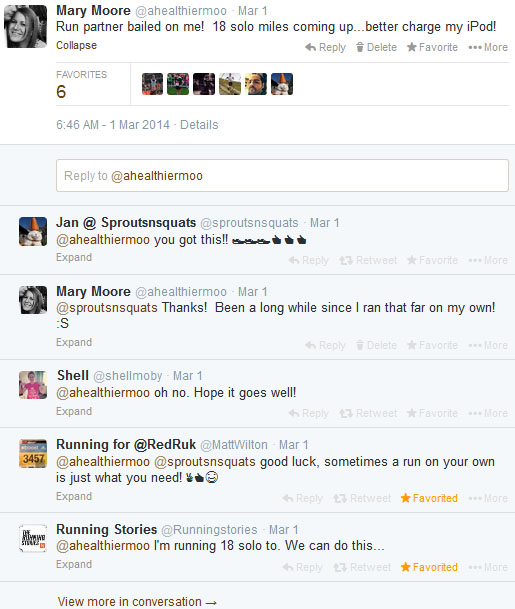 Whenever you're feeing a little unsure, or need an extra shove, Twitter is the place to go!  Within minutes of posting this status, I had lots of friendly good luck messages.
I need to start taking my phone out on runs again, because the lake was beautiful on Saturday morning.  I ended up running round Stanwick lakes instead as I was out on my own.  My phone had issues a few weeks back.  I keep it in the back pocket of my running tights/shorts and unfortunately when I run it gets rather sweaty.  This has often meant I have not been able to use the touchscreen for a good hour after my run in the past.  Last time I ran out with it Dan ended up having to replace the screen for me!
The first five miles were easy.  I kept it really steady and listened to some old Marathon Talk podcasts.  Then my iPod died.  Turns out 20 minutes isn't enough charge for a 3hr+ long run!  I had to find another form of entertainment which involved me running along the obstacle course at the lakes.  There's not many kids out at 7am on a Saturday so I had it all to myself!
By eleven miles I was beginning to get a little fed up – I wasn't really feeling the run anymore, despite the lovely weather.  I got to my turnaround point and sat on a large rock for a good 2-3 minutes before I spotted three runners in the distance heading towards me and running in the direction I would be heading back in.  Now I'm a pretty proud runner and I don't like people to see me giving up.  I'm hoping ultimately this is what will keep me going at London in six weeks time!  So I set off back towards home, with a renewed energy.  I heard one of the runners behind me say "That's our target in front of us…"  So obviously I was going to do my best to not let them catch up with me!
However, my pace did slow slightly after a few miles, then I stopped to take a gel and refill my water and as I was taking the 'wossey' way around a large muddy puddle they came alongside me – where I realised it was three runners from club, including my very first coach, Howard.  I tagged on with them for a few miles and the chat and banter was the distraction I was after to get from miles 14-17 before leaving them to cut off for home.  I wish they'd caught up with me sooner!  We were talking about upcoming races and I commented on how much my speed has decreased this year.  Howard pointed out that my form was so much better though and that my strides were much shorter. Howard, my current coach and Phoebe Thomas (when I was training with Women's Running mag) have all commented in the past on my stride being much too long.  So this is a positive to take away from my decreasing speed at least!
All I could think about on the way back was the amazing egg mayo wrap I had planned for an early lunch!  It was worth the 18 miles for this!
Then we dressed up and headed out for my friend Vicki's 7 1/2 birthday party.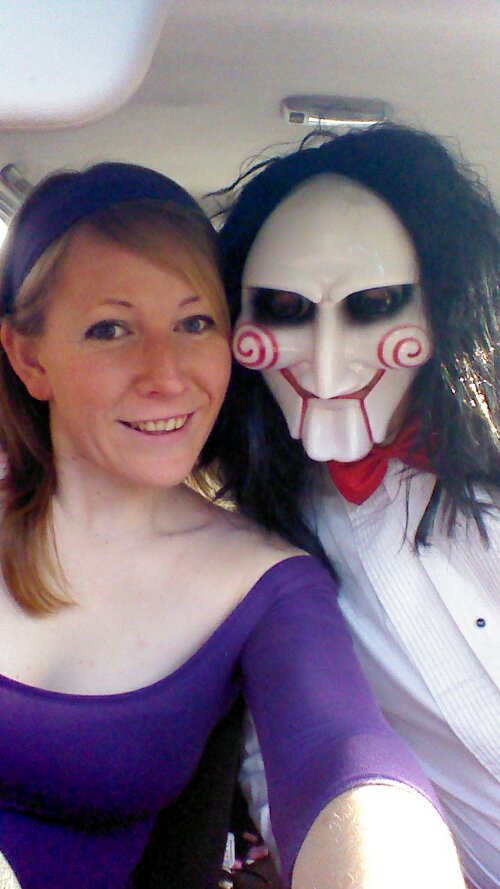 Vicki was born on the 29th February so she can get away with telling people she's not yet thirty!  The theme was characters from films and the besties met at her flat for some fun and Vicki-themed film games planned by her brother Nick.  Some of the games were hilarious, such as 'guess the character whose head has been replaced'!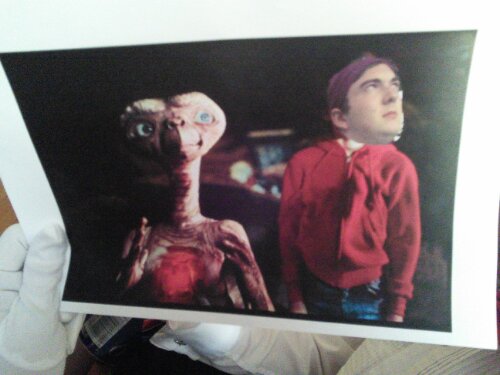 Here's an early lineup of the girls…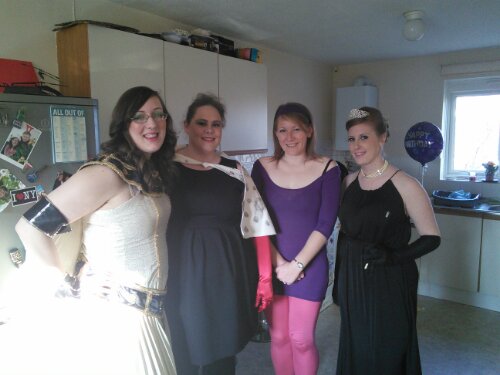 Cleopatra, Cruella DeVil, Daphne form Scooby Do and Holly GoLightly.
The boys…
Darth, Saw, Maria and Legoman.
Bradley's Legoman costume was ace!  He spent four hours making it at work the night before, and it was useful for storing beers on…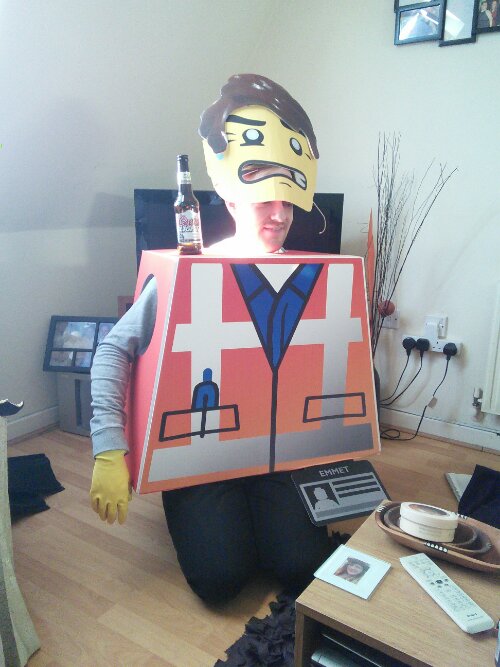 After some games and alcohol with the ten of us, we headed into town where we were meeting several other film characters and spent a lot of time dancing in various costumes!  I drove, so didn't drink, and my legs were definitely feeling it by midnight, after 18 miles of running in the morning and several hours dancing!
Long runs-on your own, or with someone else?
Suggestions for a mobile phone that won't die from sweat?!
Best costume you've gone in to a party?  My Mum dressed me as a Christmas cracker once when I was about 6.  I won a prize, but couldn't do anything as my arms were stuck out to the sides all day!