Firstly, some good news.
We always seem to get good news on my Mum's birthday.  In the past we've had job offers, sales and driving tests have been passed.  This year we had two batches of news to celebrate.  Firstly, our mortgage was approved so soon we will be able to pick up keys for our new house!  And then the real work begins…  Secondly, my Mum's trip to the hospital to see the Cancer Consultant resulted in her being told that she did not need to head back to hospital for another visit until June!  Three months away, which is excellent news!  There is still a lot of cancer in her body but for the past few months it has not changed in shape or size so the Consultant currently has no need to see her.
My Dad bought my Mum some beautiful flowers to celebrate.  I don't think he has ever bought her flowers before!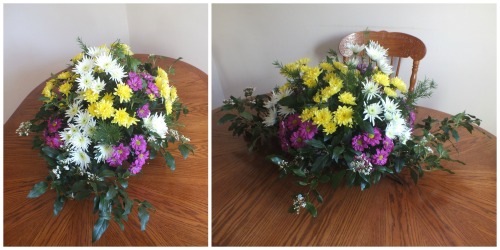 My brother took my Mum to see War Horse (the theatre version and behind the scenes interviews shown in the cinema) and I'm going to see Mum next weekend and treat her to a day out.
Over the past few months I've often resorted to easy 'quick-fix' meals, time spent on general fitness has taken a back seat and even though I've had several weeks where I have run close to the 50 mile mark now I've been gradually gaining weight.  I partly blame working at a desk job, a little on my injury and also the fact that it's Winter and we eat a lot of 'comfort food' in our house.  However, when it boils down to it, it's down to me to improve my lifestyle and to be happy with the way that I live.  I've also been suffering from some severe migraines in recent weeks which leave me feeling nauseous and in need of bed.  I'm not sure if food has affected these at all, but without a log I am unable to see if there is any correlation.  I suffered a particularly bad one last night at parent's evening where I ended up turning the lights off in my classroom just to survive through to 8pm.  (I don't know quite what the parents made of that!)
Generally I believe I make pretty healthy choices when available to me.  I love big salads and soup, but planning ahead in a busy week is a weakness of mine and if Dan has a treat, I end up wanting one too!  I have started using my slow cooker the past fortnight though and we had another successful meal last night all ready when I got home from work.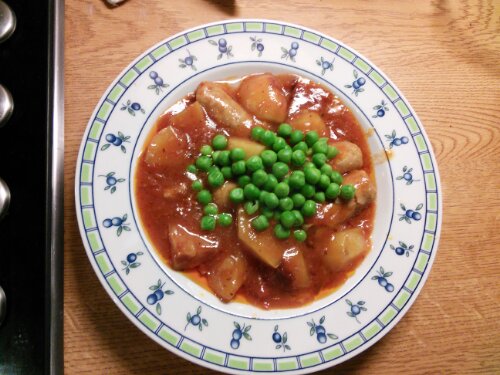 Four sausages in the remaining tomato pasta sauce with some potatoes and peas which I cooked in the microwave whilst plating up the meal.  It wasn't as good as my first slow-cooker attempt last week.  The sausages were OK, but the potatoes were a little firmer than I would normally like and there was probably too much sauce.  All still edible though, and I really appreciated not having to turn around and come up with an idea for tea at 8:40pm last night!
I know I need to refocus on keeping healthy and therefore, when I saw Laura advertising her Uniquely Healthy e-course last week for £29.99, on an impulse decided to sign up and give it a go!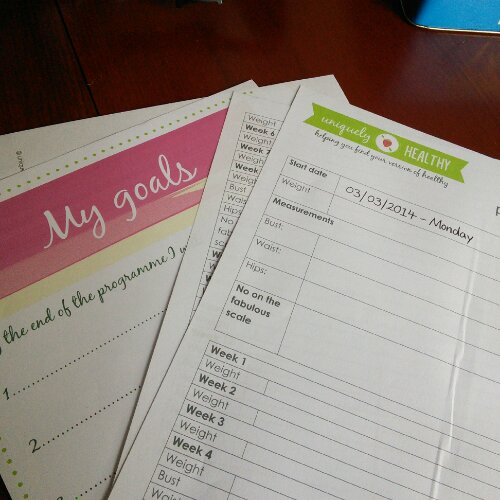 Laura's resources are beautifully produced and the course has already made me feel enthusiastic and inspired to get right back into healthy living with a vengeance!
The five goals I've set myself for the coming twelve weeks are:
1) Plan ahead and take food into work with me each day.  (Eating lunch every single day!)
2) Snack on fruit more frequently.
3) Eat smaller portion sizes.
4) Try several new healthier recipes which I can add to my dinner rotation list.
5) Have lost some weight.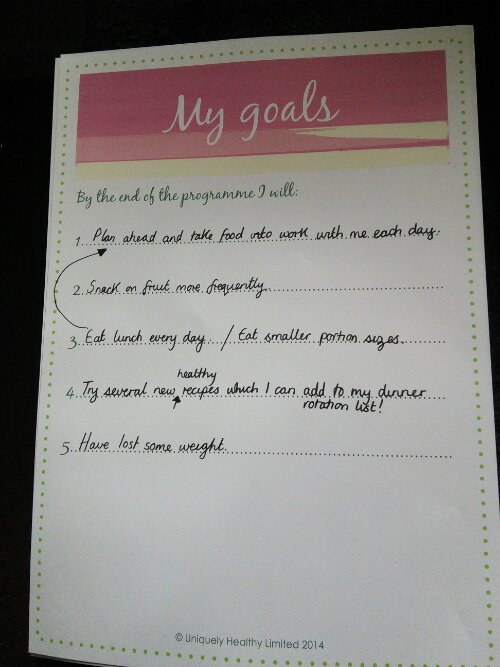 To be honest, losing weight isn't a main goal, although it would be a nice side effect!  I'd more like to focus on the living healthily and getting the right nutrition into my body each day.  If I get it right and that results in me returning to my initial weight, then bonus!
When I first began this blog (a year ago now!) one of my main aims was to focus on eating healthier to accompany my running and I used to take a lot more pictures of my food than I do now.  I tried lots of new foods and experimented much more and I would like to go back to that again.  I'm certain that Laura's program will help me to be able to do that. Parkdale dental recommends to be careful with very cold or hot dishes and drinks if you want to preserve your healthy smile. Expect to see lots more food pictures on AHM in the near future!