I set my alarm for 6am this morning so that I could prep both my lunch and our dinner before heading to school for another full day followed by parents evening. Robbie Britton had declared last night that preparing butternut squash is as tough as running 100 miles…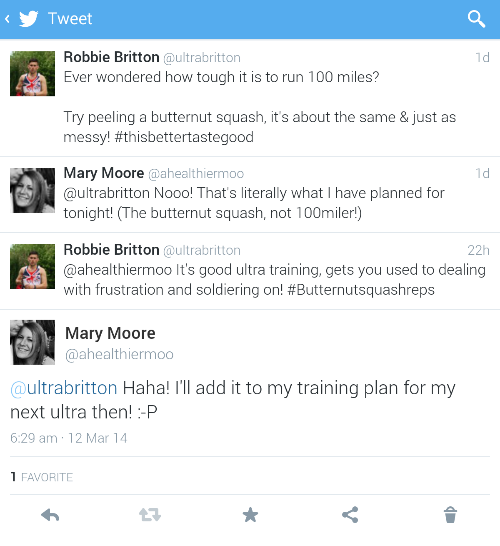 Here is my butternut squash…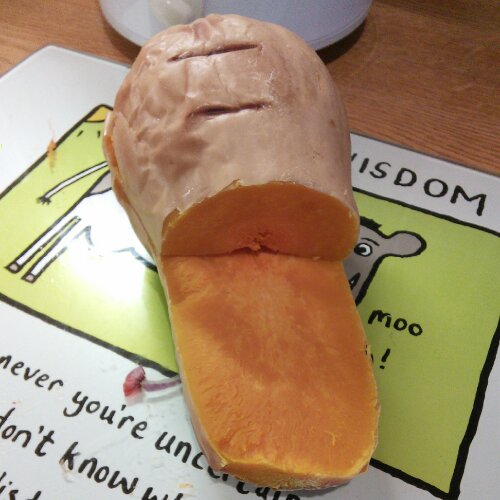 I didn't find it too difficult to be honest. Therefore I should make a superb 100 mile ultra marathoner!

Several people had pre-warned me that a butternut squash was rather fiddly so I did my research first and found this link on Pinterest suggesting to partly cook the butternut squash first before roasting. So whilst I had a shower I placed the butternut squash in the oven.  Once I'd chopped about a quarter of it into little chunks I put it into a roasting tin along with a couple of water chestnuts, three new potatoes, a carrot and a red onion. After 30mins in the oven I pulled out the veg and placed them into my lunchbox, chopping up a tomato for the top and sprinkling some Wensleydale and cranberry cheese over everything. Love that cheese!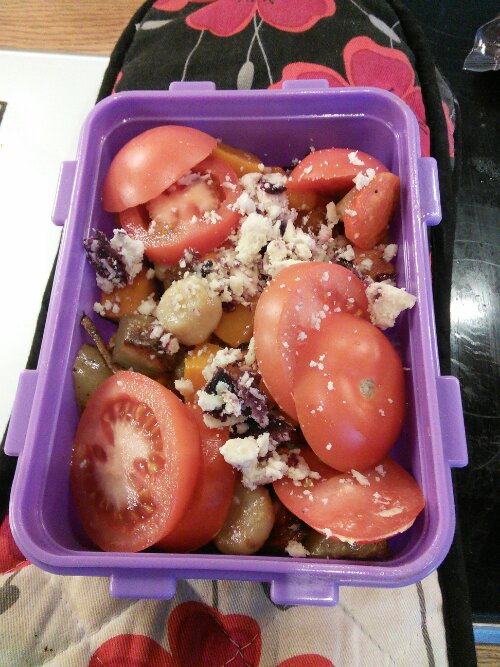 I completely forgot I had meant to add the remaining caramelised onion burger I cooked the other night and had left in the fridge. It wasn't until several hours after lunch that I actually remembered it was still sat in the fridge at home! Will have to save it for another day!
Whilst the veg for lunch were roasting I chopped an extra carrot and three potatoes and placed them into the slow cooker with four sausages on top, poured some stock over the lot and threw together some dumplings with a message to Dan for him to add them to the cooker when he arrived home.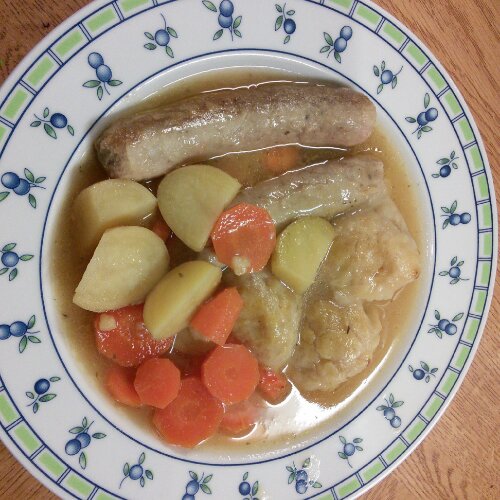 It is so lovely to have tea all sorted with just the plating up to be done when I arrive home each night!  The house smells delicious too!
I was rather worried about Bella this morning. When I came downstairs at 6am she was lying flat out on the arm of the sofa and had no interest in greeting me or wanting to go out. She really didn't seem herself. Dan tried to comfort me by bringing her pack of Dreamies treats out but she barely got up for those and when I tried to feed her some she didn't want to know. I left it as late as possible to leave her to head to work and rang the vets from work to get reassurance that it was just a delayed reaction from her routine jab but they were also concerned, as apparently side effects would have affected her as a kitten more severely and she'd never been like this before. I spent the day worrying, especially as I had parent's evening until late and just wanted to check she was OK. Luckily when Dan got home she was more of herself again so he dropped me an email which I picked up between parents and although she has been quiet tonight now seems to be returning to normal.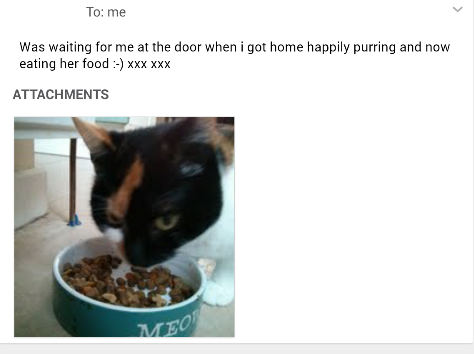 I was very frustrated at getting stuck inside all day today and desperate to get outside or at least some form of exercise in, despite pencilling in a rest day. I had a great run club session last night though. It was a speed work session, which although I've been completing, it's been a long while since I've completed it with anything resembling full effort for fear of getting injured.  Last night changed that though. We headed over to Whitworths,- what is normally a relatively quiet access road for lorries and where there is a 1k marked out on the road in 100m intervals.  However, last night, several of the coaches had swapped groups to mix things up a little, meaning they couldn't post their new group's schedule onto the club website and resulting in three groups training at Whitworths! About 50 runners in total and for some reason way more lorries than usual as well!!!
Our group ran 100,200,300,200,100 x3. Pushing it on the way out each time and then using the run back as a recovery run. I really pushed it on the outgoing each time and my times dropped with each set. I'm all about the recovery though and would be almost jogging on the spot to get back to base. Lots of runners would overtake me on this bit, but I then made it my job to push past them on the way back out again! The hard work paid off and my legs feel super strong today.