This is what a bedraggled, tired teacher looks like at the end of a school trip!
Yesterday we took 48 of our students (all the students from our school in years 6-11) to The Big Bang fair at the NEC in Birmingham for a science day out. Each teacher was assigned a year group to register in the morning, at lunchtime and again at the end of the day.  I got the year 6s, who were not allowed off on their own, so I had the pleasure of escorting them around the site all day long.  To be fair though, I enjoyed this and they kept me entertained all morning!  We got to play with lots of experiments and the children used the static ball to make their hair stand on end, used the stationery bike to see what they could power up electricity wise with a minute of peddling, tried numerous quizzes and met a real life robot!
As we were heading back towards the meeting point for lunch one of the girls told me she didn't feel very well.  I reassured her that we were then on our way back for lunch and she would be able to sit down and get something to eat.  She let me know that she really didn't didn't feel very well and I pushed through the crowds to try to get her to the wall before she collapsed, and within seconds she was flat out on the floor.  There were thousands of people around but it was several minutes before anyone stopped to see if we were OK.  I tried to ring through to the trip leader on the emergency mobile number, but his phone went straight through to voicemail.  So did the Deputy Head's number.  I gathered the other six year sixes up around me and told them to sensibly all walk together back to the meeting point which I showed one of them on a map and to alert the teachers that I couldn't get hold of them on their mobiles.  Once the other students had left I tried to keep myself alongside the student on the floor so that I blocked any feet that might trample her in the busy crowd.  She was very hot and when I asked her what she had eaten today, she informed me that all she had had was a chocolate bar on the bus on the way to Birmingham.  I rummaged through her bag to find some of her lunch to get something inside her but she only had a bag of crisps and some sugary drink.  (This upset me.  Why do parents not send their kids in to school with food?!)  She couldn't manage any food anyway, or even lift her head, although did manage a few sips of her drink with a straw.
I tried all other staff mobiles on my emergency contact list and every single one either rung out or went through to voicemail.  About ten minutes after being on the floor a member of staff from the Information desk (we were right by this) came over to let us know she had alerted the Paramedics, and it was about another ten minutes later before a man arrived with a wheelchair, and who then helped me to lift the collapsed student into the chair.  As we wheeled through the crowds, I spotted two of the teachers from our school in the distance hunting us out after the rest of my class had relayed their message and I quickly passed on what had happened.  The paramedic took my student's blood pressure, temperature and did a finger pin prick to test the child's blood sugar levels (which we had to call home to get permission for).  After several cups of water and some paracetamol to bring her temperature down she was released again and I took her to Subway to buy a sandwich.  She was shaking as she ate it but her colour returned not long after.
I heard through the grapevine – as concerned teachers finally picked up voicemail messages – that another teacher had taken on my students for the afternoon session so I was left walking around with the poorly student for the afternoon although we spotted several students and teachers from the school heading in to the finale show so joined them.  I thought sitting down might do her some good and she was almost back to her usual self when we emerged after the show an hour later.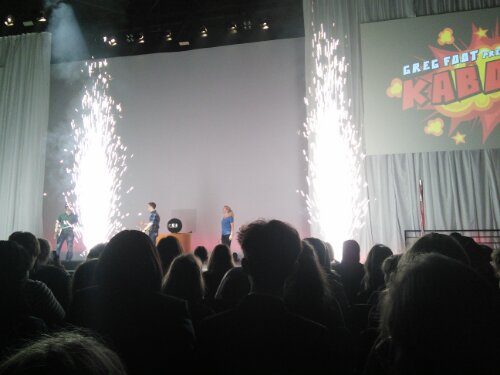 The show was pretty great and had lots of big bangs.  A guaranteed crowd pleaser!  An uneventful bus ride home and it was so lovely to arrive back at school at 5:30 still in daylight.  I told Dan if he wanted to head out for a run when I arrived home I would be more than up for it.
He waited.
We headed out together but I had an awful run.  We only ran the 2.6 mile loop that he has regularly been covering and I don't know if it was the fact that I had been on my feet all day, that we didn't really warm up but leapt straight into the run or that it had been a long while since my sandwich at Subway but the 9:30mm pace felt super tough and my legs felt so heavy.  My breathing became more regular after the first mile but my legs just would not go any quicker.  Normally, when I've run with Dan before I've been the one easily chatting to him and pulling him round up the hills.  This was not the case last night.  

 He's asked me to help him get a Sub 30 min Parkrun at Northampton tomorrow morning, just hope my legs are co-operating again by then!
Today for lunch I had a southern turkey steak on a bed of butternut squash with a tomato on the side.  Unfortunately, I picked at it rather early on in the day and was starving by the time I got home for tea!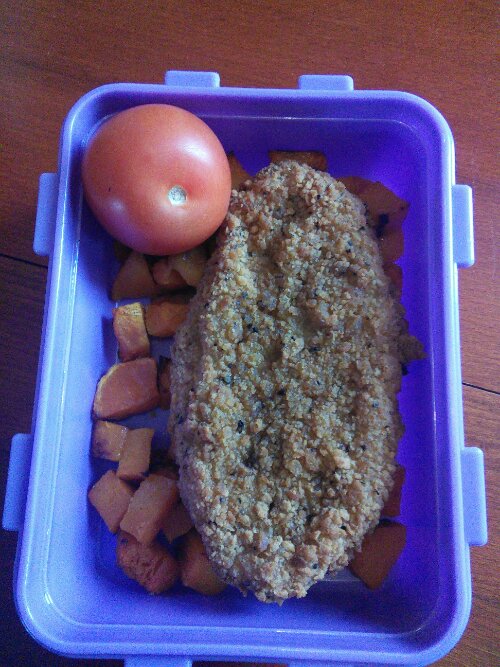 No kids stayed behind for afterschool catchup tonight so I got home as fast as possible with the intention of fitting a few miles in in the daylight and late afternoon sun.  Another tough run.  Despite being completely up for the run I only ran at around 10mm pace, only covering 3 miles and my legs genuinely felt like they would never move faster again!  Maybe this is the after effect of a speed session on Tuesday?  Dan threw together dinner for when I arrived back – a hot burger with mixed leaves and a tomato and a few of his wedges on the side.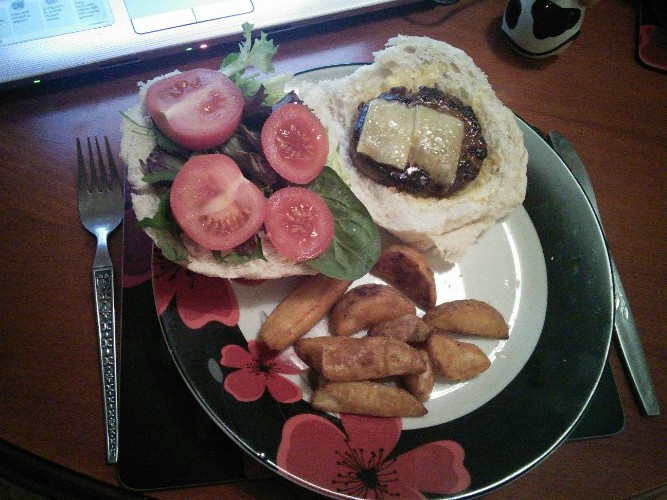 I've not covered a huge amount of miles so far this week.  I took a rest day on Monday, speedwork (5.6 miles) on Tuesday, another rest day on Wednesday, (slow!) run with Dan Thursday (2.6 miles) then 3 miles tonight.  The plan is to run the Parkrun with Dan in the morning followed by a very slow 15 miles with a bunch of runners from club.  That will only bring me to a total of 29.3 miles, when I've been between 40-50 miles over recent weeks.  If anything, surely my legs should be feeling more rested this week?!
Tired legs – are they most likely still feeling my speedwork session on Tuesday?