Yesterday was a very busy day. It all started off with a promise that I would go to Parkrun with Dan a few weeks back.
I also needed to fit in my long run as I'm spending today marshaling in Thetford so I planned on joining a 15 mile long run with Kev and a few others at 10am.
In order to make it back in time for the long run I drove to Kev's and Dan followed me in his car. I left my car there, hopped into Dan's car and he drove us through to Northampton. We seemed to hit every red light on the way and arrived in the car park at 8:59am. I grabbed our barcodes and we legged it towards the start line where I could see the runners collecting. The gun went just before we got there and I shouted to Dan to start his watch. Because we had been sprinting across to catch the start of the race we started too quick and it was a struggle to slow right down.
Along the first full long straight I mentioned to Dan that he was going too quick to maintain (8:45mm pace) and I dropped off a little behind him hoping he would do the same although he never heard me as he'd managed to get his headphones in by this point. He was never further than a few metres in front of me though and it wasn't long before he started to fade so I pulled alongside him. His aim was a sub 30 minute race and I didn't intend on him missing out on that! We ran alongside each other for most of the race after that, not talking as Dan had his music on. There was another point when I warned him to slow down as he was back up to a 9mm pace. He powered up the slight incline on the course but lost it just after-his breathing was beginning to get a little erratic. I ran just in front of him hoping that that would motivate him to keep up with me and it worked. I let him cross the finish line a nose ahead, us both coming in at 29m 08s – well under Dan's goal time and a new PB for him! As we ran up towards the finish I could hear the little boy in front us crying to his Dad yet continuing to run strong. He was about nine years old and I meant to congratulate him at the finish but lost him over the line.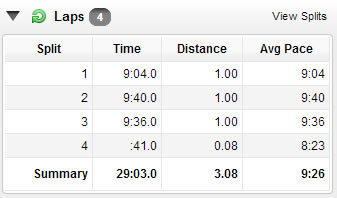 My placing: 156/212…39/78 female.
With Dan on a high he dropped me off back at Kev's, where I tried to mentally prepare myself to run another 15 miles.  I was lucky in that during the Parkrun the heaviness in my legs I'd been experiencing the past few days had not really been noticeable and I thought I would have a big issue.
We set off slowly for the long run – there were five of us in the end.  I knew it would be pretty steady, as one of the runners had never run further than a half marathon before, and that was last weekend.
Hayley had picked up my water bottle from where we had hidden it whilst out on our long run last week and brought it with her after washing it out.  I don't ever wash my water bottle out as I only ever put water in it, so just rinse it after a run.  It tasted very funny from the start and as I got further down the bottle, got stronger tasting – washing up liquid!  Yuk!  It was hot though and I needed the fluid.  I felt pretty empty and necked a gel at mile 6.  Towards the end of the bottle and from about 10 miles though I couldn't face the water anymore.  It felt like it was burning my mouth.  I am rubbish at running in the heat at the best of times but without a drink my head was playing all sorts of mind games.  At mile 14 I fell apart.  My stomach had cramped up for the last couple of miles – I'm not sure if it was because of the taste of the water – or the lack of it.  I had a look of pain on my face and when Kev asked if I was alright I got rather emotional and we let the others go on ahead whilst he hung back with me and gave me a pep talk.  I felt really stupid.  My training has been awful for the full build up of my marathon and yet I'm still expecting better results.  I need to rethink my aim for London because I want to enjoy the experience.  Anyway, enough of that for this post-more on another day…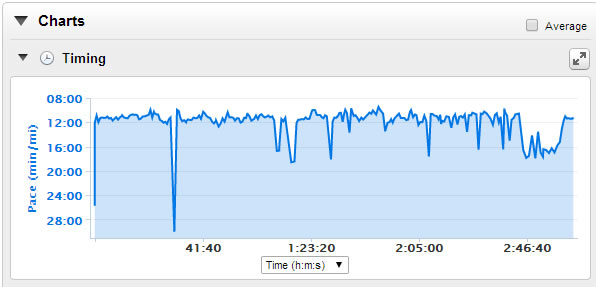 Kev presented us all with cream cakes at the finish and we sat on the decking telling horror stories from bad runs in the sun.  Me with a glass of milk – perfect recovery drink and just what my body was craving!
I returned home to find my Marathon News magazine and confirmation of my race number for London.  22933.  After a brief nose through I had a quick nap before Dan returned from footy.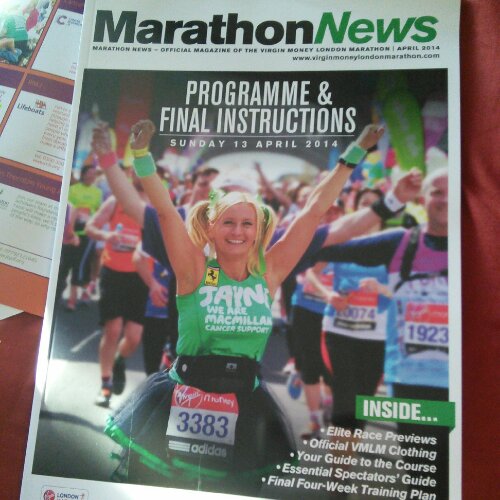 Yesterday evening Dan's football team had organised a 'Night at the Races' with pre-filmed horse races on DVD.  We got dressed up and headed down for the first race at 7:30pm.  A two mile walk to the pub, but my legs were glad to not be sat on the couch, but rather to continue moving after their active morning!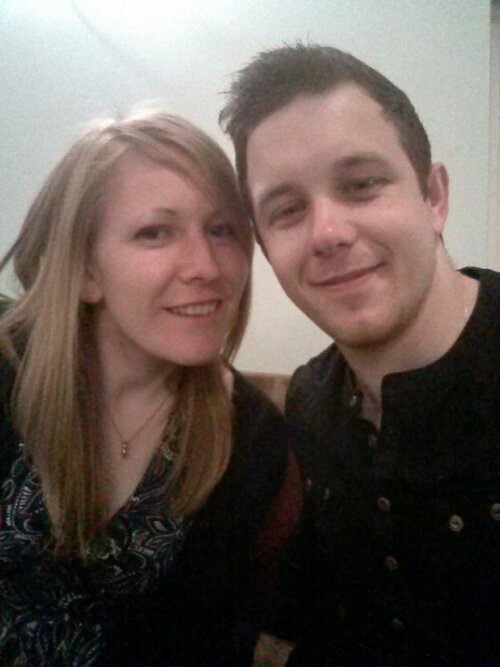 Because the weather had been nice all day and it was still pretty warm I pulled out a maxi dress from the bottom of the cupboard and wore that for the evening.
We were given a list of horses, which the football team had pre-bought and named for a fiver each.  Dan's horse was called Prince Yam Yam after his Wolverhampton heritage!  Each owner of a winning horse won £10 and anybody could place £1 bets on any race.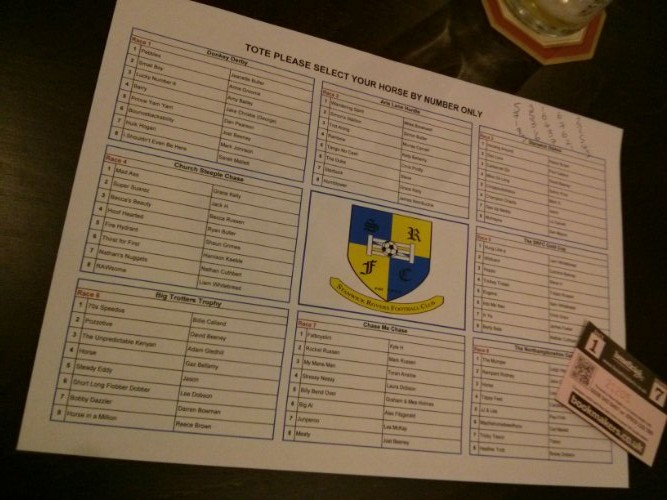 We won £2 on the first race with Hulk Hogan, and another £3.50 with another horse on race 7, but that was our all for the night.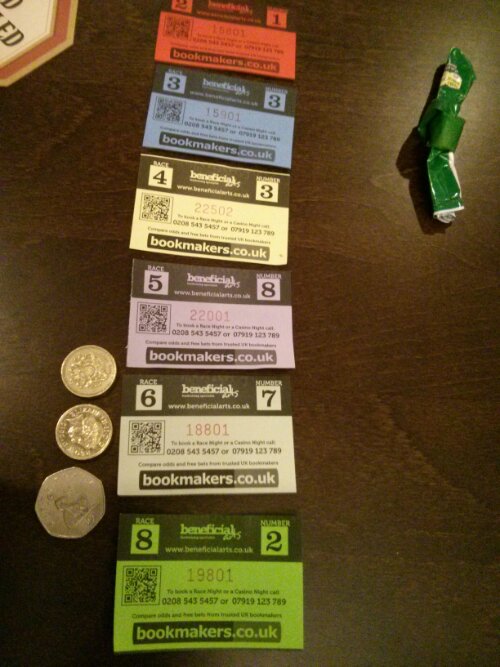 For race number 9 they put eight football teams up on the board as 'horses' and then auctioned off each horse to the highest bidder.  Dan of course won the bidding for the 'Wolves' horse.  The jackpot for the final race was £42 but we didn't see any of that unfortunately!
We had a great night for not very much money spent and the football team managed to raise nearly £400 which was excellent.
Anyone rethinking marathon strategies this close to a marathon?
Has anyone been to a pre-recorded races night before?