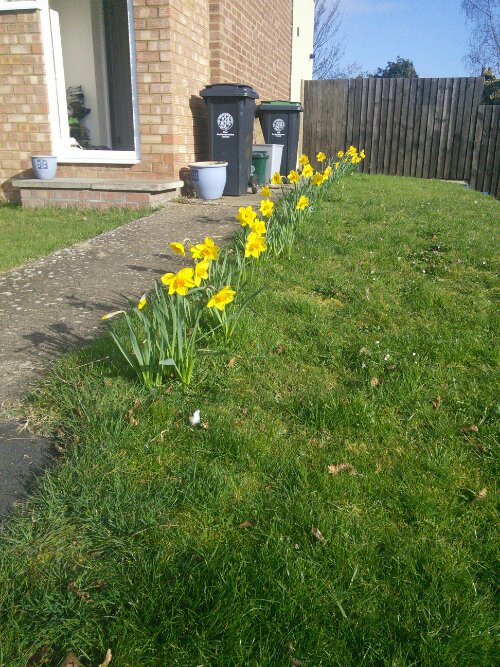 Look how colourful my front lawn has become!  If only daffodils lasted year round – I would love my path to permanently be this bright and colourful!
Yesterday Dad sent me back home with a loaf of bread.  I love the bread my parents get – real fresh bread straight from the local bakery – not processed with loads of additives and 'fake' tasting.  Unfortunately though, this does mean we need to get through loaves quite quickly if we ever have them, and this time Dad sent us back with a MASSIVE loaf!  I put a teaspoon next to it so you could compare…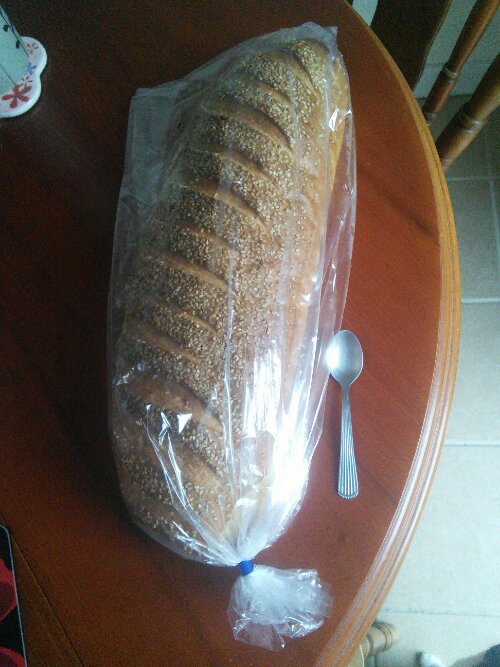 …massive.  Especially for just two of us.  I see several soups and casseroles with hunks of bread in the near future!
Back in September I took on a new job at an Independent School.  The job was only three days a week and at a much reduced salary from where I had been working.
I am somebody that is always – always busy.  I'm someone that always has their weekends booked up for months on end, has become a pro at fitting in running wherever I go and using trips to places to meet up with several different friendship groups during the same day.  I don't think twice about putting on a smiley face for somebody's 30th birthday party when I already got up at 5:30am that morning to run 18 miles, then worked all day before heading out.  Days often contain several events all loosely planned around work.  In the past it's something that Dan was not a fan of.  I was always rushing around, and although I can put on a great face for others – acting super energised and bouncy – Dan and my Mum are the only two people that ever saw how I really felt – the stressed out, miserable, grouchy and incredibly tired side of me.  Then Mum got sick last year and I was travelling back to Norfolk most weeks – sometimes more than once a week – adding yet more extra pressure to my life without being prepared to give anything up.
When my current job was advertised as only three days a week Dan and I had a long chat about it before I went for the interview.  I took a £12,000 paycut for this job (although am working two days less each week).  That is quite a substantial amount!  We both agreed that I was no longer happy in the school I had been in for the past three years, and with no paths open for progression I needed to get out and do something new.  At my current school I am the only ICT teacher, so technically am employed in a Head of Department position – with the same responsibilities such as producing and following Schemes of Work and organising exam entries.  As well as working as a Head of Department, the school was seriously lacking in ICT knowledge.  The teachers didn't have email – or hardly any computers!  Dan managed to 'gift' ten computers from his school (they replace theirs every other year) which I distributed to classrooms.  Student details kept in paper folders was another big no-no at the school that needed organising.  Then as well as trying to organise teaching, being Head of Department, sorting the admin and training staff I also do my best to update the website and send emails home to parents about the school activities.  Updating the school Twitter feed as much as possible.  When you consider that I'm only actually at school 8:30-6pm 3 days a week and I only have 90 minutes of PPA (Planning, Preparation and Assessment allowance – time in a working day where you are not directly with students) in that time, that's a whole lot to fit in!  This morning I logged into my work emails and then spent nearly four hours working from home on a day I don't work for the school.  I replied to a few emails from teachers, added the week's catering recipes up to the website, replied to some parents, sent in some work for students that have ICT lessons on days that I don't work and spoke to BT as the school has been losing internet connection each Friday for the past month.  It just never ends!  I am so looking forward to the Summer holidays!
Yesterday afternoon I did manage to get in a break to finish off the last of the wedding invitations though.  I picked up an extra 10 metres of ribbon from Hobbycraft on Monday.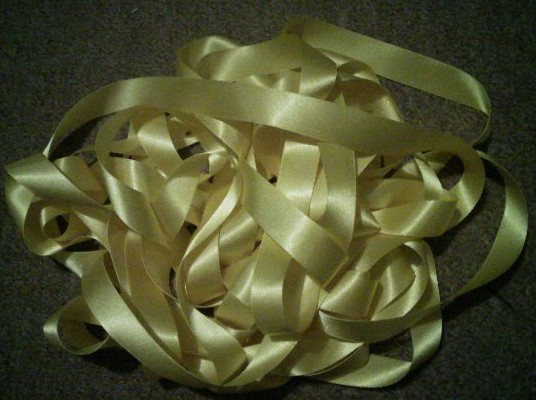 And finished tying the bows onto the front of each invitation and addressing the envelopes.  We're still a little way off sending our invitations out, – we were thinking June? – but I just want to have them ready to go incase life gets uber busy before then!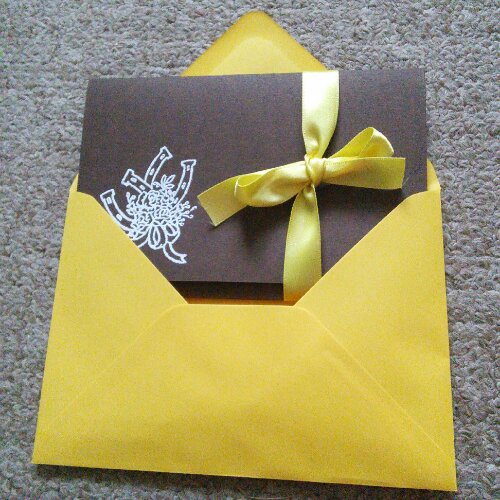 Despite being home in the daytime I decided to throw some items into the slow cooker…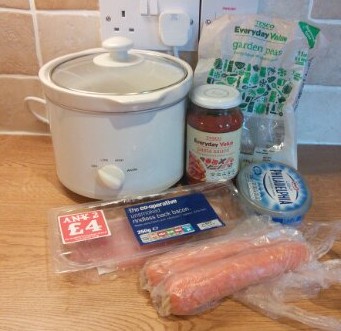 Half a jar of tomato sauce, half a pack of Philadelphia, three chopped up rashers of bacon, two carrots and a handful of peas.   Dan often doesn't get home from footy training until 10:15pm and I knew I would want to eat before then so it made sense to leave his share of the meal in the slow cooker.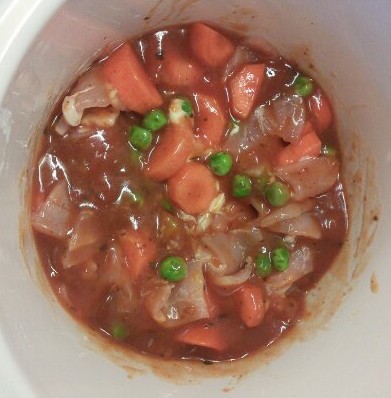 Loved this meal.  Proper comfort food!  Especially when served with a big hunk of bread and butter on the side.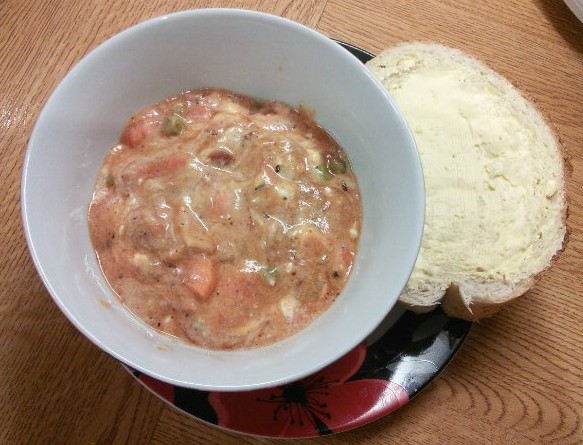 For anyone on Twitter, tonight I shall be co-hosting the #UKRunchat on Twitter with Howard50at50.  Come and join us between 8-9pm and search for the #Ukrunchat hashtag to join in with our favourite topic of conversation…running!  With it being so close to marathons for so many people this week, Howard and I plan on mainly focusing on race build up and the post race blues!