Tonight I hosted the #UKRunChat hour along with Howard50at50.  It . Was . Mental!  Incredibly difficult to keep up but a proper challenge and great to just chat running and find out lots about the #ukrunchat community.
After a manic hour I opened up my tablet to see this…!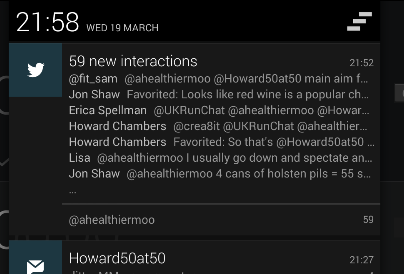 Howard was a great co-host.  He's writing a book this year in his 50th year about running with 50 women each with their own individual stories in the hope that it will inspire more women to take up running in their lives.
I was rather stressed before school this morning so didn't get out for my morning run.  This sign cheered me up as I walked through the school entrance though.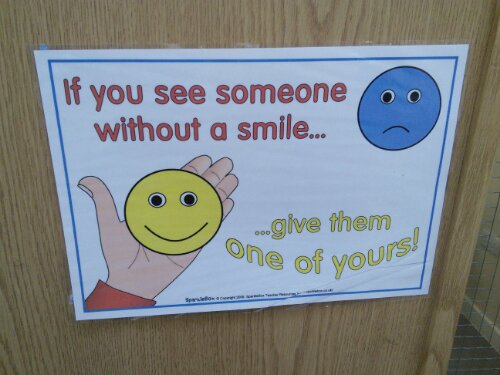 …it always does!
Because I'd missed my run in the morning I raced back after the staff meeting finished so that I could fit in an easy three mile trail run.  It started off slow, very slow – my legs were feeling it rather than my breathing or chest, but as I felt good generally everywhere else I picked the speed up and finished the last mile at an 8:30mm pace.  My legs DO still move apparently despite trying to convince me otherwise just lately!
Before the Twitter chat started this evening I threw together a nice easy tea of a salad sandwich.  Just trying to get more of that massive loaf eaten up!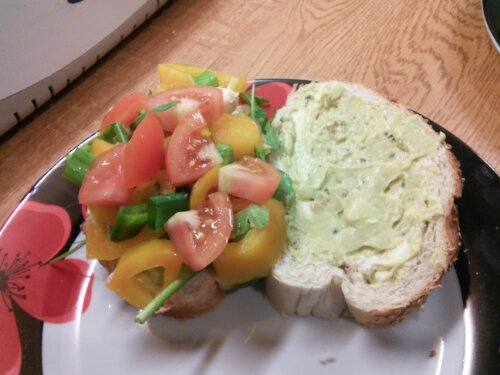 I chopped up half a yellow pepper, half a large beef tomato, a spring onion and threw a handful of leaves onto the slice.  A big dollop of guacamole on the other slice finished the sandwich off perfectly!  A side of wedges making the perfect addition to my dinner.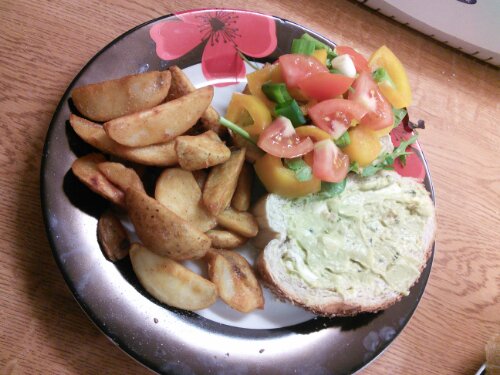 I do love good, fresh salad as part of a meal!  And the colours always make it look so appealing.  Very excited that I still have lots of fresh salad items for lunches and dinners the rest of this week.  

Does anyone follow any twitter chats?
Favourite salad items?  – I could literally throw every possible salad item in a bowl, give it a good stir and live on that for the rest of forever!