A couple of weeks back i entered a competition on Laura's site to win a hamper from Mornflake oats. On Tuesday that parcel arrived in several boxes!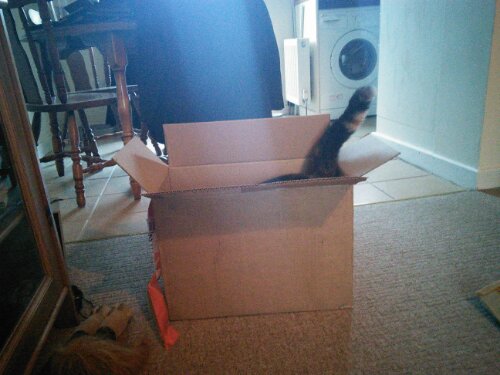 As you can see, Bella was clearly chuffed about the addition to our box collection!
I pulled everything out of the three boxes it arrived in and sat back to look at this…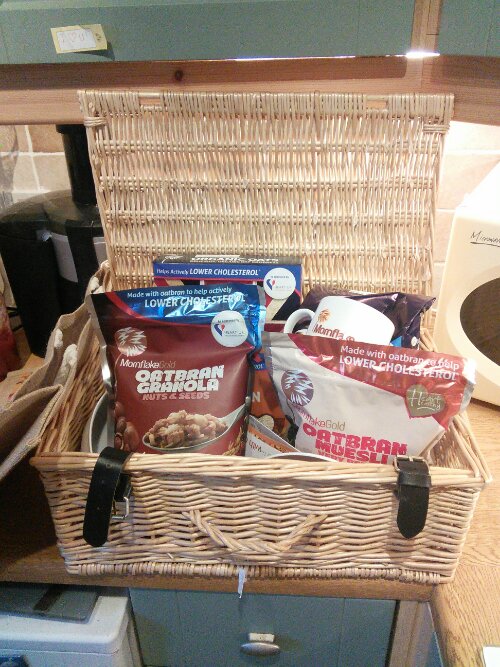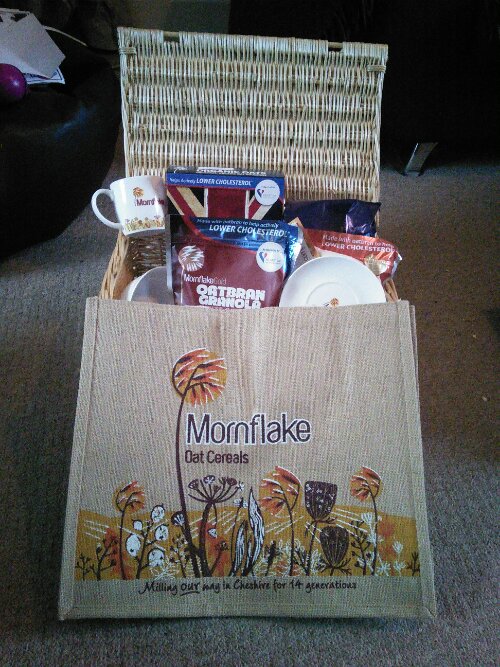 Loads of items to keep me going for my breakfasts over the next few weeks! And a bowl to put my morning meals in as well! With a cup and saucer for a drink too! Can't wait to get stuck in!
Last night I had a great run. I had every intention of sticking at the back of group five and just getting through the planned long run session but when it came to it my legs decided to play ball, so I let them, and worked extremely hard for seven miles to be at the front of the group the entire time. The seven miles included one mile in the middle at 9:10-9:25 pace. Normally we only ever run so far before the front runners turn round to jog back and pick up the runners at the back so that we all stay as a group. But last night, the route we took had a circular one mile loop in it where we did not need to cross any roads. I didn't go all out on the loop but enough that my chest felt like it was working harder than normal! The addition of some runners moving up from group 6 last night helped to get my butt back in gear as well! They will not overtake me!
It rained during a lot of the run and I was soaked through by the finish. There were actually quite a lot of us out considering the rain and it ended up being quite late by the time we got back to our cars. Nearly eight o'clock. I was ready to make my excuses to slip away before stretches began when Alan, our coach announced that it was too cold and rainy for outdoor stretches and to all get home and do them in the warm. Bonus!
On the drive back I realised that I hadn't given a single thought to what we were having for tea so rang Dan who informed me that he had already put some food in the oven. I came home to find the table set, a turkey burger with side salad and a few wedges on my plate, and a glass of milk and wine waiting for me on the table. Best fiancé ever!
This morning on my laptop I came across some old pictures of the very first time I traveled to London in 2008…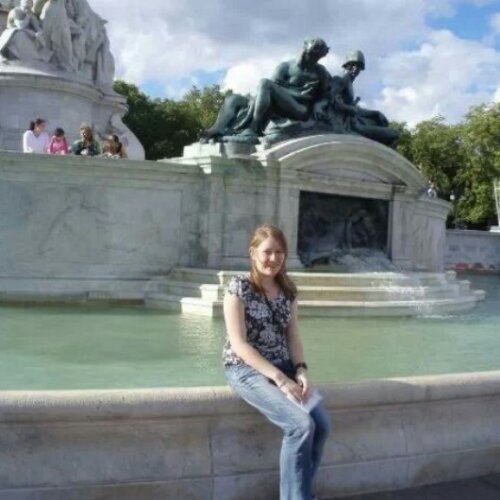 Next time I'm at this spot I'll be running the London Marathon! Just 23 days to go.
As I was staying to supervise coursework catch up at school this evening I brought along my Marathon Talk magazine-planning on working out all the details I need to know for the big day. (Funny story-yesterday at club my coach asked me how all my plans for my big day were going and I started rabbiting on about my London training not going so great before he stopped me to inform me he actually meant the plans for my wedding! Oops! Clearly I have my priorities in the right order?!)
Anyway, here's a few snippets from the magazine…
This sign always makes me laugh. Do they really need an image?!…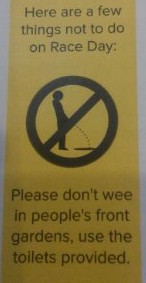 This is super quick. One of my half marathon times was actually slower than this!…

And hello ultramarathon number three…!