Today was my tenth Parkrun.  So I'm well on my way to getting that 50 Parkrun t-shirt I saw so many people run past me wearing today!
I've now run one, two, three, four, five, six at Northampton.  One, two, three (today's run) at Peterborough and one in Sheringham.  I'd quite like to try some other courses though and there are plenty to choose from near us, including Bedford, Huntingdon and more recently Corby.
Last week I paced Dan to a sub 30 minute 5k (29:08) and when my friend Vick excitedly texted me later that day to let me know she's now lost a total of two stone I suggested Dan and I headed over to Peterborough Parkrun today and I help pace her to a quicker time.
I've said it a million times before, but Parkrun is great, even for non-runners!  The three Parkruns I've run with Vicki have been the three instances she has run since school.  Anyone can run them, and they're free!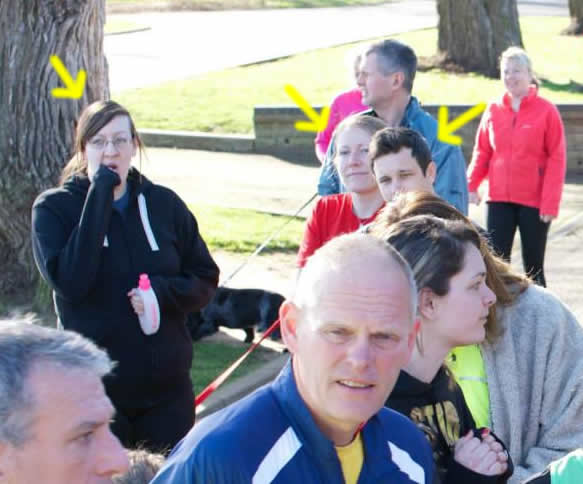 (Listening to the pre-race briefing)
I checked back at Vicki's previous times 40:24 and 41:12 and decided to try and keep her at a sub 13mm pace from the very beginning.  I gave Dan strict instructions to try his best to stick to a 9:10mm pace from the beginning of the race, rather than set off too hard, which is something he often finds himself doing – and then lags later on in the race.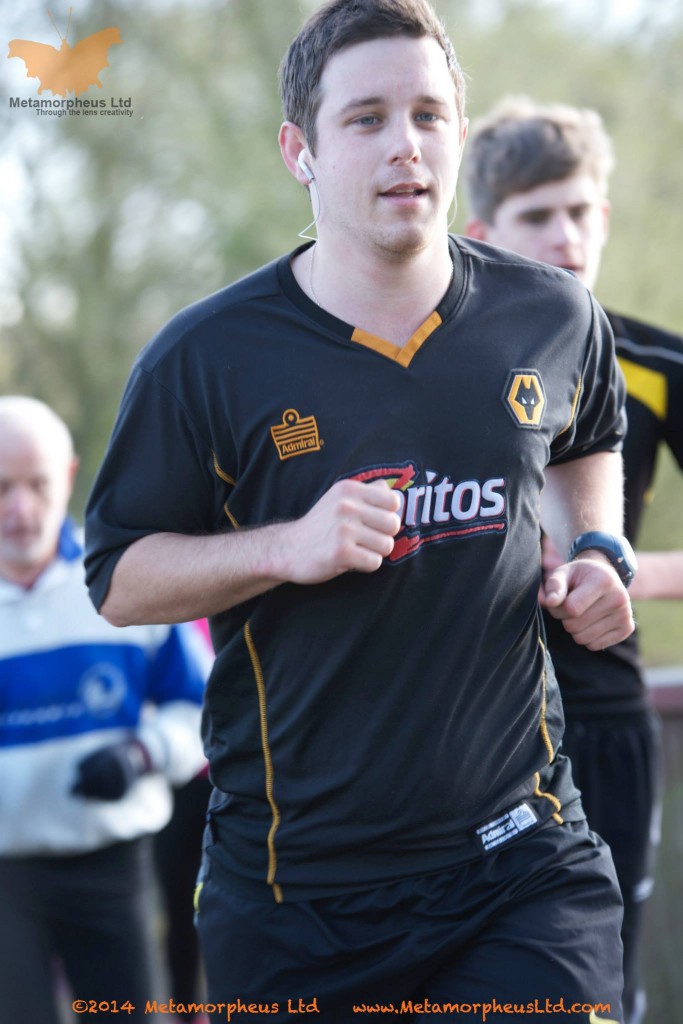 Looks like he was still doing well by the time he got to the bridge a mile in!
He went on to finish in 29:21 – just slightly slower than the PB he set last week at the Northampton run.  He said that he was confused by the 30 minute pacer being ahead of him despite his watch showing what he thought was correct pacing.  He pushed too soon and lost it towards the finish.  Still proud of him for getting a sub 30 all on his own this time.
Fab picture of Dan…not so great of me…ready for this?…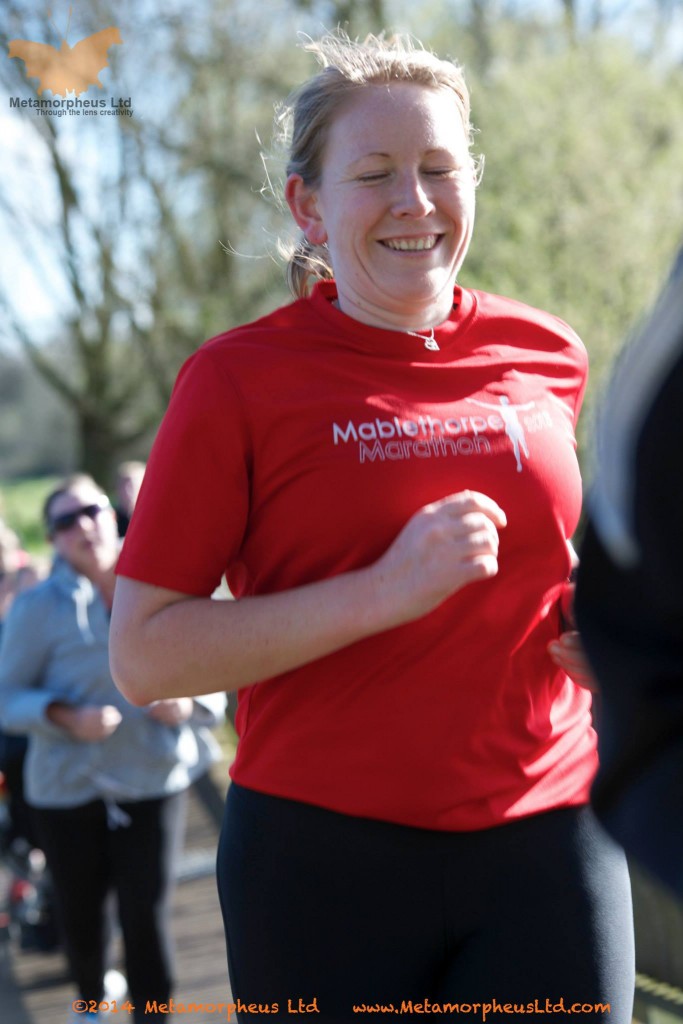 Horrific!  I have no idea what my cheesy grin is all about, or why my eyes are half shut.  Twelve neck rolls as well!  Pah!  Good job I can laugh at myself (whilst silently hoping that I do not pull this face in any of my wedding pictures later this year!)
Vick had a great first mile-completing it in 12:12mm.  A little faster than initially intended, although she didn't appear to be struggling with her breathing at all.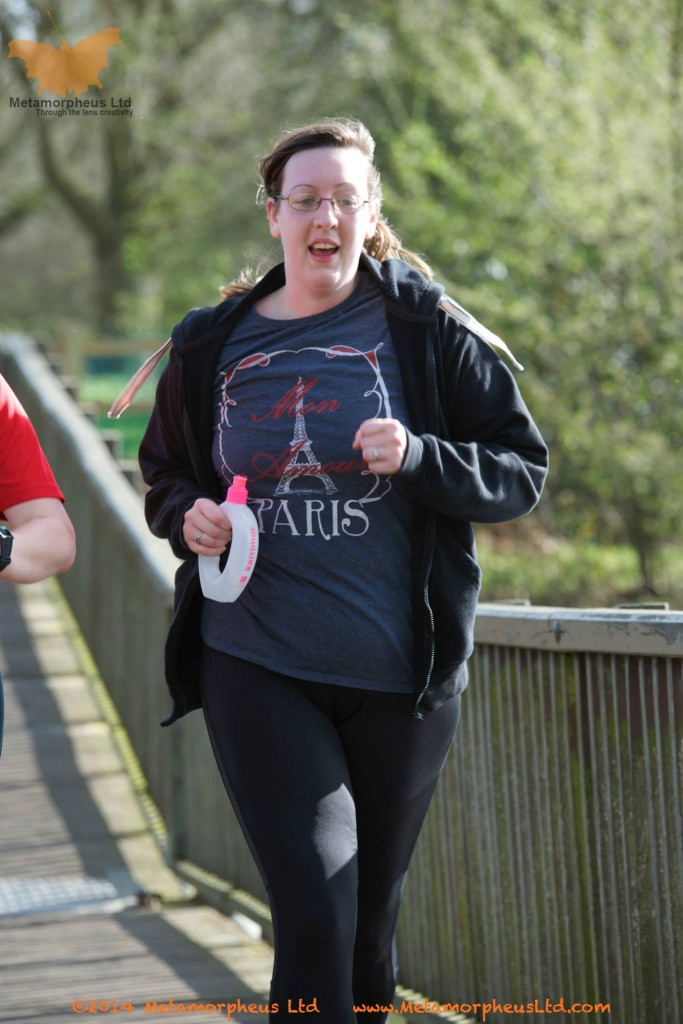 We bought her those running tights and the water bottle as part of her 30th birthday present the other week.
I'm getting better at the whole talking to myself thing whilst running with Vick.  Most of the time she can get out a couple of word answers, but it's down to me to get the talking in whilst on route.
At Peterborough the course is a little loop, followed by two larger loops so other than the start and the finishing funnel you cover the rest of the route twice.  Both times I've run with Vicki before she's surprised me with her super kick finish, which I've gotten her to do from about 100m out.  This time on the first lap I pointed a tree out for her to kick from next time we passed.  It was about 150m from the finish.
Look like I'm going to sneeze in this one as I headed back over the bridge.  Clearly wasn't my day for pictures!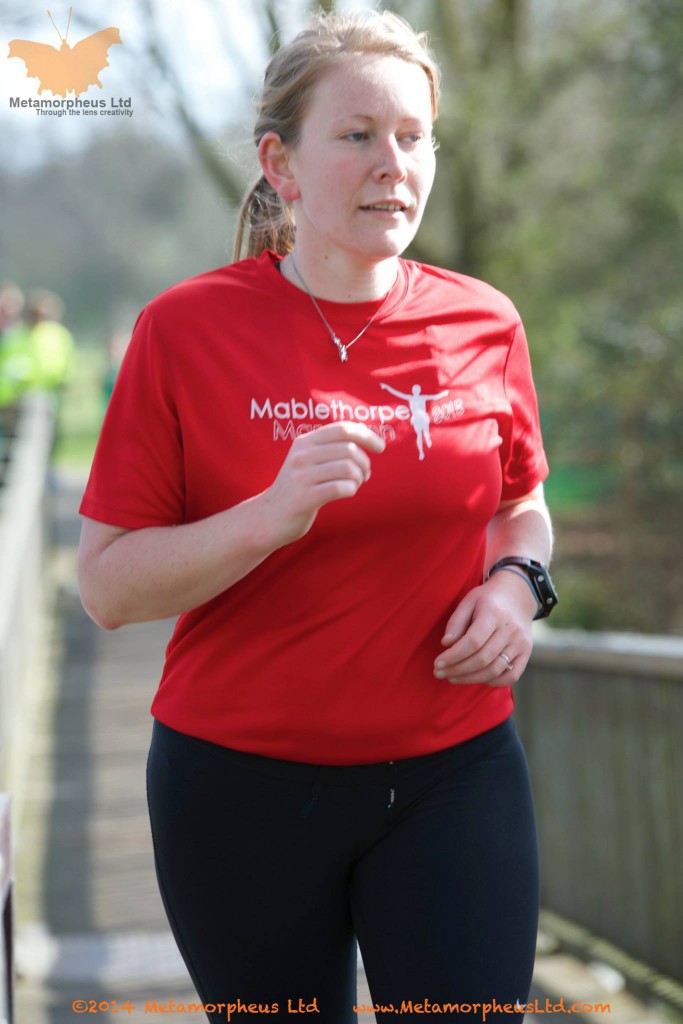 One of the great things about the Peterborough Parkrun courses is that they have pacers.  Today the pacers were for 30mins, 35mins and 40mins.  The lady pacing 40minutes passed us about 1.5 miles into the run although was never far infront of us.  I had a feeling so was a little quicker than planned so wasn't too concerned and as we came onto the last 0.3 mile alongside the lake she began jogging backwards on the spot to ensure she did not finish too early.  She turned to see Vicki and I and started motivating Vicki for a Sub 40 finish.  When I said that that was her aim, she got on one side of Vick, and I stayed the other and we pushed Vicki a little harder over the next quarter of a mile.  She mentioned to Vick to push it to the finish and dropped back as Vick took off.  She was before the tree, and before the 200m to the finish sign.  Somehow she had enough in her to get to the finish still, although she dropped back a little on her pace and I came back alongside her again.  I don't know where she finds it from, but she even managed to get a 7:55mm pace in on her quest to get over the line!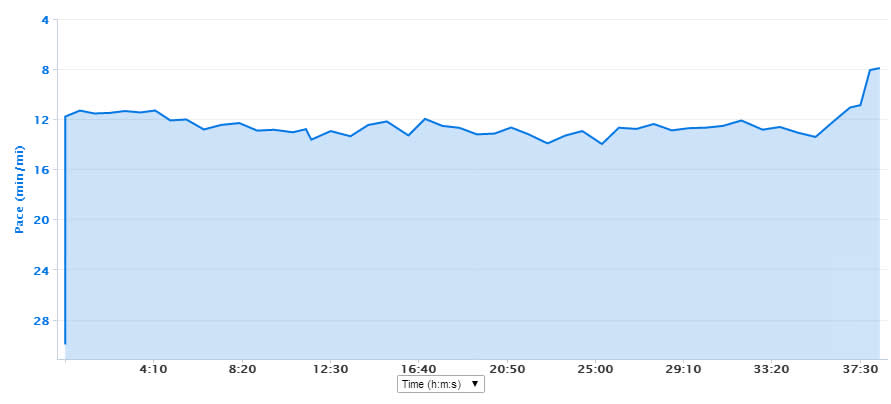 Lovely and consistent…and then check out that finish!  

Official finishing time: 39:23
Finish position: 266/291
Gender position: 121/143
Another great thing about the Peterborough Parkrun is that they always have a  photographer each week.  All the photos in this post came from Metamorpheus Ltd Sports.