Yesterday was the Oakley 20.  A race I loved back in 2012 when I last ran it, but a race I spent more time being nervous about this week than I have for the London marathon.
Back in 2012 I ran at an average pace of 10:50mm, finishing in 3:36:56 and was very happy with my time, having only been running for about 8 months then.  I can remember loving the course, but probably walking more of it than I should have done.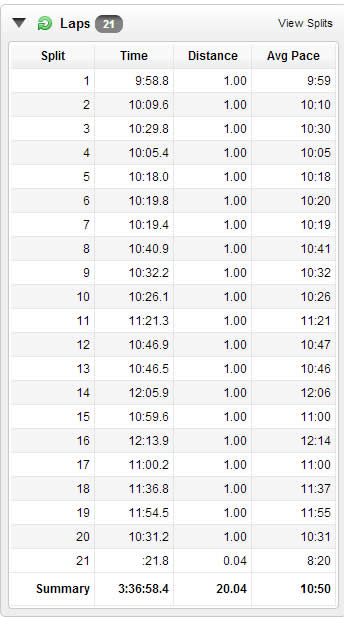 Judging by my recent poor runs I knew I was a long way off of my PB time this time round so just had in my head that I wanted to get round in under 4 hours (the cut-off time) and enjoy the run.
Oakley really is a beautiful course – I can't recommend it enough.  The scenery is lovely, the houses are picture perfect and I love that it has rolling hills-nothing big, just small uphills, followed by small downhills – much nicer than a flat course.  It's made it into my top 3 races list!
Carb loading the night before and I split a mozzarella and pesto pizza with Dan.  Obviously he didn't have the side salad I did though!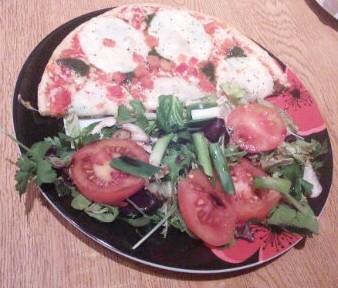 I headed to bed reasonably early and let Dan stay up to watch Match of the Day alone.  I couldn't lay in though and was up by 5:15am.  STARVING for some reason!  I held off having breakfast as late as possible and eventually wolfed down a peanut butter bagel at 6:45.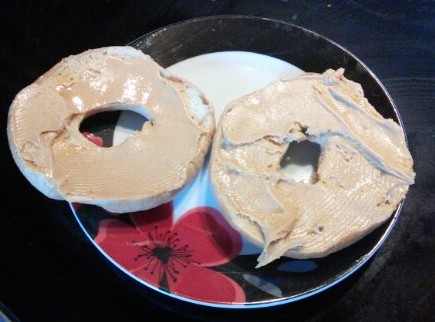 Standard race day food!
On Saturday night I'd nipped to Co-op to stock up on Jelly Babies, and my luck was in.  £1 a bag, so there might be several sat in my kitchen cupboard right now ready for upcoming races!!!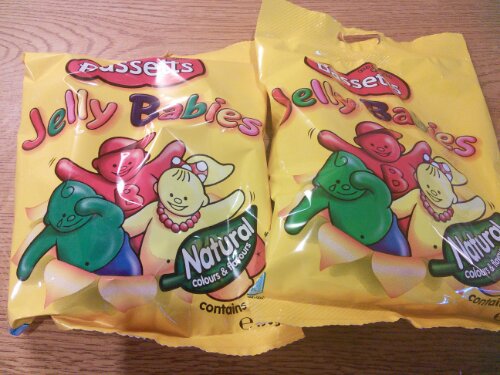 I picked my friend Hayley up on the way and we arrived quite early.  Back in 2012 when we last ran it, we ended up still queuing for the toilets two minutes before the race start and we didn't want a repeat of that experience!
I picked up the hoody.  It's a white one this year – there's always so much speculation about the colour each year!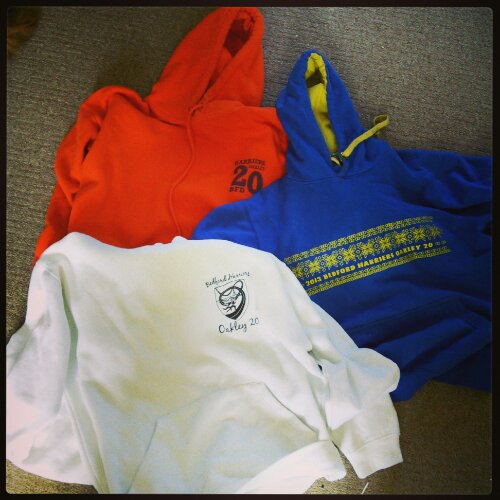 The orange one is from 2012, the blue one from 2013.  Fitting that it has a snowflake pattern on the front, as the race was called off due to heavy ice and snow on the route last year.
Thirty-four of our club were running this year's race, so there was lots of pre-race banter going on in the hall.

I had ummmed and ahhhed about tagging on to some slower members at club for the race to ensure that I didn't go too quickly and blow up, but by the morning of the race I decided that I need to run alone to try and win the mental battle on my own instead.
When it came to it though I ended up on the starting line with Kev (who had run a 34 mile ultra the day before!) and Jane – who were running just under an 11mm pace so I fell in line behind them for the first two and a half miles.
I managed to spot Becca from Love Hate Run on the start line just before the gun – she went on to have a fantastic race – passing me not long after the start and finishing in 3:48.
Hayley was getting herself in a tizz on the way to the start and had completely forgotten how the race worked.  15 minutes before the gun you head down the road a little way, over the starting mats and turn back to face the school where base is – running past the supporters still stood outside.  As we squeezed our way through the front runners that already turned close to the mats Hayley began trying to run – thinking we'd begun the race!  Haha!  Made me laugh!
I found the first couple of miles very easy.  Because I've been getting back into speedwork sessions lately and practicing quicker turnover of my legs during runs on my own 11mm felt very, very slow!  Although I wasn't about to pick up the pace yet, knowing how much I'd struggled on every single long run since this batch of marathon training began.  I honestly don't think I've run non-stop past eight miles for the longest time and my aim for the race was to keep it steady and consistent and enjoy myself.  NOT get worked up, speed up, die a little and drop back on repeat.
Although I had been running just behind Kev, Jane and Jane's son, Jason I hadn't really been speaking to them.  I really wanted to focus on how I was feeling and destroy any mental attacks my brain decided to throw my way.  About two and a half miles in when Jane slowed down for the third time going up a slight hill I weighed up my options – should I stay or should I go?  Hills are one of my strengths and I can power up most hills without many problems so I decided to continue on without them and within half a mile they were no longer in sight.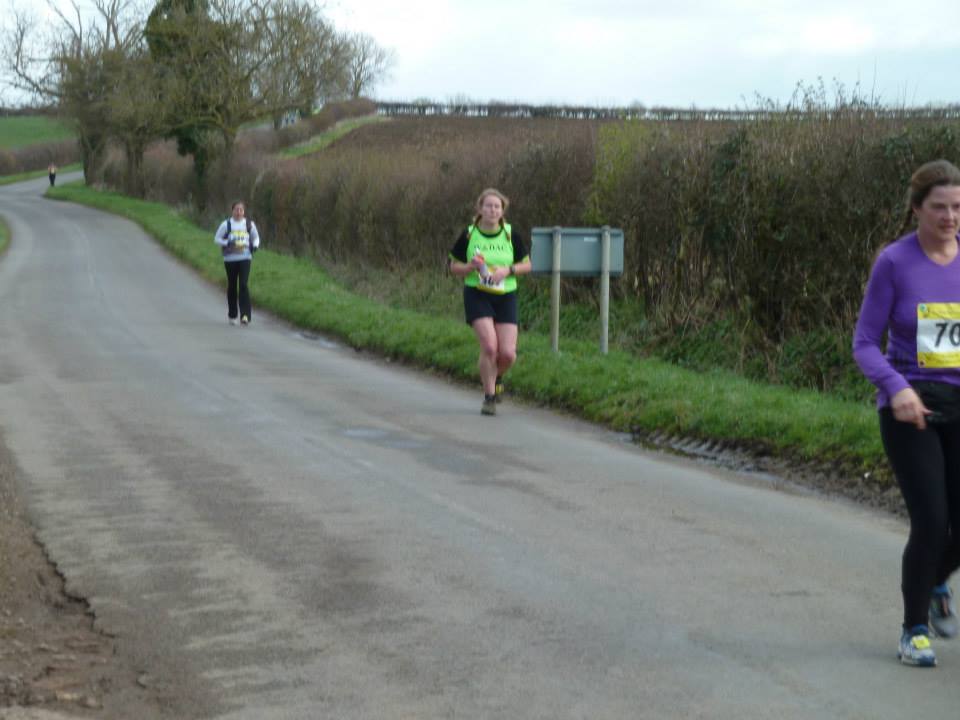 (About four miles in…unfortunately it's rather blurry.)
I was amazed at how consistent my running was.  The first few miles went as follows…
Mile 1: 10:55
Mile 2: 10:59
Mile 3: 11:46   << Hung back slightly on a couple of smaller hills for Jane here.
Mile 4: 10:41
Mile 5: 11:05
Mile 6: 11:10
Mile 7: 11:14 
It was at this point I realised that my the big toe on my left foot was beginning to blister.  Not fun, but managable.  My trainers are pretty big, so it wasn't causing me a huge amount of pain.  I was just aware of it more than anything else.  Although when I got home, I realised it wasn't a very pretty sight!  Look away now if you're at all squeamish!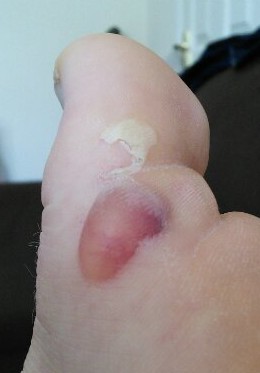 My fault for jinxing it on Saturday by posting this link to the Ugliest Runners' Feet and declaring I'd lucked out so far this year with no black toenails or blisters!  Spoke too soon!
I also realised just how hot it was getting.  My initial plan had been to wear purely my Ronhill shorts for raceday and new race vest.  I've always found my club race vest rubs me under the arms and is a little close for comfort around my midriff but the club has recently gone to a new company for vests and the tops are much more comfy so I got a new one for London.  I get very hot very quickly when I'm running and often find myself overheating soon on in a race.  However, at the start of Oakley, it had still been pretty chilly and I made a last minute decision to throw a t-shirt on underneath my race vest before the race began.  Definitely a good idea to begin with, but by mile 7 I was feeling the sun that had appeared from nowhere!
I still felt great though and told myself I didn't care how slow I went, I was going to run until we at least passed the school again (about mile 12) when I would allow myself to walk through the water station.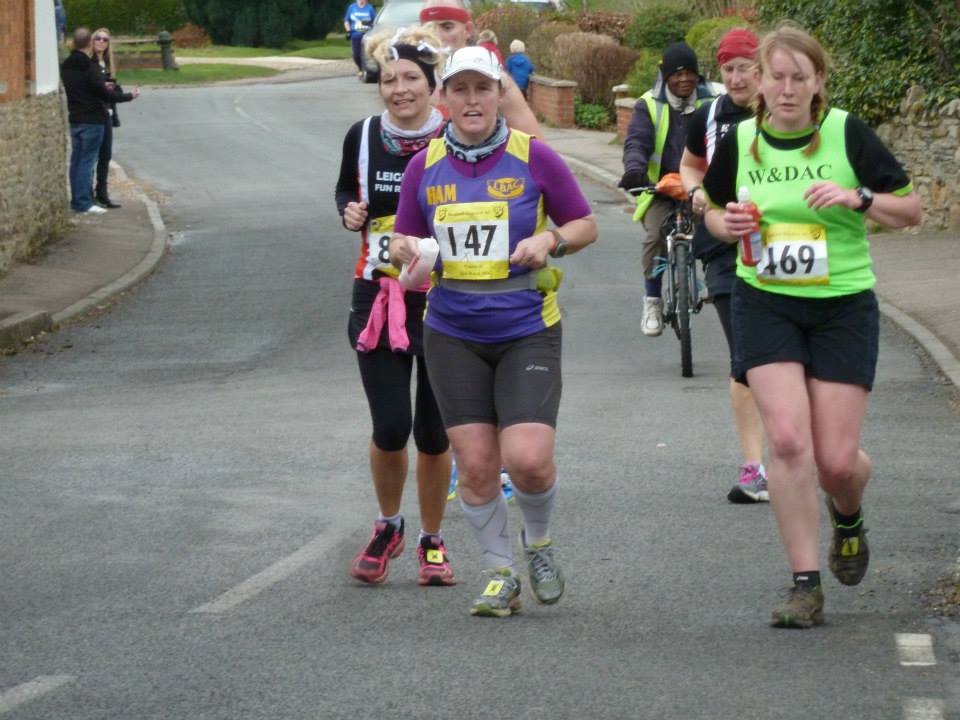 (This was about mile 9 – beginning to feel the heat a little here.  Also, I can't get over how chunky my legs look?!)
Mile 8: 11:21
Mile 9: 11:17
Mile 10: 11:11
Mile 11: 11:20
Still roughly where I wanted to be, and to be honest, much better than I thought I would do.  Just before we got back round to the school I lept into someone's front garden, threw my top and vest off, chucked my vest back on and jumped back out onto the road.  I did pick a house with drawn curtains, so hopefully no-one saw me wearing just a bra and shorts!  As we passed through mile 12 and ran alongside a huge crowd of supporters, I spotted Julie (Kev's wife) in the crowd and thrust my t-shirt at her.  Sorry Julie for making you hold my sweaty t-shirt!  I really appreciated it though!

I grabbed a cup of water at the water station by the school.  I had been living on jelly babies each mile and sips of Lucozade lite when I fancied it and really needed something less sweet to glug down.  The water was in large polystyrene cups and it was impossible to run whilst drinking without most of the water going down my front, so I allowed myself to walk through the water station to finish my cup.  This is when the mind games almost got me though.  I'd walked then.  Surely it didn't matter anymore and I should just walk to the finish?!  I ran for a little way and then Jason caught me up.  He'd left Kev and Jane around mile 10 as Jane was having problems with her foot, so he'd pushed forward to continue the race (and then went on to run the final 10 miles at 10mm pace!) I ran with him for a little way but chatting to him my head wasn't concentrating, I ran a little quicker than I would of and ended up telling him to go ahead as I dropped back.  I didn't feel tired.  I didn't feel injured.  I just needed to re-set myself and my head again.  By mile 13 I seemed to have it sussed and began to get into the swing of it just as we had a 20 second hail storm in the sun.  The hail was really big and several chunks hit me on the head (and stung!)
Mile 12: 12:23
Mile 13: 11:46
Mile 14: 12:33
Mile 15: 12:19
Mile 16: 12:08
I had a few walking breaks but purely because my head was arguing with me.  Not because I really needed them.  My legs ached, but not terribly and whenever I walked it would never be for far.  I was really motivated to get round, such a shame I walked through that water station at mile 12 because I felt like otherwise I could have run the full 20 miles.
By mile 17 I was really loving the race though.  It was a beautiful day, there was hardly any distance left to go, I felt great and I was passing several people by this point.  At one point I glanced down to see my watch show that I was running at a 9:50mm pace – getting carried away with enjoying it – so slowed myself back down again.  I passed a group of four people whinging about how much they hating running this race and how after their marathons they were never running again.  Despite feeling what a shame that was I couldn't help but smile at how different I felt about the race!
Mile 17: 11:05
Mile 18: 11:51
Mile 19: 11:58   << Couldn't get the Jelly Babies out of my belt so had to pause and rearrange myself here.
Mile 20: 11:00
Nubbin (0.21miles): 8:44 pace
As always, coming into the finish line to see 30 club runners (everyone always stays until the last person crosses the line, and several had turned up to support as well) gave me such a boost and I couldn't stop smiling!  I still felt like I had a lot left in me (that'll be all the walking!) and easily managed an 8:44mm pace as my lap around the field before the finish.
Bedford Harriers know how to put on a great race and I'm a big fan of both the Oakley 20 and the Bedford half (my PB half marathon).
Official chip time: 3h 51m 54s
Place: 798/818
We stopped to cheer in the final runners and then headed to the pub for a late lunch/early tea as it was 3pm by now.  I had an amazing veggie burger – black beans, red onion, goat's cheese and topped with pesto.  It had a stick to hold the burger in place in the bun which contained a pickle and tomato.  Love pickles!  I stole Hayley's one too!  I didn't get a picture unfortunately, but did snap one of Jane's roast.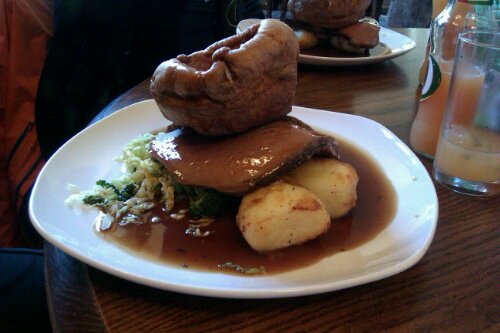 The food was immense!  I struggled as always after a long run to eat, but did manage to clear my plate, despite being the last to finish by a long way!  I couldn't do dessert though, so sat and watched as the others tucked in.
It wasn't a fantastic time, but running Oakley 20 yesterday has helped return some of my confidence ready for London in three weeks time, which in many ways is so much better.  My body is looking forward to the taper now and I can decrease my mileage feeling a little safer in the knowledge that I will be able to get round and enjoy it on the day.
Who else is feeling ready for the taper?!