Yesterday morning was the first morning I pulled open one of the packs from my fabulous Mornflake hamper I received last week.  After much deliberation I settled with the Mornflake Gold Scottish Jumbo Oats and measured out the recommended portion size (which I rarely do!)  The oats were jumbo (as stated on the packet!) and made a nice change from the smaller size I'm used to.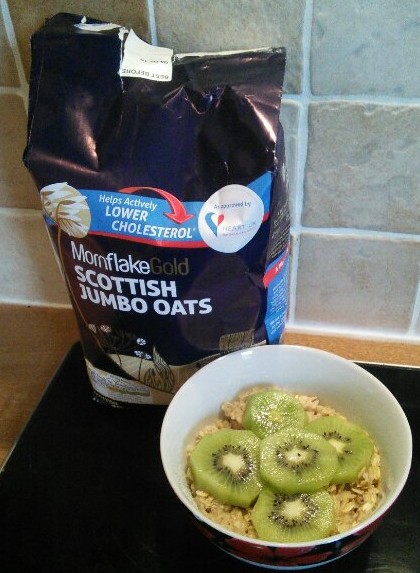 I decided to chop up a kiwi fruit to place on top of my breakfast.  It's been a long while since I'd had one and I picked up four for £1 in my Tesco shop on Monday.  Perfect amount of sweetness to the oats.  I usually add berries, but it was nice to have a change!
I actually ended up having breakfast quite late after spending the night lying on the bathroom floor feeling pretty sorry for myself.  I ended up sleeping in until 8am and then didn't get out of bed until nearly 9.  This never happens!
Lunchtime and I was excited to try my own version of stuffed peppers.  I've been meaning to recreate the dish ever since my friend Vicki made me a version several weeks back now.  All of the recipes I found online seemed to either contain random ingredients I'd never heard of, or items I didn't like so I decided to go with what I fancied and threw the following into a saucepan…
-two portions of rice
-two vegetable stock cubes
-quarter of a can of sweetcorn
-one red onion-chopped
-one spring onion-chopped
…along with some water and boiled the mixture for 20 minutes or so.  I wasn't sure if I should add any spices so in the end decided to stick just with the salt to keep it safe!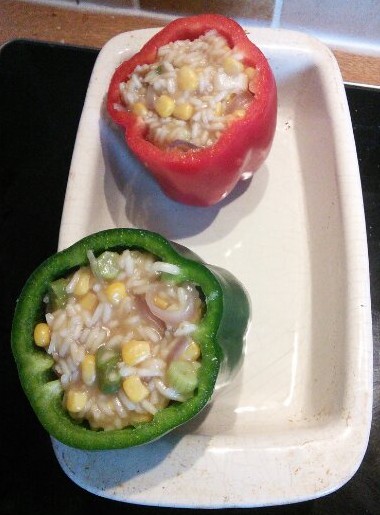 I made a double portion so that I would have one to take in for my lunch today.  After filling the peppers with the mixture I placed the lids back on and placed the peppers into the oven for 30 minutes at 200 degrees then plated them up with a dollop of sour cream.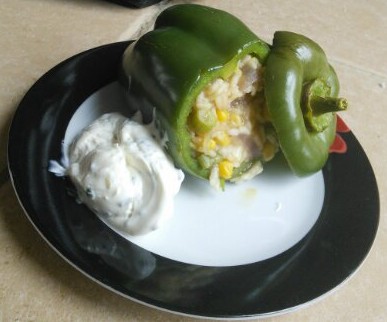 Delicious!  And I am sure it would have been even tastier had I left the pepper in the oven for another 10 minutes or so as it was just a little bit crunchy still.  It'll be worth experimenting with some different spices as well for another time.
Whilst the peppers were cooking I prepared Dannii's lemon chicken for tea in the slow cooker.  I followed the recipe on her website, although only used two chicken breasts as there are just two of us!  I didn't include any wine in the cooker as I didn't have any to hand, although this might have toned down the lemon a little as I still included a whole lemon rather than cutting back with the other ingredients.  I put it all into the slow cooker and let it cook on slow for five hours until Dan returned home from work.  I boiled some new potatoes and carrots for the side and melted a tiny amount of butter over the potatoes before serving.  Beautiful!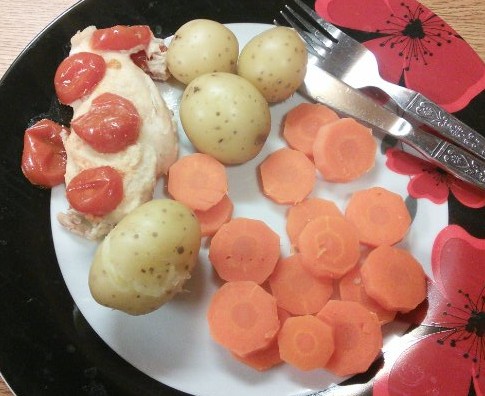 I also tried Laura's Microwavable Double Chocolate Brownie Cookie for dessert but in my eagerness to try it forgot to get photographic evidence.  

 Blogging fail!  Just ensuring I get to try it again later in the week!
A successful day of experimenting with new recipes!
I also made plans to head down to the London Marathon expo on the Thursday (10th) April to pick up my race number.  I'm heading down with another runner from club who's experienced London twice before so is hopefully going to show me the ropes!  Can't believe it's almost here now.  Eighteen days until race day and my legs are already appreciating the taper I started on Sunday night!  I took Monday off after my 20 mile race on Sunday, then had intended on heading out to club for speedwork yesterday, but still wasn't feeling 100% after my 3am adventure so settled on a 40 minute walk with a copy of the latest Women's Running magazine instead.  After a better night's sleep last night I managed to wake up nice and early for a few miles before school today.
Do you cook with any spices?  What are your favourites?
Any to suggest adding to my stuffed peppers in the future?