Firstly, last night I slobbed out in my pyjamas from the minute I arrived home from work at 6pm.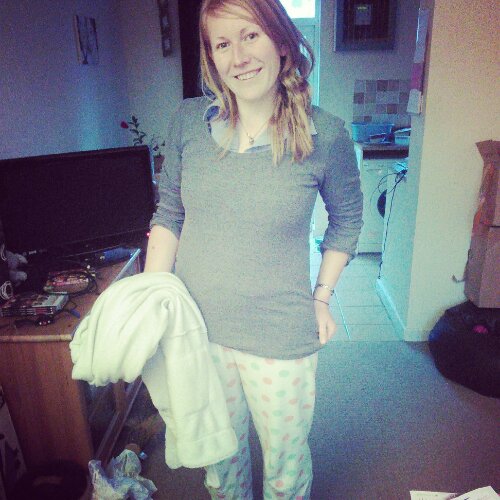 Sometimes, after a day of teaching year 10, you just want to feel cozy and slob out on the sofa.  Good job I got a cheeky three mile run in before work this morning.  My watch was all over the place again though.  At one point it told me I was running 4minute miles.  Um-OK.  NOT very likely!  I took the run pretty easy and just picked it up for 3/4 mile in the middle and added a tough hill at the end before my cool down.  Working on feel I would say I was probably running at 8:30mm pace for the quicker section of the run.  When I returned I was debating whether or not I was too hot for porridge, but I'd left it out on the worktop from the night before and I couldn't resist making another batch for breakfast.  This time topped with strawberries.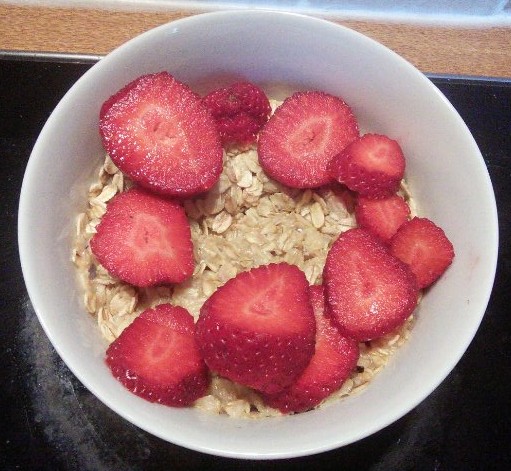 It's pretty filling actually and has actually stopped me from picking at my lunch early the past couple of days.  The joys of eating lunch whilst working…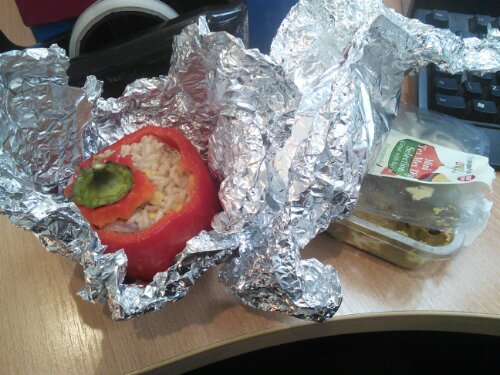 …lots of tin foil!  Coursework deadlines for my year 11s are next Friday, before we break up for Easter, so at the moment all my breaks are spent remarking their work trying to help them achieve the best marks possible.  It will be a relief once their coursework is out of the way.
For lunch I had a red pepper version of my meal from yesterday.  Because the mixture had been in the pepper since yesterday afternoon and then left in the fridge it was a little soggy on the bottom – probably best just to make one pepper up at a time in future.  Anna hit the nail on the head yesterday when she spotted that my peppers didn't contain any protein.  I must admit I did feel a little hungry yesterday afternoon and could have done with some cheese added to the mixture.
Dinner was another slow cooker meal waiting for me when I arrived home.  I'm really getting the hang of this slow cooker malarkey now!  Similar to the other night – half a jar of tomato pasta sauce, half a pack of Philadelphia and four rashers of bacon (serving both Dan and I) and then I added a few spoonfuls of sweetcorn to the mix along with half a flatbread.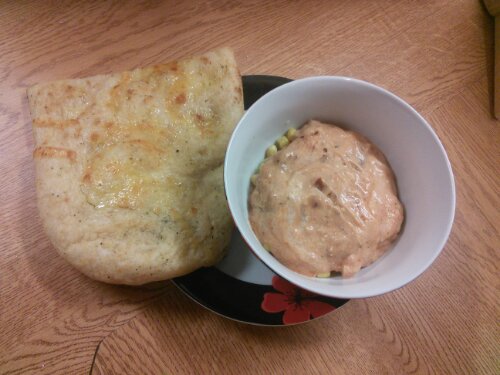 I am aware that this picture makes my dinner look rather like cat vomit but you have to trust me when I say it was tasty!
When I headed back to Norfolk last weekend I met up with my friend Zoe, who is also getting married this year, in October.  She was showing me some of the decorations she had made ready for the day and brought out this pot of what I thought were real flowers to begin with…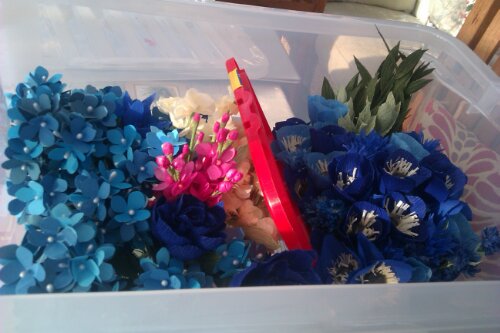 They are actually flowers that she has made herself out of card.  They are really, really good!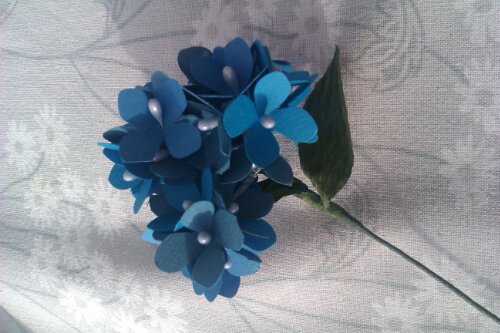 I'm trying to persuade her to go to a few craft fairs and sell her work but she's been having none of it!  She's also been working on some flower style pompom balls to hang in her reception.  They are now slowly taking over her living room…!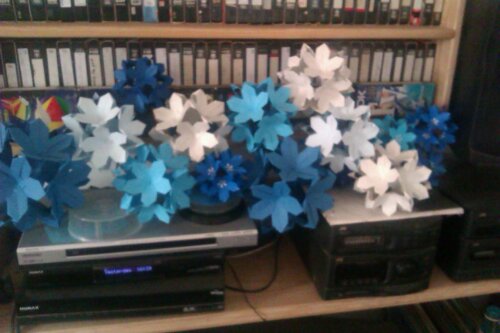 To be honest, I've not really thought much about decorations for our wedding yet.  My school breaks up five weeks before my wedding so I plan on honing in on my creative skills once the stress of work is out of the way for the Summer.  Zoe has got me thinking what sort of things I could come up with though.  Any suggestions?
I have finally gotten round to finishing addressing invitations for our wedding this week.  It seemed to go on forever!  A couple of people have asked me what the invitations look like inside so I've taken a few pictures…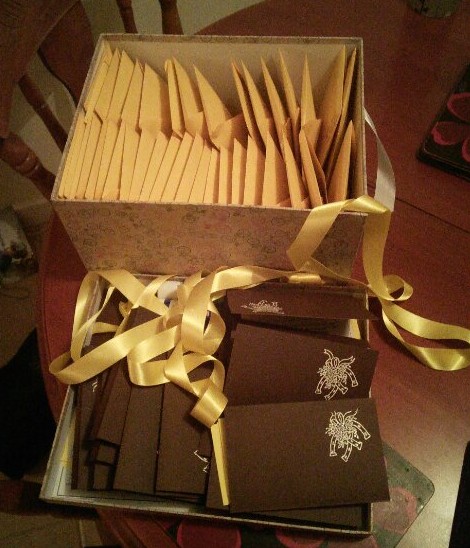 (Our colours are obviously yellow and brown!)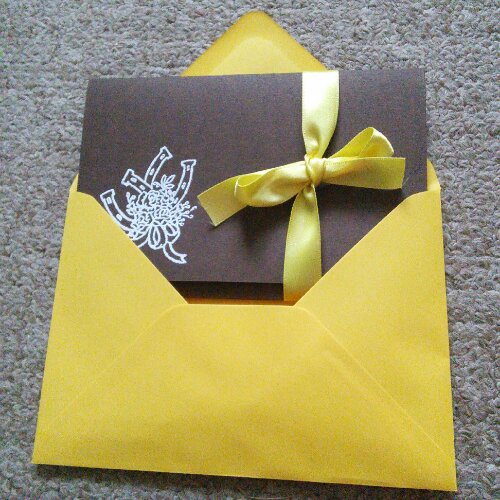 The front of the invitation has an embossed white emblem of horseshoes on the left hand side.  I used to work as a riding instructor for several years, and we are leaving in a horse and carriage so this is something we thought fitted for the day.  (Of course, horseshoes are also supposed to be a symbol of luck.)  I only discovered embossing about a year ago but have become addicted ever since (although not as addicted as Lily, whose wedding is tomorrow!)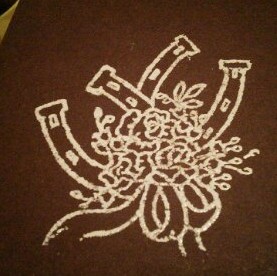 Once the ribbon has been untied, you can lift the top flap of the invitation up to reveal four separate cards underneath.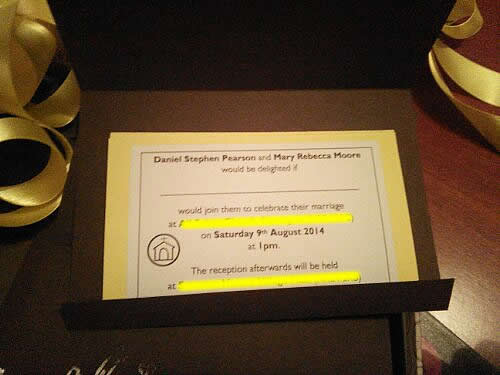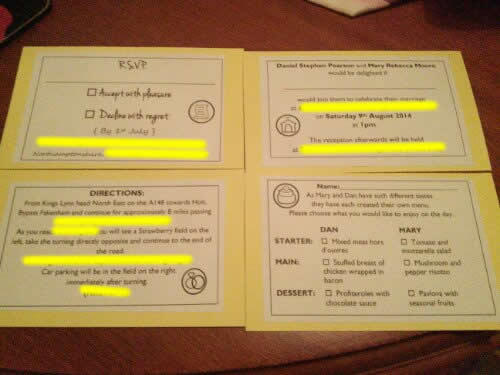 The four cards are:
* The official invitation (details of wedding website on the back)
* The RSVP
* The directions (hand-drawn (on the computer) map on the back)
* Menu choices (If partners are invited, another copy on the back)
Despite the invitations taking much longer than I initially thought they would (probably 20 hours in total at a rough guess!) I'm happy with how they turned out.  I would much rather have a personal touch (and obviously we saved a lot of money on making them ourselves as well.  We paid £24 for 500 sheets of card and this will last us for all the Thank-you cards, Favour cards, Seating plan, Name places and Order of Service sheets as well.  The ribbon came to £11 and I paid £5.90 for 100 yellow envelopes.  Job done!  (Finally!)
I've always been one to work through my lunchbreaks.  Does anyone else do the same?
Any suggestions for wedding decorations?  Ever tried embossing?