So, as I mentioned yesterday I have fallen in love with the game Fetchpoint and it did dictate where I went out for a run yesterday morning!
I didn't get out for a run whilst back at my parents, so initially intended on just heading out for a 2-3mile run yesterday morning and then going to club for speedwork in the evening.  But the weather was so nice I couldn't bear to turn back and head home when I got to the 3 mile point!
Instead I continued and didn't make it back until I had reached nearly seven miles.  I had no real 'aim' for the session (other than to pick up two Gore-illas from the Fectpoint game!) and intended on taking it easy, as long as I was sub 11:25mm pace (the pace I need to be at to get a Sub 5 marathon).
Splits as follows:
Mile 1: 10:52
Mile 2: 10:39
Mile 3: 11:20
Mile 4: 10:32
Mile 5: 11:24
Mile 6: 10:26
Nubbin (0.6): 9:15
Despite it being quite a hilly route and some off-road work, towards the end I still had a lot left in my legs so worked on quickening my pace and comfortably ran more than half a mile at 9:15 pace.
Breakfast was served on my stomach as soon as I arrived home!  Peanut butter on bread and butter x2.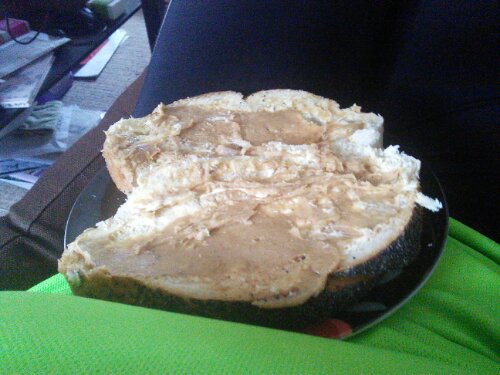 I spent some time 'Spring cleaning' and catching up on housework after returning from my run as I'd spent the weekend away and it never gets done when Dan's home alone!
Then for lunch I roasted a big dish of veg – one red pepper, one parsnip, one carrot, two spring onions, four cherry tomatoes and some corn.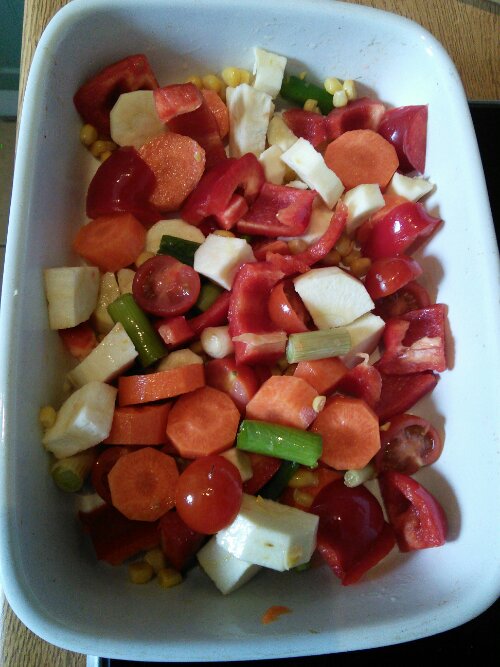 Then topped it off with some tomato pasta sauce and goat's cheese.  This has to be my favourite meal of ALL TIME!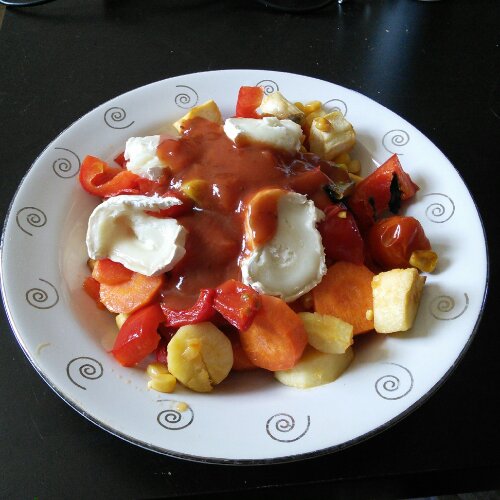 YUM!
I ended up having lunch quite early so that I could get on with my day.  I had a doctor's appointment booked in at 5pm – just for a pill check.  Usually at these I am told the same things.  That I have an excellent resting heart rate (being a runner does that!) and that I am in the obese section of the BMI chart.  Today, all that changed though when I was asked to jump onto the scales for a weight check.  I asked if I should remove my boots and big coat before getting on and the nurse told me 'not to worry, as it was obvious I didn't have a weight problem', and then when she updated my weight on the system told me that I had actually lost a few kgs since my last weigh in.  Bonus that I hadn't been expecting!
After walking back from the Doctor's, I was ready for tea so started prepping the pizza base for a calzone I had been thinking about all day.  I used this recipe for the dough, let it rise whilst cooking sausages on the hob, then filled the calzones with marinara sauce, grated cheddar cheese, chopped sausages and mine with some sweetcorn.  I added a side of mixed leaves onto my plate as well.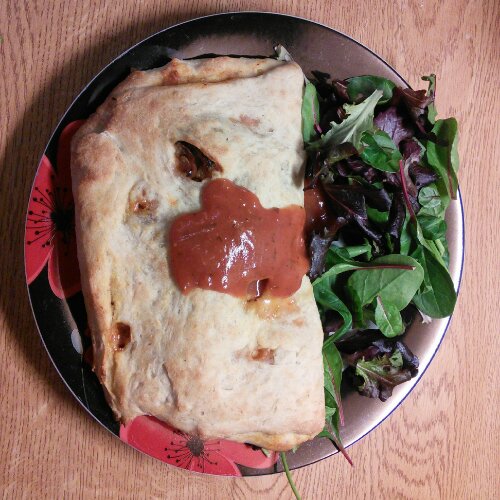 This was amazing.  Dan agreed.
But there was too much of it.  I could easily have gotten away with making just one of these and halving it with Dan for tea.  That's the plan for next time.
**How I Met Your Mother Spoiler alert** -I've tried to keep it as vague as possible!
Over tea we watched the Season finale of How I Met Your Mother.  Both Dan and I have been massive fans since the beginning, but have both really felt that this last season has been dragged out forever.  Plus, Robin and Barney getting married?…What?!
The finale was great though, and despite throwing a few curveballs in (divorce, death and getting together) I loved it.  I wasn't a big fan of the last curveball right at the very end and felt it cheapened a relationship that had been built up throughout the whole show.  I also felt that I had already seen some parts in other season finales…Revealing of the name (Sex and the City), getting together right at the very end (Friends).  It definitely didn't leave the show feeling unfinished though, and I was much more satisfied with the ending than I was with Dexter.
Did anyone else see How I Met Your Mother?  Any thoughts on the finale?