Last night I headed out with 41 other marathon runners from my running club to Vivo, in Burton Latimer for our annual pre-marathon meal.  (Or an excuse to go out and eat pizza and wine with friends and call it carb loading!)
Our club may not be the fastest club out there but I'm pretty sure it would come up in the top three for both support and social events!  Our club social secretary had gotten us a deal for £15 a head for a starter/main or main/dessert and wine on the table.  I went with a ham and mushroom pizza for my main and a mix of icecreams for dessert.  No pictures though I'm afraid.  My phone camera is rubbish!
Although I recognised most people there I sat next to people from Groups 1, 2 and 3, – runners I wouldn't necessarily bump into on a training night – and it was nice to get the chance to chat to different people.  You learn so much that way!
Much of the talk was running and upcoming marathons.  This weekend is Manchester and Paris, the following; London and Rotterdam.  We've also got several runners in the Milton Keynes marathon, but the 13th April will be our busiest day on the results website.  I am guessing there are at least 20 of us running London that day!
From chatting to others I discovered that the image of the London marathon medal for this year was released yesterday so had a quick hunt online when I got home and discovered this.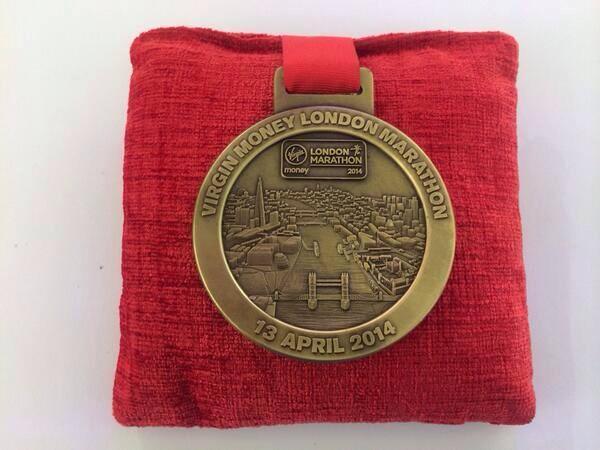 Love the detail on it!
Several of the quicker people in our club have run London 15+ times.  (Good for Age places).  After initially saying I would be happy to run the London marathon just once I'm already feeling the need to cross my fingers when my name goes into the ballot again for next year!
This year I was lucky enough to get a club place (each affiliated running club is granted a number of places dependent on the number of members.  This year our club was given four places).  I still had to pay for the entry but it was a guaranteed place in a race that for me would normally only really be accessible by pledging to raise £2000+ to charity, something I wasn't able to take on with my busy schedule this year.
If you're in a running club, is it as much a social club as it is running?!