This morning Dan and I headed to Northampton Parkrun.  Dan decided he didn't want pacing today and I immediately felt nervous.  I've not run a 5k on my own where I haven't been pacing someone for a little while now!
I decided that with a week before London I shouldn't go all out anyway for fear of injury and I would just be happy to have a '28' in front of my time.  I recognised several runners stood on the starting line and grabbed a quick word with a few.  Some from club, some just from other races!
I settled into an easy 9mm pace quite early on after the initial burst of 8:30 to find my place off the starting line.
I ran the first two miles at around this pace and then slowed it down for the final mile, at which point I was really excited to see Dan overtake me.  I knew by this point he was on target for a PB.  After he passed me he picked off several more runners and powered through to finish in 28:12.  A PB by nearly a minute!  He's improved with his running so much this year, taking nearly three minutes off his time in the last six weeks.

My splits were:
Mile 1: 8:54
Mile 2: 9:15
Mile 3 9:43
Nubbin: 8:48
Official finishing time: 28:41
Finish position: 167/236
Gender position: 40/88
I rewarded myself with a lovely kiwi porridge bowl for breakfast when we returned.  (Gave up trying to make the kiwi look pretty in the end!)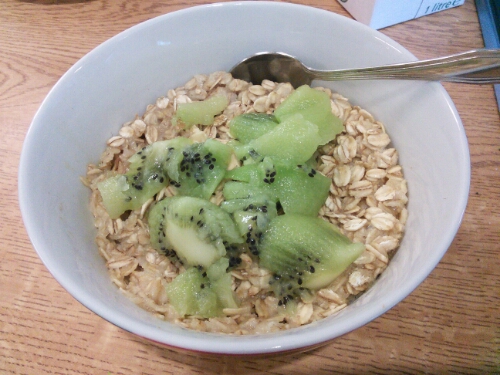 I've struggled with snacking the past couple of days.  After a great week of meal planning last week and staying ahead of the game this week Dan and I were all over the place and I never really put a plan for meals together, which made such a huge difference.
On Monday I was back at my Mum's, Tuesday I cooked for us both (calzone), Wednesday I was at the pre-marathon meal with club, Thursday night I headed to the club AGM straight from work so grabbed a salad box on the way and then last night I did put a meal in the slow cooker again, but wasn't home until 9:00 as I ran 10 miles after work before heading home.
On Thursday I had intended on heading out for a run after the AGM, but returning home at 8:40, knowing that I had a lot of website work to catch up on for the club following actions taken at the meeting, as well as the coursework deadline for my year 11s being the next day meant I sat on the sofa when I returned.  Stressed and munching on a few biscuits.  I'm not even a big fan of biscuits, and I wasn't really hungry!  It was just purely because they were there.
Yesterday our internet at school went down again.  The company I rang for help told me that they couldn't send anyone out yet as they had written down the school address incorrectly so the change would take five working days to process.  Despite the company having visited us twice now in order to look at the problem!  I'm really not sure how altering an address in a database can take five working days either?!  Anyway, really stressed out and grabbed some birthday cake that had been left in the office whilst I was put on hold to the company.  I'm really not a fan of shop bought what I call 'fake cake' and have even requested that our wedding cake does not contain fondant icing.  It was purely through stress which is frustrating.
Thankfully though today marks the start of the Easter holidays, and even though I have some busy times coming up (London marathon, sending off year 11 coursework – my first group as a Head of Department, preparing our house for a move, and wedding planning) it does mean 18 days of not having to be in school at a certain time each day which will be nice.
Dan and I are starting to get excited about the prospect of our upcoming move now.  We are moving to a much bigger place.  Our current house is relatively small and open plan downstairs, so we do not have a lot of storage and have already outgrown our home.  Oops!  The new house will have two spare bedrooms (we currently only have one), a kitchen three times the size of our current one (can't wait to get that extra storage!), a large dining room (ours is currently part of the small kitchen), an office and a downstairs toilet as well as a ginormous greenhouse in the garden I'm looking forward to growing some vegetables in!
Back to food.  Yesterday I started off with the remainder of my vanilla yoghurt, 1/4 of a grapefruit and half a tin of halved pears.  I poured the fruit and the juice into the yoghurt pot which made the mixture reach the top.  It wasn't pretty, so I didn't photograph it!
Lunch was one of my favourite salads – lettuce, spring onions, cherry tomatoes, cheese and marinara sauce, followed by some apple slices.  I think any salad which includes marinara sauce is a favourite of mine!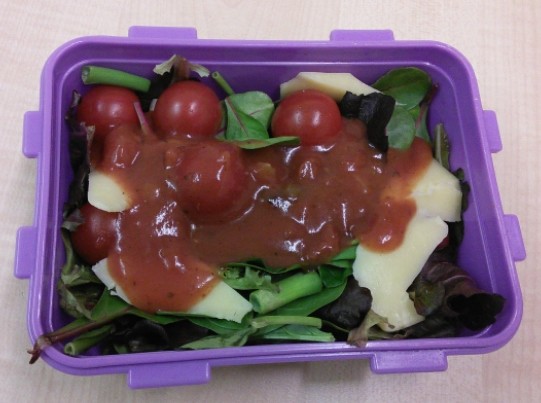 I had a great feel-good 10 mile (or just over) run yesterday evening around Wellingborough.  I had initially planned to run about 8 miles with friends but my year 11 students stayed right up until the 6pm deadline for their coursework and I never made it to the meeting point in time.  Initially concerned that I didn't have my iPod or anything to pass the time, I needn't have worried.  I had lots to process from the past few days and the miles flew by.  I can genuinely say I enjoyed every one of those ten miles!  I decided to aim for 11mm pace – I was still feeling pretty sluggish following my cake binge in the staffroom and my legs hadn't decided to co-operate yet.  By mile 5 though I had already decided that I was going to pick up the pace for the last two miles and towards the end I felt like I was flying despite my calculations being slightly out and hitting a large hill just as I got to 8 miles!  I took my two mile spurt under 10minute miles, with my best pace at 8:26.  Gave me a little boost ready for London next week that I CAN pick up the pace on the back of a long run.
Tea as soon as I got home and I had placed some peas, bacon and half a pot of Philadelphia light into the slow cooker again, with half a jar of tomato sauce.  This pasta tomato sauce is really fab.  It's 39p a tin from Tesco and goes great with most of my meals!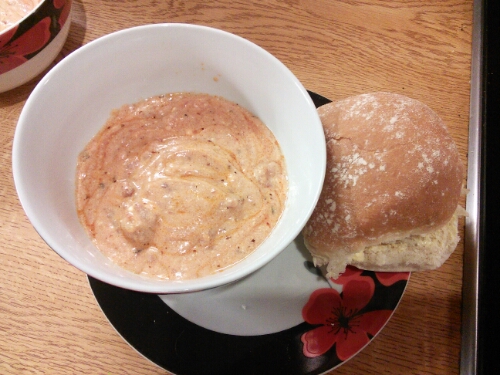 I had huge issues opening the jar in the morning though and almost thought I'd have to change plans for tea before ending up Googling 'how to open a stiff jar'.  Turns out if you knock the top of the jar on the sideboard four times one way, then the other it opens like a charm!
When do you end up snacking the most?
Best ways to avoid mindless snacking?