Last night (the first Saturday night of the Easter holidays) was spent marking year 11 coursework until midnight!  I'll be glad when that's all over and done.  Before I began the marking, Dan and I sat down together to work out our plan for getting around London next weekend for the marathon.
All I can say is that was a mission!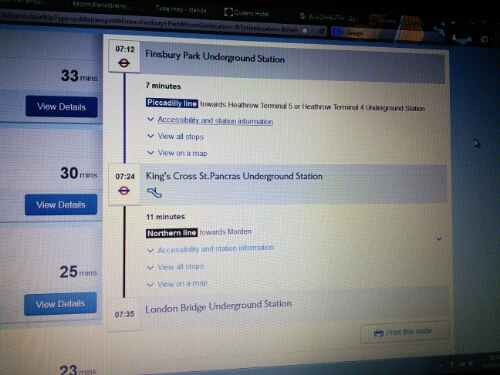 Trying to get my head around hotel check-ins, breakfast times, train times, which trains were free of charge and where I needed to be, as well as where Dan needed to be by when was a nightmare, so I promptly left it all to Dan and handed him my marathon magazine to sort the plans out.  I think every relationship has one person with a sense of direction.  That person is not me.
As we've both had such busy weeks lately we agreed to relax a little today and head out for a Sunday carvery.  Dan's footy match had been cancelled and I'd gotten my last 'long' run in on Friday, so our calendar was clear!  The aim being we could have a little bit of a lazy Sunday morning lie in before enjoying a nice meal at The White Horse in Eton Socon which Dan had chosen after reading some reviews online.
Unfortunately we were rather disappointed with the dinner.  We arrived and asked if there were any tables available and told to ask at the bar instead.  After asking at the bar, the bartender walked us back round to a table in the restaurant.  I was rather thirsty so almost downed my glass of water upon arrival, but we didn't see anyone to ask for another in a very long while.  In fact, 30 minutes after arriving a waitress came to tell us we would be allowed up to the carvery shortly, but they just had to cook some more vegetables.  My idea of a carvery is you get served almost instantly, with pretty much a constant queue of people collecting their meals.  This wasn't the case!  Another 5-10 minutes later and we were allowed to 'queue' for our food, only there was nobody to dish it out.  By this point we were both starving and I was almost tempted to go to the serving side of the counter to carve Dan's meat.  The options for meat were either beef or duck stuffed turkey.  Neither of which I like so I decided to stick to vegetables, although I was very disappointed with the choice.  Leek, carrots, roast parsnips and roast potatoes.  That was it.  No mashed potato, no peas, no sweetcorn, no stuffing…(I realise stuffing isn't a vegetable, I was just disappointed it wasn't an option!)  In the end I also added a yorkshire pudding, despite not really fancying one.  I ended up leaving most of the yorkshire to Dan though as I couldn't get the knife through it it was so crispy.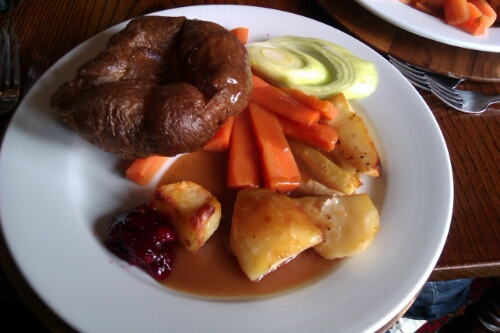 Such a shame, because we had both been looking forward to lunch out all week yet both left feeling quite hungry still and disappointed at how long we had had to wait.  When Dan went to ask if he could pay so that we could leave they couldn't remember what we had had so he had to tell them and we were charged £28 for the two carveries and a lager shandy.  On the way out I queued at the bar for another five minutes with my glass from the table for another tap water as I was so thirsty from the meal.  We decided, the way to go was Sainsbury's for some cookies for dessert.  Good plan!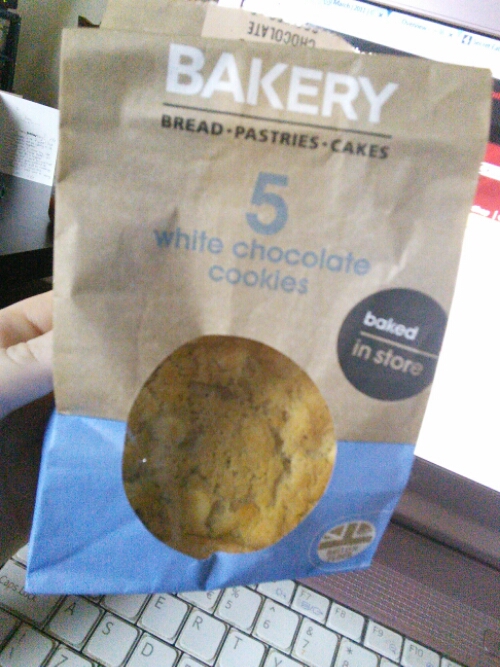 Whilst we were in Huntingdon (picking up cookies!) we dropped into the phone shop as I was due for an upgrade and I came away with a Motorola Moto X on a cheaper plan than I am currently on.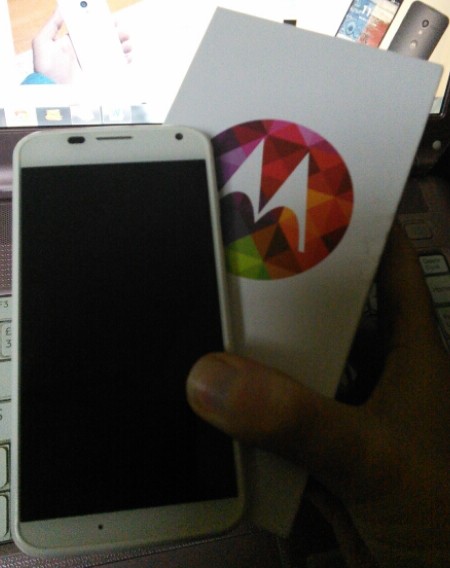 My requirements were; 1) decent camera 2) able to connect to the internet quickly and reliably 3) able to use when I've got sweaty fingers from running!
Because of requirement #2 I ended up changing from Vodafone to EE due to the coverage in the area where I live.  It has been very frustrating trying to connect to the internet and getting nothing back from my phone, or it timing out before completing what I want it to do.  Hopefully I've made the right decision with both phone and network.  I feel a little bit like a traitor…I've been with Vodafone for fifteen years now!
Quickly, before I break to start a Prison Break session, I have some breaking news…Dan admitted this morning that he quite likes sweet potato fries!  For a non-vegetable eater when we first met, this is massive!
Last night I experimented with a baguette by mixing some bacon, cheese, butter, lemon juice and mustard into a paste which I smeared through cut slices of a baguette.  I added a side salad to my plate, and some sweet potato fries to both mine and Dan's plates.  I've never added mustard to my meals before, but I have to say I loved the 'kick' it brought to the meal and I will be cooking with it again.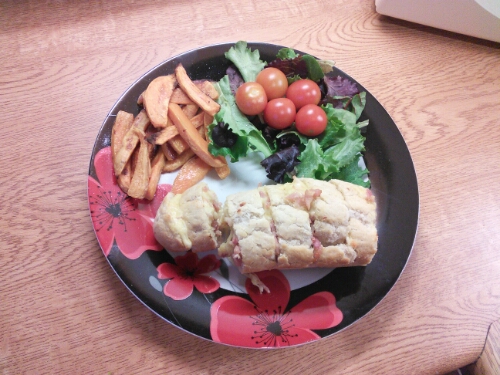 Looks like sweet potatoes are going to feature a lot over the next few weeks now that Dan's a fan!  I've yet to try Laura's Sweet Potato Oaty Choc Chip Cookies and I also want to test out Anna's Slow Cooker Chickpea and Sweet Potato Salsa.
Any other sweet potato meals I should try?