Laura, at Keeping Healthy Getting Stylish is currently hosting a green smoothie challenge over the next fortnight.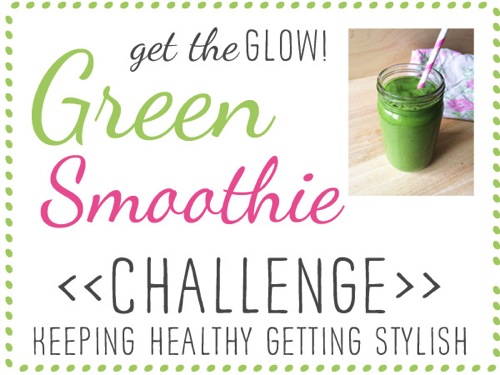 Having never tried a green smoothie before (despite promising to on numerous occasions!) and having only had smoothies from little bottles in shops before (I love the innocent brand!), I decided to give it a go and make my first concoction!
Laura has helpfully posted a free Green Smoothie Guide which includes help in making your own green smoothie recipes. As I had never made one before I thought it probably best to use one of the existing recipes listed in the guide and went for the 'Strawberry and Peanut Butter green smoothie' as it didn't require too many ingredients, and they were all ingredients I enjoy.  The recipe called for milk, peanut butter, spinach and strawberries.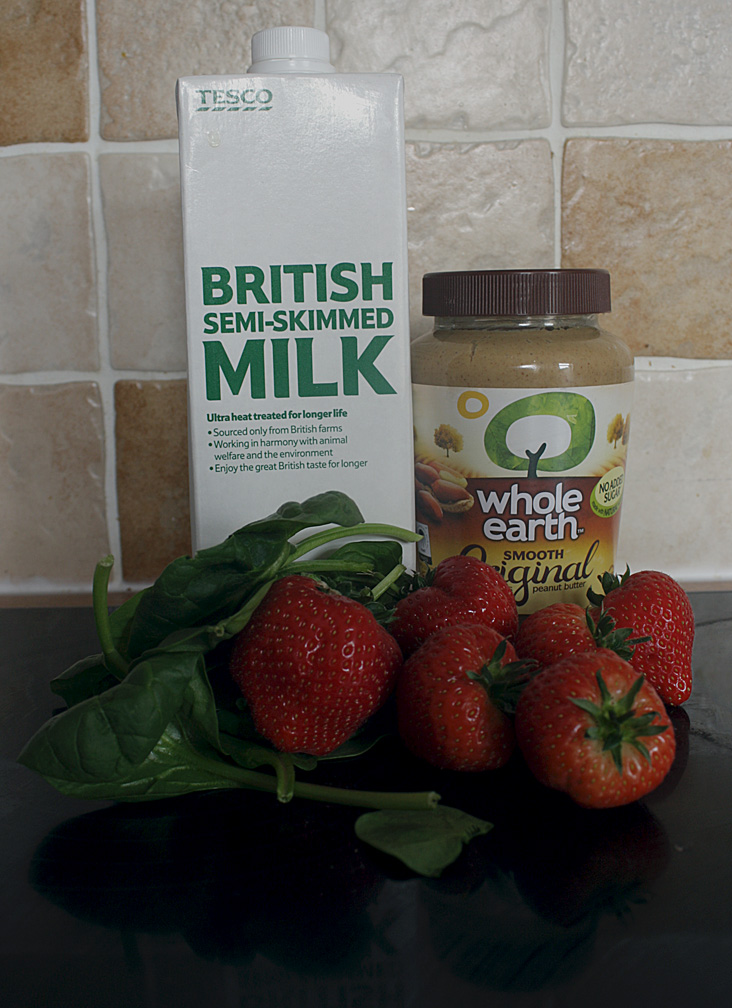 I used the quantities as a guideline only as Laura had advised starting off with a small amount of green and increasing as you got used to the flavour.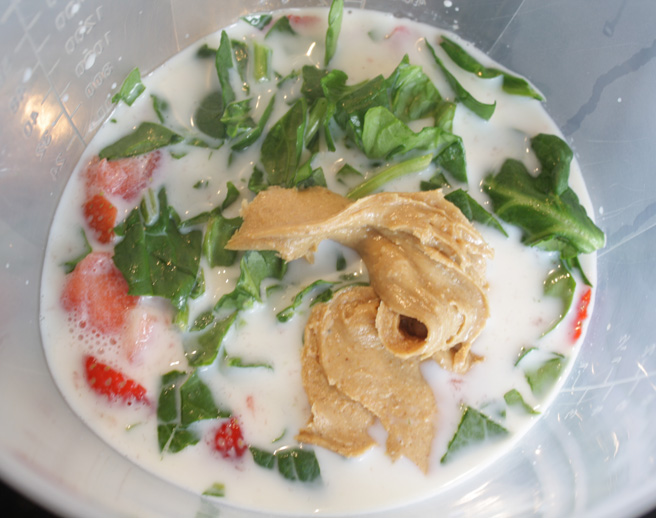 I must admit, I was a little nervous as I cut up the spinach and included it into the mix!
A quick blast with the magic wand and I could pour my smoothie into my Hard Rock glass I got from visiting New York last Winter.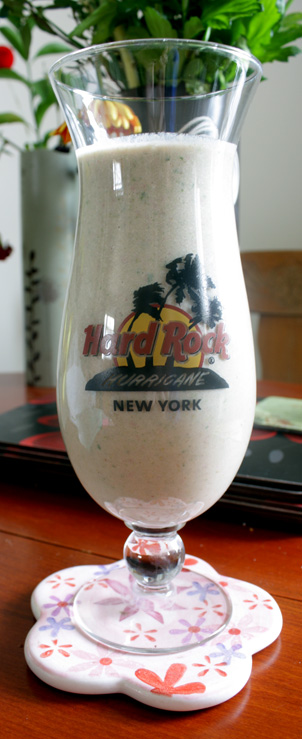 The end result was more of a brown than green smoothie (I'd been looking forward to drinking a bright green drink!) but I gave it a chance anyway and gulped it down.
Possibly a little too peanut buttery for my liking and if I was going to make this again I would use slightly less than the large dollop I dropped into the mixing jug!  I did enjoy it though.  

The smoothie was incredibly filling and it took me a little while to get through it all.  I ended up using it as my lunch with a couple of cheese and crackers on the side.  When I finally got to the bottom of the glass I found all of the strawberry seeds had sunk there!
Things to take away for smoothie #2…
* Make half the amount!
* Add more greens.
* Add less peanut butter.
* Experiment with some different fruits.
I'm very open to trying new foods and recipes at the moment.  When I was younger I was such a picky eater.  Christmas time was worst – for Christmas dinner I would literally eat one sausage and some sweetcorn with filtered gravy!  I never really liked the treat stuff at Christmas either – I didn't and still don't like mince pies or Christmas cake.
I think my poor Mum had about three meals on rotation for my brother and I growing up.  I would eat chicken so chicken with sweetcorn, gravy and a raw carrot was probably an every other night occurrence!  Another regular 'meal' we had growing up was plain pasta (my brother wouldn't eat it with sauce) with tomato ketchup and of course sweetcorn and a raw carrot!  Believe it or not, until I started working in a restaurant when I was 23 I had never tried any of the following; beef burgers, scampi, pesto, goat's cheese, calamari, balsamic vinegar, sweet chili sauce, garlic bread, mozzarella, cajun, pepperoni, salmon, blue cheese dressing, spaghetti bolognese, caramelised red onion or tiger prawns.  One of my favourite places to go out to dinner now is Frankie & Benny's, and I think it's because I associate starting at the restaurant with experimenting with my food a little more.
As Assistant Manager I would often nip into the kitchen and throw myself something together for lunch whilst going through paperwork and I would never stick to the meals on the menu.  This was when I really started experimenting with salads as well.  It was so handy having 30 little containers filled with ready cut pizza toppings/salad items to mix together in a dish and throw some marinara sauce over.
Any green smoothies you can recommend?
Were you ever a fussy eater?  If so, did you grow out of it?