Last night I went out on my last 'run' before London.  I'll be running on Friday evening but a very, very easy two miles in the evening.
There were so many flies out on the route, – literally black swarms everywhere!  I went out on a trail run with a group of regular trail runners from my running club.  The aim was 6 miles and I think we clocked just over a 10k distance by the end of the run.  It was exactly what I needed this evening.  6 miles of fun, jokes, beautiful river scenery (when I wasn't squinting my eyes so tight to stop the bugs getting in! And forgetting to keep my mouth closed as the bugs flew past!).  As much as I've enjoyed my night trail runs over the Winter, I've got to admit I prefer the evenings now that they're lighter and we can see the trails we're on without relying on the beam of a headtorch.
During the day it was mowing and gardening.  A LONG day of gardening!  We have a relatively small house but a lovely sized garden – one of my requirements for my first house having been brought up in a country home.  However, having a garden is a lot of work!  To mow the lawn it took me a total of four hours today.  That is not a lie!
Out the front there is a small patch of grass infront of the lounge window.  Then there is a long strip of grass beside and infront of the drive.  It's hard to tell from the photo but this grass is on a slope and takes much longer to mow.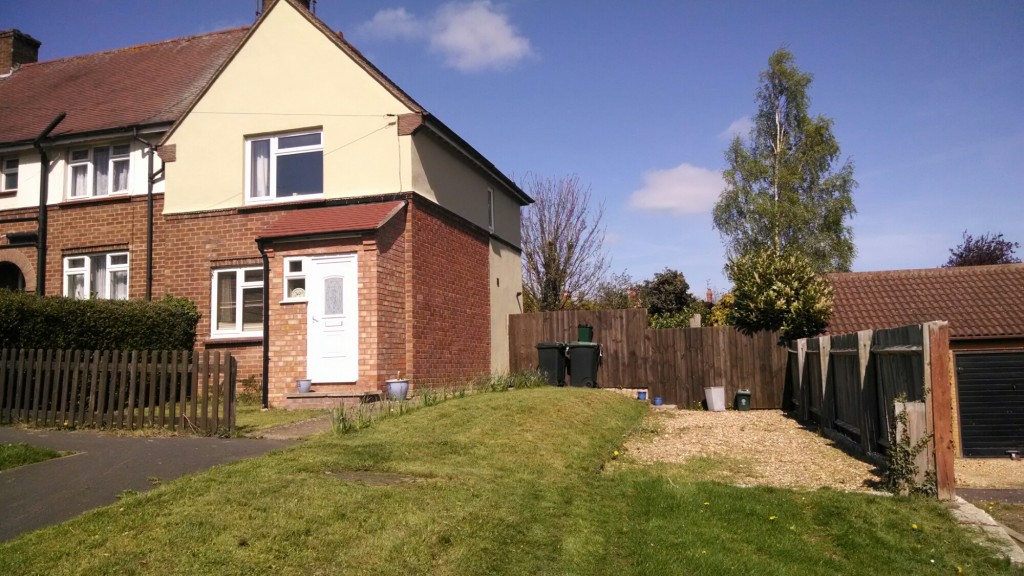 Out the back there is a small strip of grass to the right of the property (not in shot) and a large lawn.
Before photo: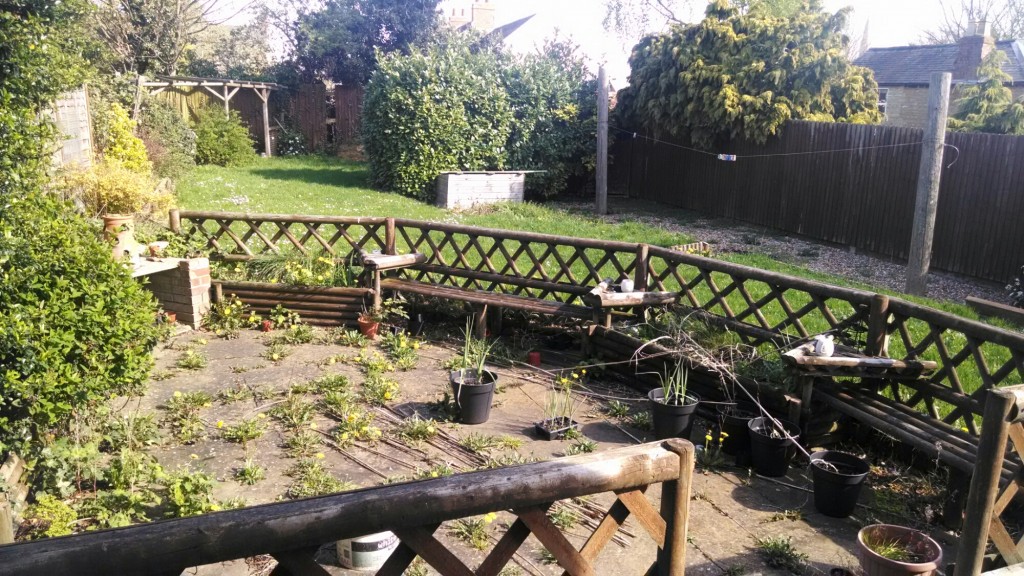 After photo: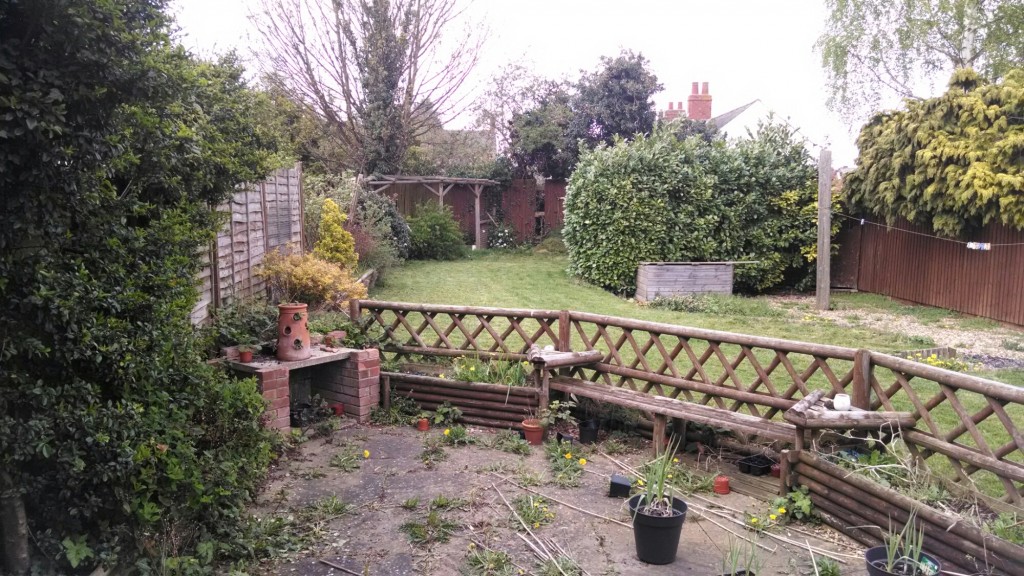 I spent two hours mowing, strimming then raking and sweeping the front garden, then decided it was time for a quick lunch of a salad sandwich with goat's cheese…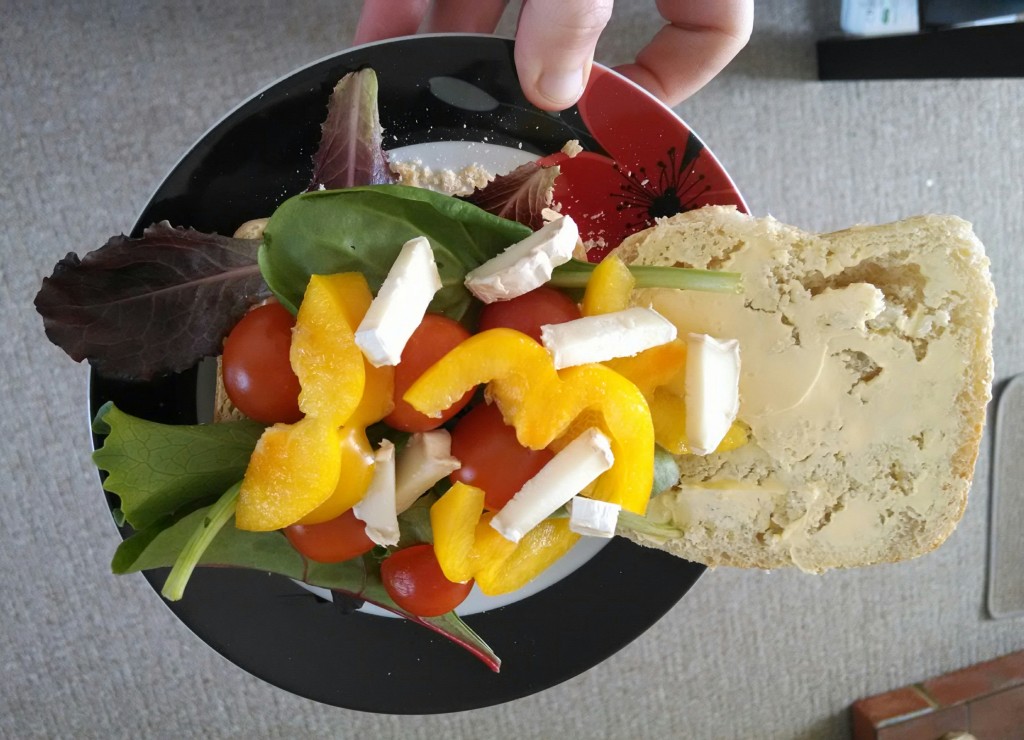 …before spending another two hours on the back garden.  There's still so much to do though.  I began to cut back some hedges for about half an hour before I had to get ready to head out for my run.
This morning I'm heading off to the London Marathon Expo with a friend and cannot wait!  I think it will start feeling even more real then.
I'm going in to this marathon without the best training behind me.  I was injured and out for weeks just before Christmas, my long runs have been pretty poor and inconsistent at pace.  I never really got back to full form after the injury and it's only now my body has decided to start picking it back up again.
As I was mowing the lawn today (and catching up on missed Marathon Talk podcasts from previous London 26.2s!) I was trying to think back to where I went wrong in my previous three marathons.
My first one was without a doubt the best to date – Milton Keynes Marathon in April 2012.  My training had been top notch – no injuries and I ran all long runs at a 10mm pace in the build up to the day.  I never really set a 'time' I was after.  I wasn't really sure what to expect to be honest.  On race day itself it tipped it down – there were parts of the course with water up to my calves and the course was extended to avoid flooded areas.  I think I just got fed up with the constant rain in the end and didn't put my all into it.  I walked patches towards the end but could have run them.  I came in at 5:06:52 – which was frustrating as I had had to queue for a portaloo for 10 minutes around mile 10 – not having to do this would have gotten me a sub 5.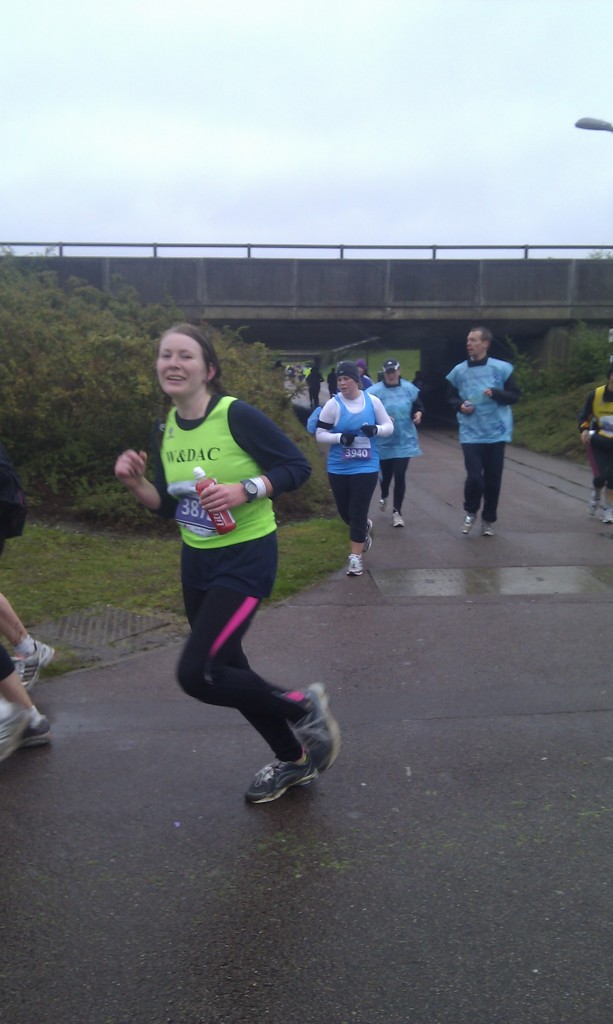 Milton Keynes 2013 was my second marathon.  My goal was set (or so I thought!)…I should be capable of a 4:45.  Not the case when the weather was blistering hot and I didn't adjust my pace – burning out quickly and coming in at an all time PW of 5:25:52!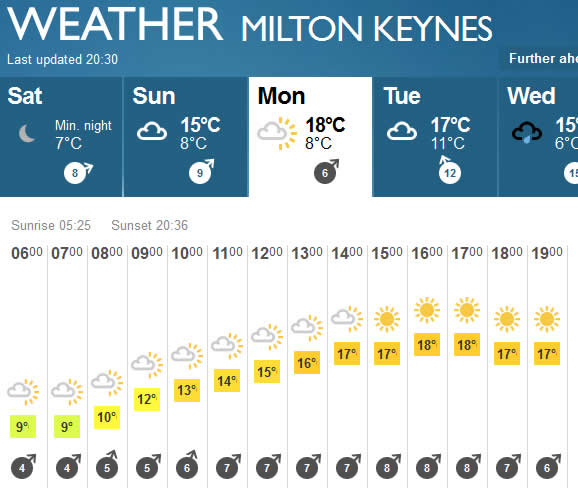 Third time lucky?  Mablethorpe in October 2013.  Again, I was aiming for somewhere around the 4:45-5h mark but again, failed to appropriately adjust my targets when the day got ridiculously hot.  Several people beforehand had told me that I was capable of a 4:45 and this was permanently in the front of my mind, pushing me too fast too soon and burning out by mile 18.  Luckily, after a half mile pep talk on the phone with Dan I DID get back on board and the remaining 10k was completed with a ruuuuuunnnnnn walk strategy that saw me come in not far behind my marathon PB in 5:11:15.  Again, a little frustrating, as had I not had a meltdown at mile 18 I would have more than likely gotten a PB.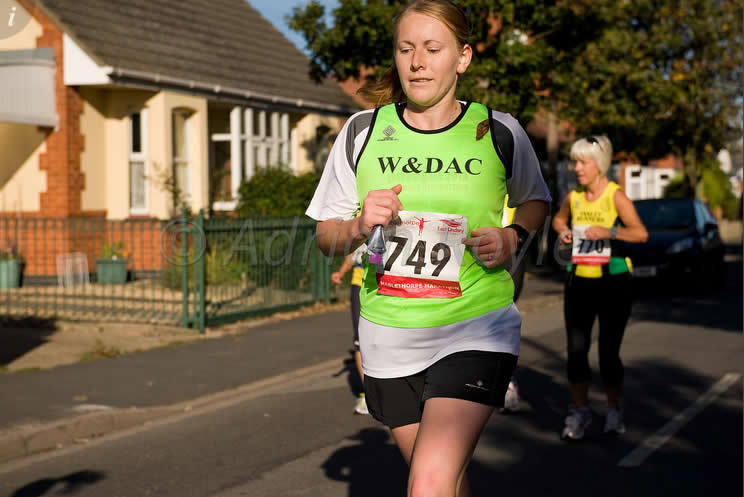 So what about this Sunday?…
The plan is to start out very slowly.  I would like to set off with the 5 hour pacer and use the pacer to take my mind off of paces and Garmin stats and the rush of everything that's going on around me.  I want to enjoy the race, get sucked in by the atmosphere, but without the fear of setting off too quickly.  I started off very slowly at Oakley 20 three weeks ago and covered the course in the pace I would need for a sub 5 marathon.  I felt like I could have continued this pace until the finish and I'm hoping that on a much more crowded course, filled with spectators I will be able to kick a little in the final 10k.  Only if I'm feeling good.  Only if it isn't hot.  :S  I've tried not to look at the weather reports this week-knowing I'm not going to be pleased by them.  I'm pretty sure I got a little burnt whilst out in the garden today, barely moving.  It'll be much worse in the crowded streets of London!  If I'm finding it too hot on the day I'll plan to back off a little.  I've planned to wear simply my favourite Ronhill shorts (in the Mablethorpe picture above) and my club vest for this race, so there's not much more planning I can do for the weather unfortunately.  (Oh, and to take sun cream after my legs getting horrifically burnt at MKII!!!)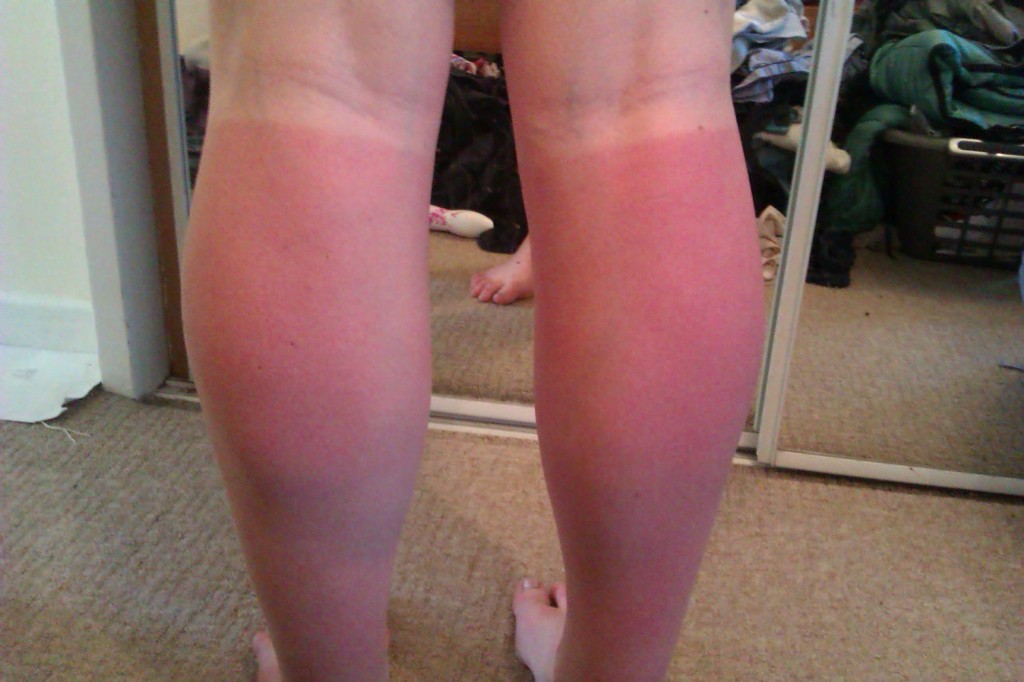 A lot of it will be about mind games towards the end.  Hopefully the busy London surroundings will keep my mind busy for long enough that doubts won't start creeping into my head once I'm out there.
Yesterday and today the club Facebook page has been filled with club runners commenting on where we should be looking out for them spectating on the course.  Miles 12-14 and 21/22 seem very popular and Dan's hoping to get to both of these too before seeing me again at the finish.  Hopefully they will also give me a boost as I am running round the course.
For anyone that wants to try and spot me on route my number is 22933.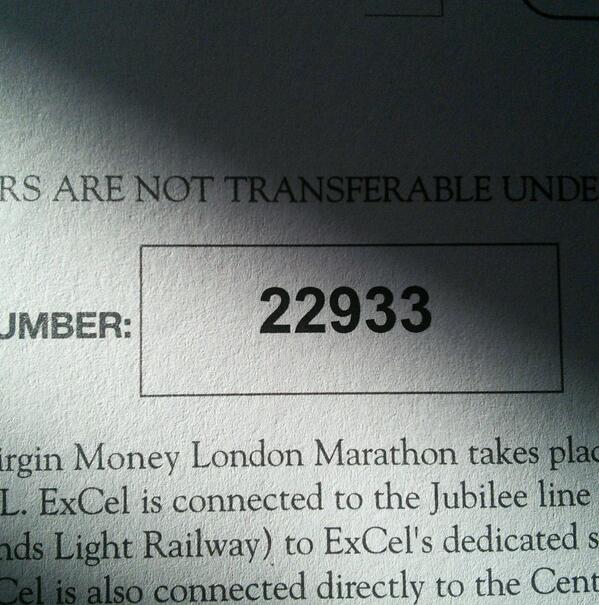 Any last words of advice I should be thinking about over the last three days?…
Lawn mowing lover or lawn mowing hater?!…