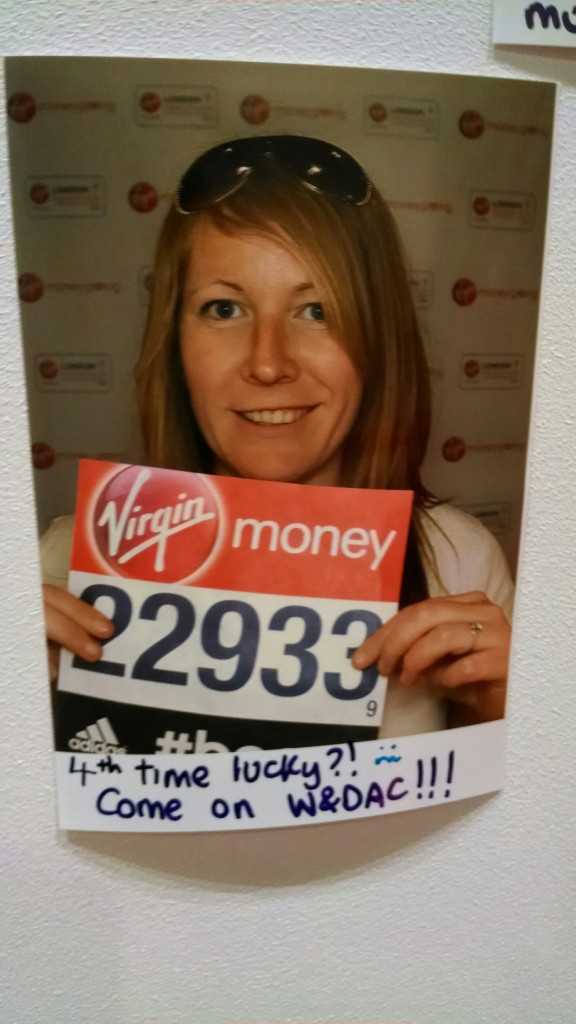 Yesterday I headed to London for the day for my first London Marathon Expo experience!  Luckily, as I'm hopeless with cars, buses, trains or organising any form of transport other than running/walking, a friend from club, Laura – who has already run London twice offered to go with me!
I was gutted that the London Marathon music wasn't playing as we walked through the doors, but as we were leaving it came on to give me a quick shudder!  All the pictures I had ever seen of people queuing for their numbers at the entrance never gave me a realistic impression of just how big this part of the expo was.
As we had been walking in we were randomly talking about Ant & Dec (can't remember why!)I love the line from Bill Nighy in Love Actually – "Why thanks, Ant or Dec" and I said I'm not sure that I would know the difference between Martin Yelling and Tom Williams after always associating them with Marathon Talk, together.  Literally minutes later and I spun round to almost walk into Martin Yelling.  And yes, I did realise which one he was!
We took our time – methodically wandering up and down the aisles and looking at every single stand.  One stand showed hundreds and hundreds of different race medals – there were some amazing ones there.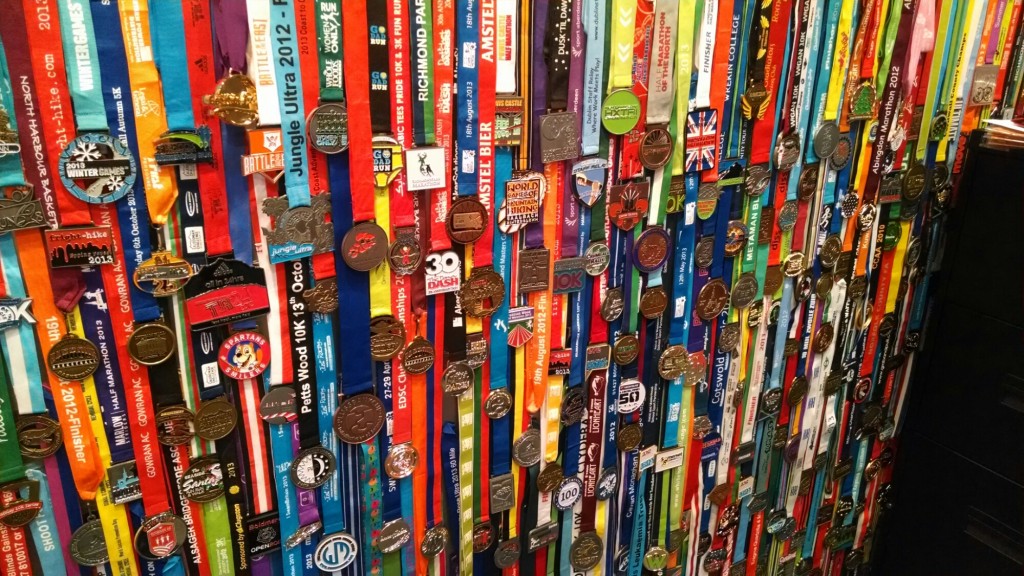 I loved all of the medals.  There were so many pretty ones!  I especially liked the Enigma ones though, and it did attract my attention when I realised they were held only up the road in Milton Keynes.  I've already checked though and all current races are already sold out.  

I couldn't tell you how many energy drinks/protein bars/gels I tried, but it was a lot.  As in, probably 20 minutes after arriving my mouth was craving some plain water so I had to give trialing nutrition a little break for a while.  So glad we decided to come down on the Thursday and that I wasn't testing all of these out the day before the race!  Winning the place this year really worked out well for me as this year it fell in the middle of the school holidays so I had time off before the race to visit the expo and time off after to recover without returning to school the next day!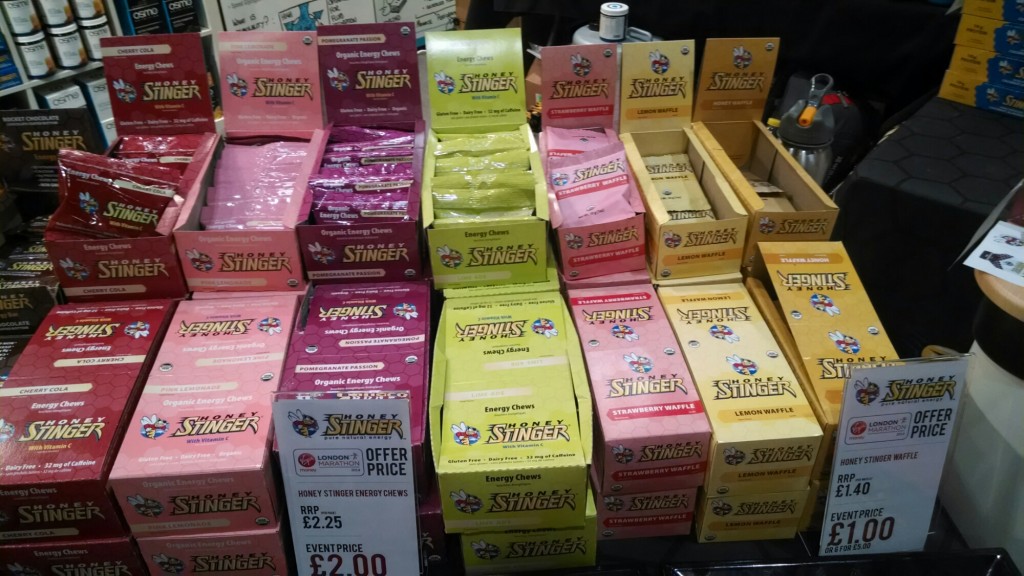 My favourite were these 'Stinger' waffles, which I've never seen in shops before so bought six of them.  One which I shall be enjoying after my race on Sunday!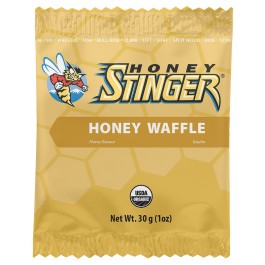 I struggle to eat real food after a race – especially when you are given bars where you have to chew a lot.  My go to after running is usually a glass of milk to make sure I've got something inside of me before I can stomach food again quite a while later.  However, these waffles are very thin and almost 'melt-in-your-mouth' so I'm pretty sure I would be able to eat them after runs – or during long ultra runs.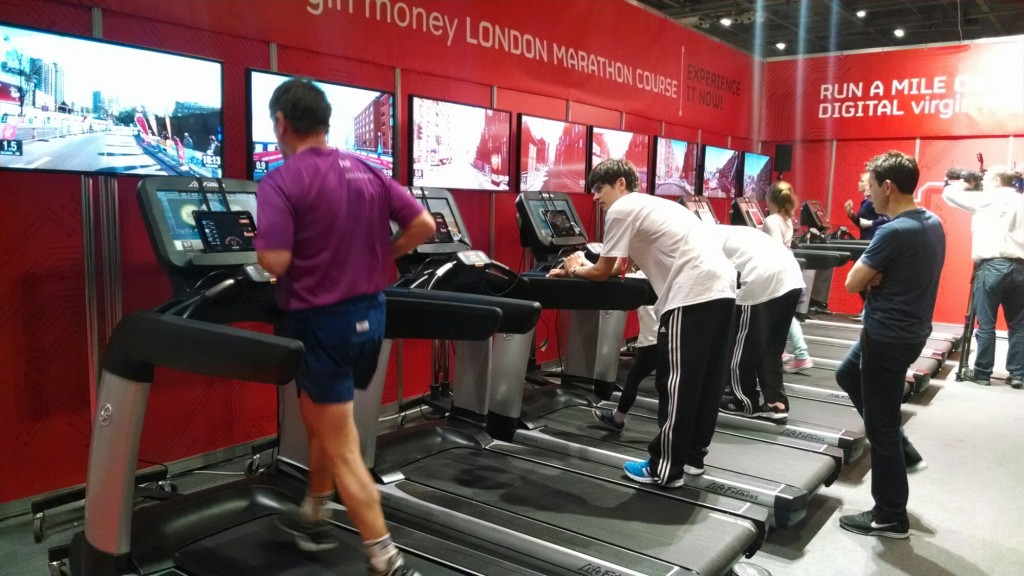 There was an area where you could run a mile of the London marathon course.  The screens were linked up to the treadmills so that they moved forward at your current running rate which I thought was very cool.  After watching a mile of the course we had our photos taken holding our numbers (I had to stand up on tiptoes to get me and my number in so no idea how shorter people coped!  Jumped?!) and then were given two copies of our photo.  One to keep and one to place on the photo wall for Thursday with a handwritten message of good luck.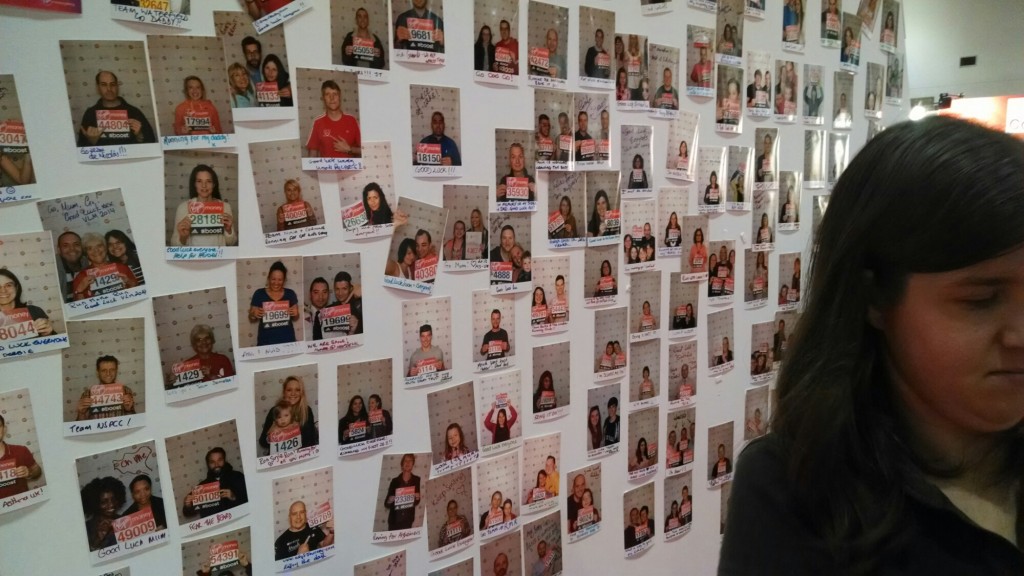 We also used a red shoe stamp to stamp onto the shoe wall before writing our goal time and names onto the shoes.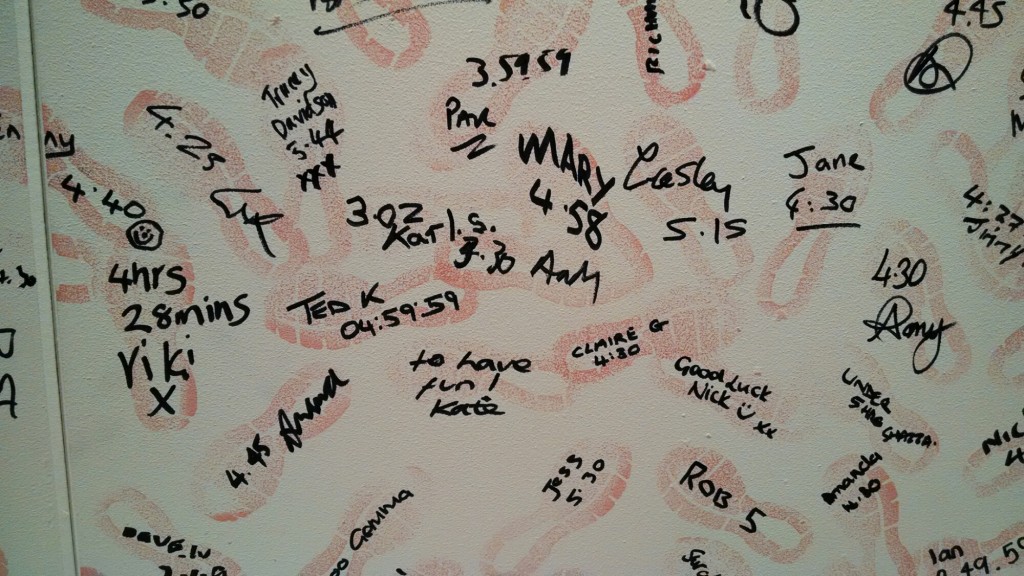 Both of us properly made the most of the day and entered every competition going (10+!) and took photos of everything!
I also picked up a London Marathon training top.  As Laura said, I don't know if I'll ever get the chance to run at London again, so I need to make the most of it!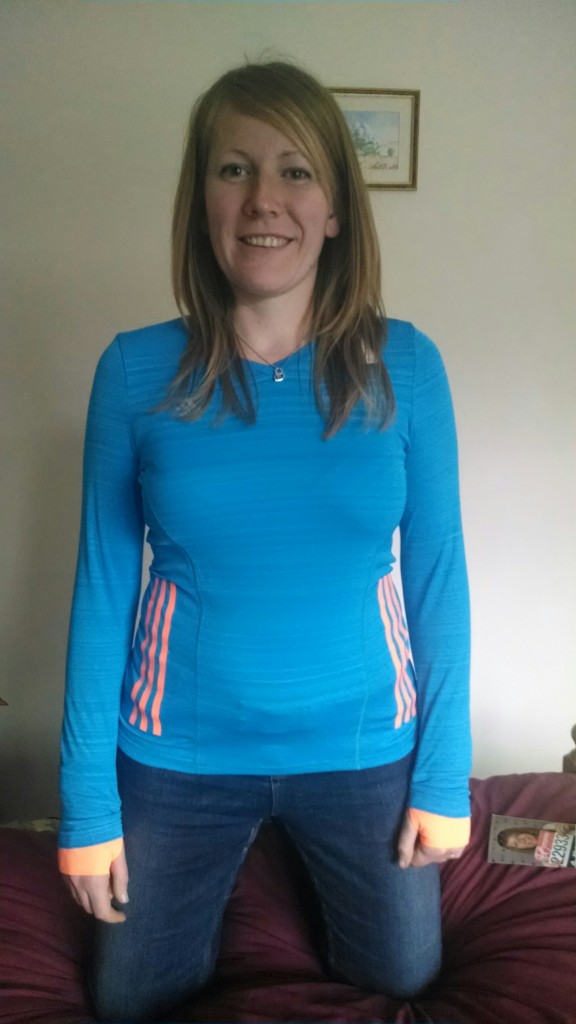 I love the top and was glad I bought it when I got home.  It's relatively lightweight, with thumb holes and very breathable material.  Can't wait until I can start running in it after the marathon!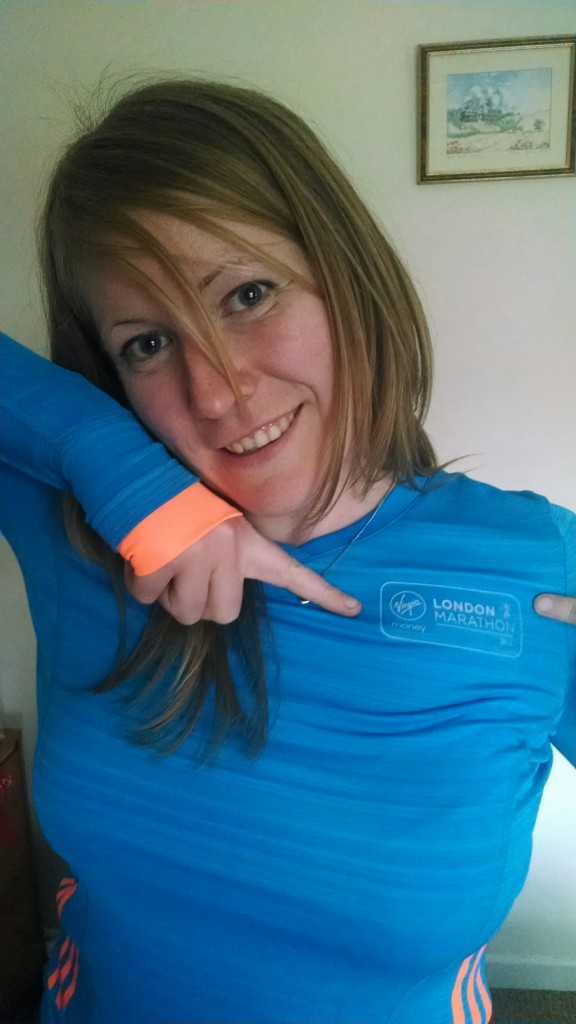 Randomly, after my run on Wednesday night I was stopped heading into Tesco.  I was wearing my red Mablethorpe top and a guy stopped me to ask where Mablethorpe marathon was.  When I told him it was in Lincolnshire, a couple of hours away he looked disappointed so I asked him if he was after a marathon.  When he told me he was I promoted Milton Keynes on the Bank holiday weekend which he said he was going to go away and look up!  There's marathon runners everywhere!
Been/going to London marathon expo this week?
Ever met anyone famous?  – My most memorable famous meet was being sat next to Frankie Dettori at a school riding club meet and chatting away about school riding competitions and the horses in the event, completely oblivious to who he was until he went to collect his daughter and a parent from my school came running over screaming at me about how lucky I was and wanting to know what tips I'd picked up!  I hadn't been expecting to see anyone famous at a school event!  Quite glad I hadn't realised who he was at the time though otherwise I would probably have just been one of those weird people that stares and says nothing!