London Marathon!  Never thought I'd say I would be running the big one!
When we arrived at our hotel on Saturday I realised I'd forgotten to pack my bagel with peanut butter for race morning breakfast so queued in the longest queue in the world for breakfast supplies.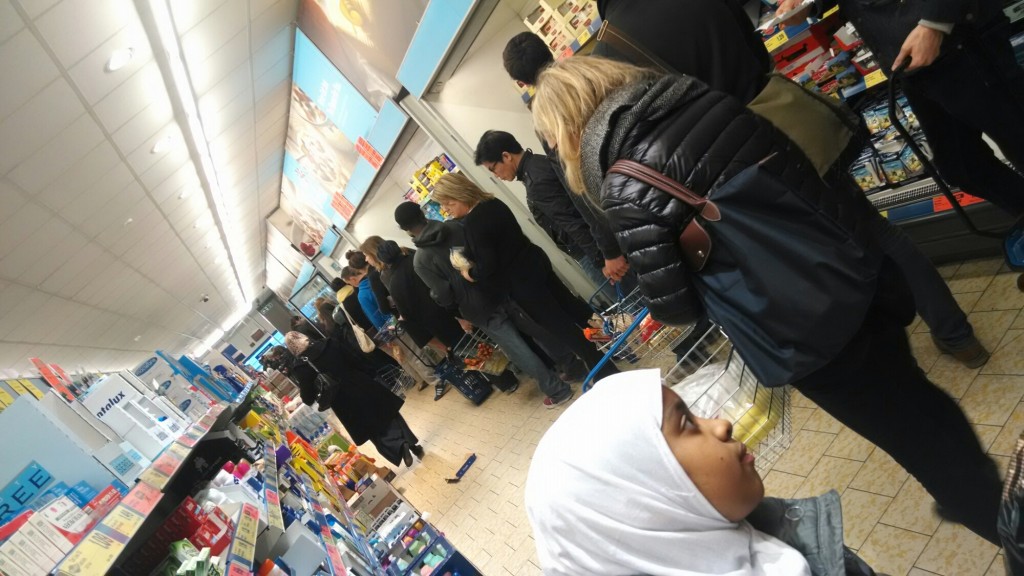 Neither of us got a great night's sleep despite accidentally booking a room with twin beds.  We had some really loud drunks sat in the corridor outside our room who woke us both up at 1am.  Initially I panicked, thinking I'd missed my alarm and it was people heading down for breakfast.  After nearly an hour of loud noise I ended up ringing the hotel reception sending a security guard down to move the drunks along and I managed to get back to sleep.  It did make me empathize with the fire alarm being set off before Lauren's marathon last week!
As always, it's a good job I have Dan to travel with and organise directions and train times!  I had to catch two trains before leaving him and then he pointed me in the direction of my final train.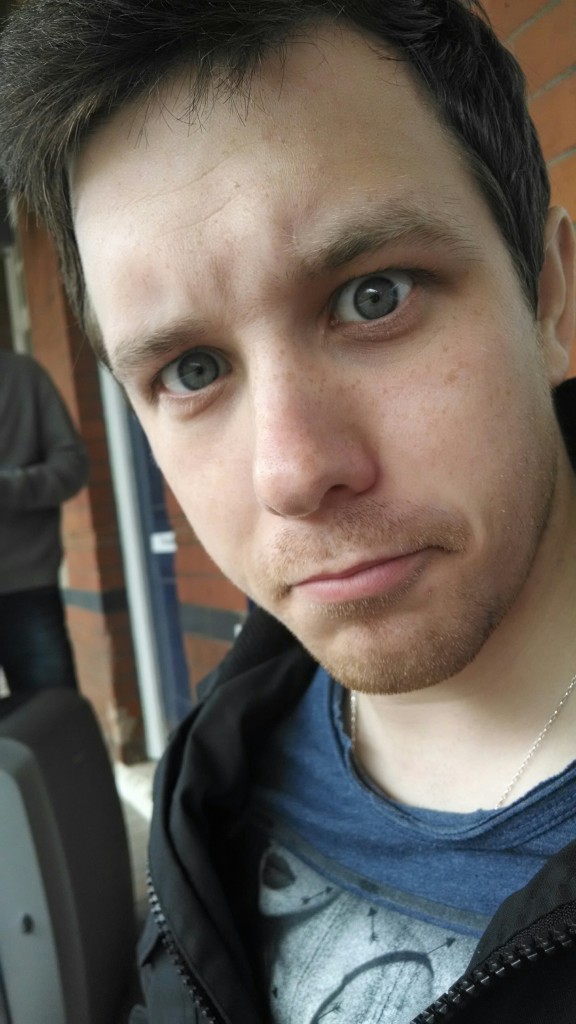 It was crammed full with runners.  Luckily I managed to get a seat and rest my legs a little before their long day ahead, but some carriages had people pressed face to face with others!  When we arrived and got off the train I needn't have worried about not knowing where to go. The street was full with runners and supporters heading to a field in the distance which had a very festivaly feel.  I was glad Dan hadn't traveled all the way down with me as there was nowhere for him to go once we arrived and had had our numbers checked as supporters weren't allowed into the field.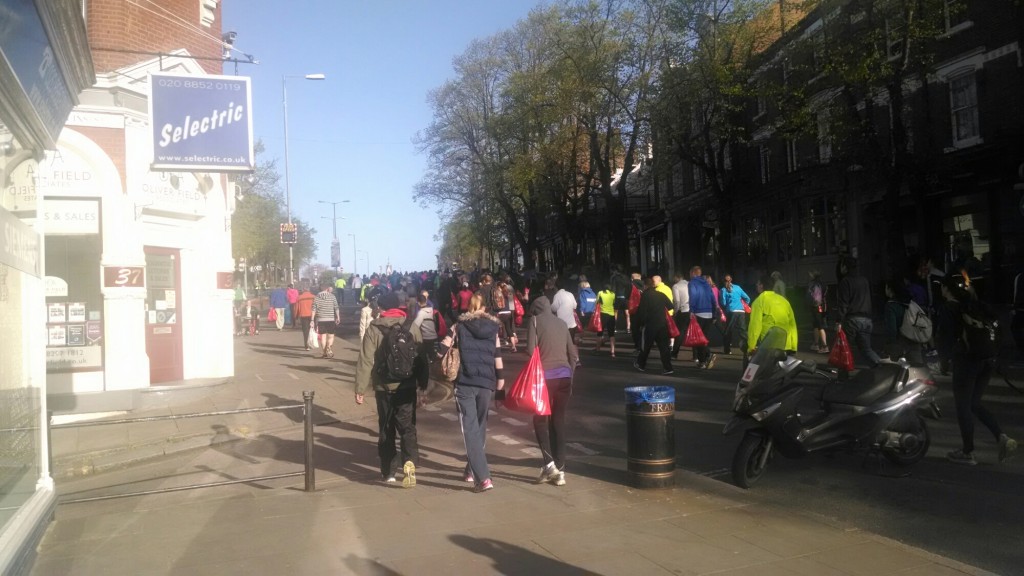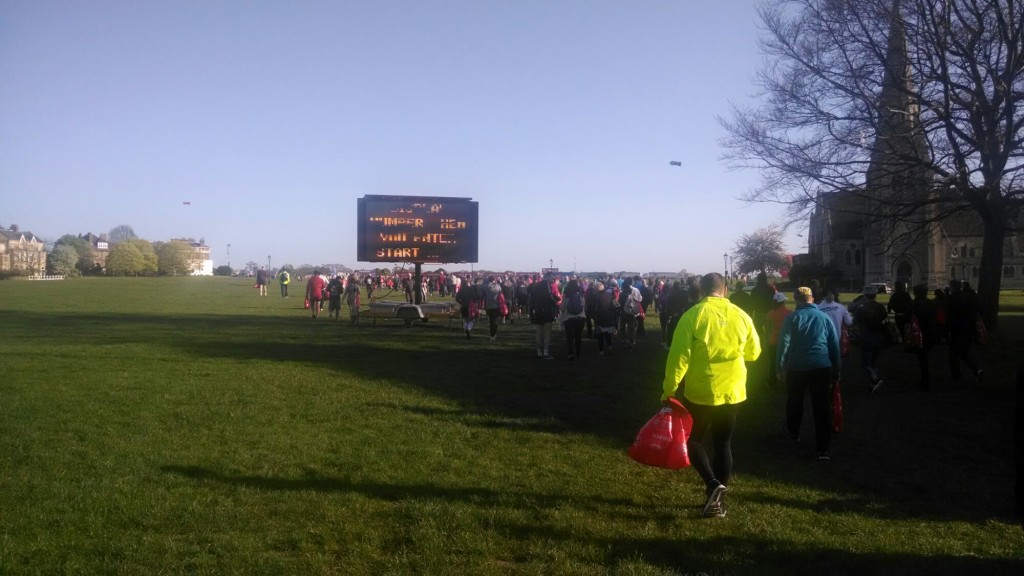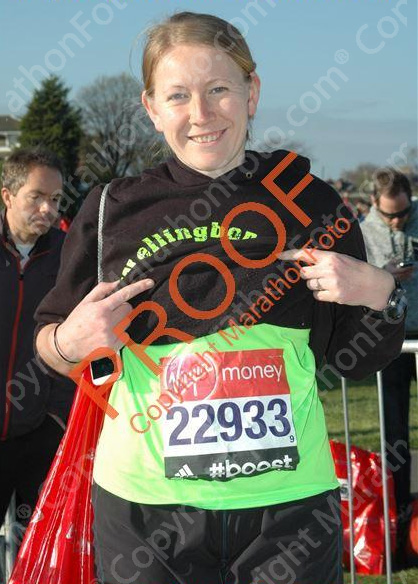 From the field we were collected in we could see the Blue Start, Red Start and Green Start blimps up in the sky.  I didn't expect them to be so close together.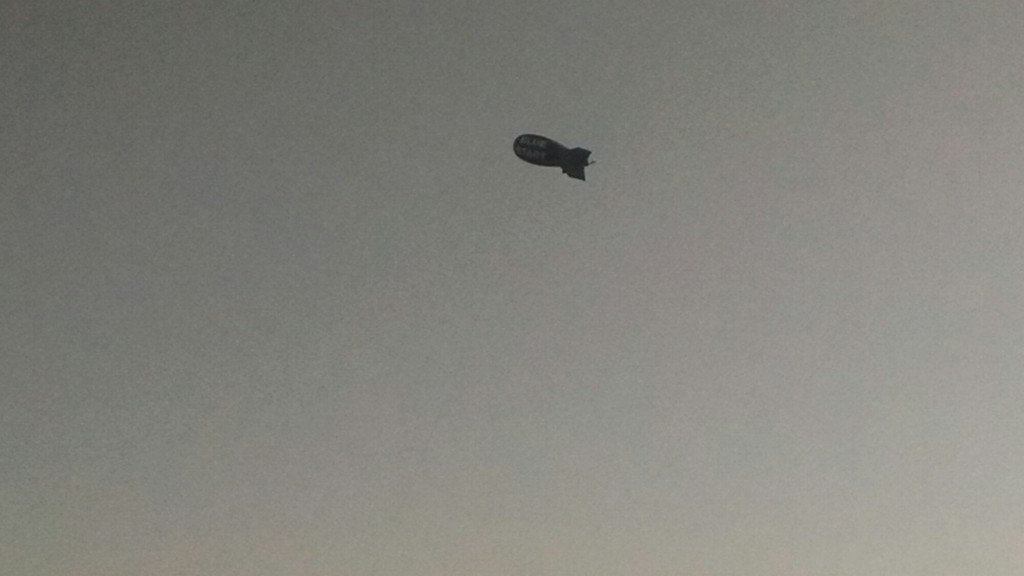 I found club runners Laura and Chris where we had agreed to meet and it was at this point I realised I'd left my carefully packed suncream back at the hotel.  Laura gave me the remainder of hers, but it was only enough to cover my legs – I thought they were probably the most important after seeing the shade of red they turned at MK marathon last year!  The elites were warming up not far from where we were sat through security fencing and there was a large screen showing us all the action from the start line and the pre-race build up.  After two trips to the toilet we managed to catch the women's start just before taking our bags to the baggage lorries.
My game plan was to stick with the Sub 5 Runner's World pacers hopefully as far as 20 miles and then see if I felt good enough to push on.  I managed to spot three other club runners making their way to Blue start 9 (the back one where I was) whilst I was hunting out the pacers.  After harassing two charity runners who also appeared to be running with flags on their back, as well as the actual pacers, I managed to spot the actual 4:58 pacers and (un)subtly spun round to follow them to the middle of the pen.  I wasn't on my own and they soon had a tight circle of 30+ runners surrounding them hoping for a Sub 5 finish.  We were in place by 9:30am, so had plenty of time to chat and catch up with past running stories and previous failed attempts at sub 5.  The pacers Mike and Mark kept us nice and relaxed – giving us tips on the course and how best to approach the marathon.  When asked to raise hands, it turned out that there were only about 10% of runners in the circle who had run a marathon before, and none under 5 hours.  There was lots of friendly banter from all though and I felt part of a group.
Being as far back as we were we weren't aware that the race had started until the lady stood next to Me received a text from her sister saying "You're off!  Good luck!"  It was several more minutes before we gradually began creeping forward and another 15/16 minutes before we broke into a slow jog.  I officially crossed the start line at 10:17:27.  Once we were over the line the chat faded – each runner was running their own race – although we all tried to keep in sight of each other.
Despite the stories I had no idea how crowded the race would be.  It was crazy.  Especially trying to keep up with the pacers.  To begin with I tried my best to keep right behind them, but they had a tight circle of others doing the same.  When I spoke to Dan later on he told me that from his spot just over the bridge at halfway he could tell where pacers were as they would come through with a whole tight crowd of people – the rest of the race field was much more spaced out.
Looking rather concerned here in a club runner's photo a few miles in!…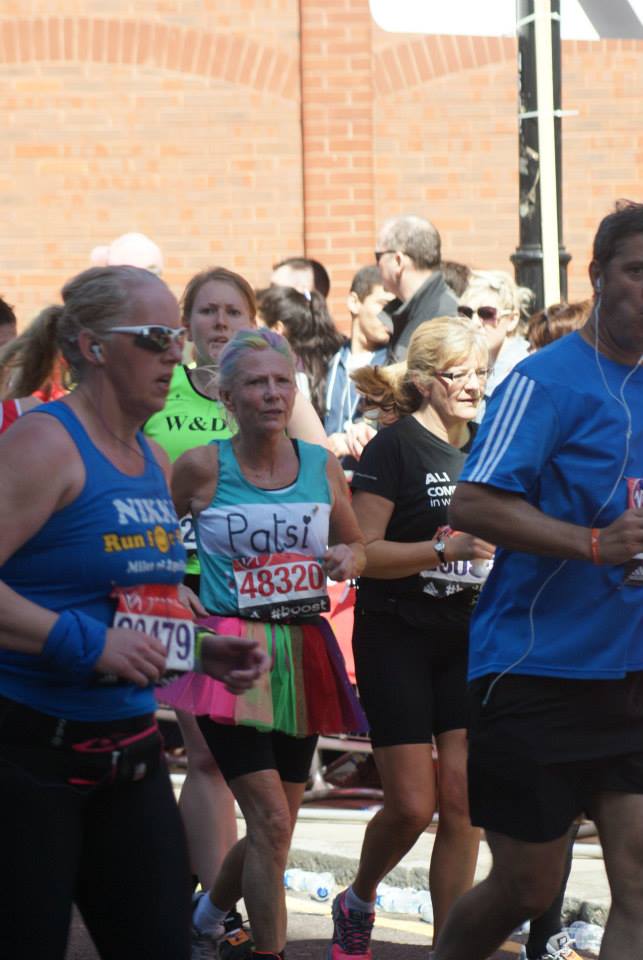 Despite the crowds of people running with barely any space between and continuous knocking into runners and them knocking into Me I loved the atmosphere.  We passed a marching band 'running' the marathon and several rhinos.  The crowds were phenomenal and a few times in the first couple of miles I felt a lump in my throat out of nowhere.  Everybody was running for someone or something or had worked so hard to get to where they were that day.
Before mile three there were no water stations but then we joined one of the other starts and not long after, passed the first water station – the only one I didn't take water from.  To add to the already crowded streets, we were now having to dodge people flying from one side of the road to the other to collect water and thousands of half empty bottles on the race path.  I saw a couple of people start to go down but the crowd soon pulled them right back up and along again.  I concentrated on the floor and where I was placing my feet – desperate not to go down or wring my ankle!  In places it was so crowded though, it was difficult to see the ground.
I got a little choked up when I placed my foot down on the first chip mat at 5k; knowing that Dan and my parents and anyone else tracking me would now be getting an estimated finish time for my race.  I also noted how comfortable and easy I was finding the race – I felt almost like I hadn't begun to run yet!
I think we lost a few people from the pace group around the five mile mark.  The pacers were great and kept updating us on how we were getting on compared to our goal each time we passed a mile marker.  They had told us at the beginning that they were aiming to run a 11:22 pace consistently, but due to weaving/overcrowding some miles would be faster than others, and several of the miles we ran were closer to 11mm pace with a little extra distance.  I was fine with this, but in the heat there were several who weren't.
Surprisingly, the heat didn't seem to affect me too much.  From the second water station I took two/three sips from each water bottle, poured some water over my face, neck and shoulders (which I was aware were burning in the sun by now), munched on a jelly baby, sipped on the remaining water and chucked the bottle just before the next water station.
One of the best race signs I've seen cropped up around the 5 mile mark, and appeared a few more times on course.  Several people had drawn a big red button on their sign with the words "Press here for power!"  Loved it, and so did many runners – thumping it and laughing as they ran past.
Dan had texted just before I handed in my bag to let me know that he was just over the bridge after the 20k chip mat and I knew several other runners from my club were planning on cheering from around that section.  I almost didn't spot him as he wasn't far from Rob, one of my coaches and I was busy waving to him – only hearing Dan's shouts after I had already passed.  Luckily I turned and spotted him in time.  Would have felt a bit guilty if he'd been stood there for nearly five hours and I'd not spotted him!  Here's the one and only picture he managed to take of me out on the course…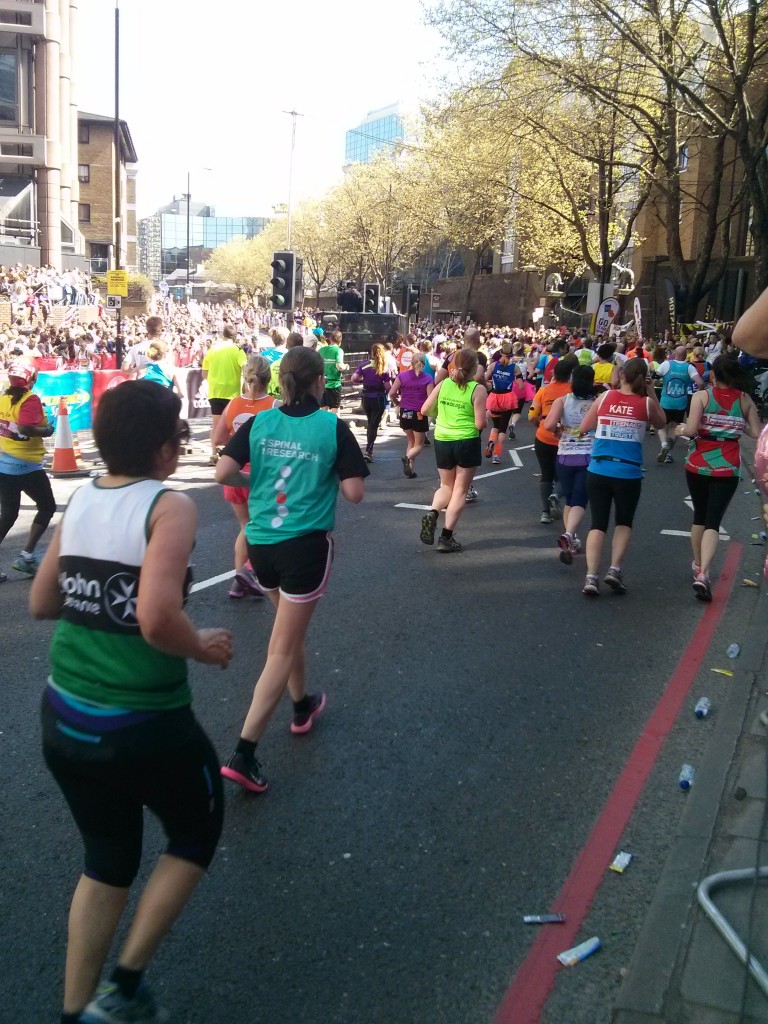 Dan actually made it onto TV a couple of times from his cheer spot.  Once when Mo ran past!  (In a red hoodie here)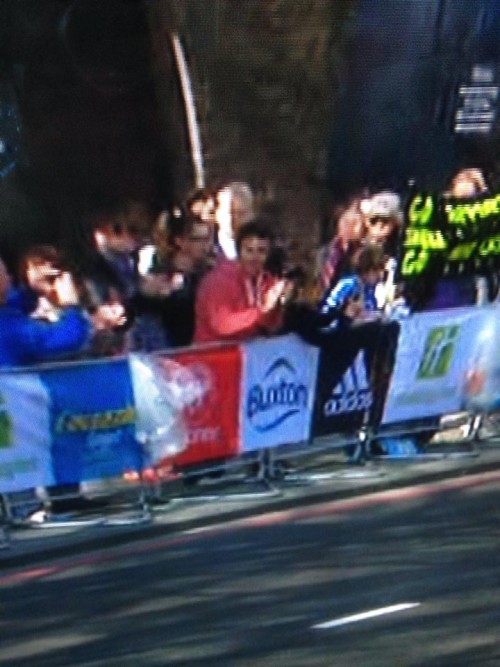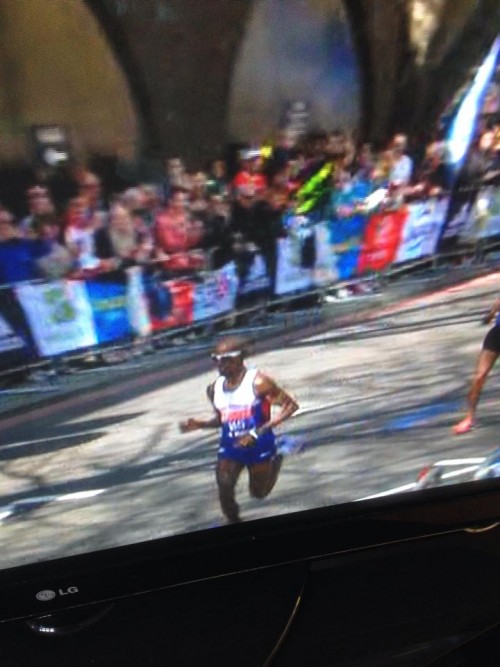 I struggled to open my gel around this point and was slowly sliding back from the pacer despite running at 10:45 pace.  I couldn't spot the second pacer anymore, and later found out from checking the online results that he had pulled out before the 20k mark.
To begin with I was a bit disheartened that I was getting further away from the pacer.  I felt my running was still at a consistent pace.  However, when I placed my foot down on the halfway chip mat I saw that I had gone through in 2:28 – spot on for a 5 hour finish.  This spurred me on again.  At the start of the race the pacers had said to us that we wanted to go through halfway feeling like we could have gone a lot faster and I definitely felt that.  I still had a lot of energy and wasn't about to drop off from the steady pace I had been running.
The crowds of runners were still bothering me but the crowds of supporters were fantastic at keeping us runners going.  The atmosphere was absolutely amazing.  As a last minute decision I had brought my iPod along with a few select songs which had special meaning to me.  The Runner of the Year video songs and one that my friend Hayley's husband always plays for her at races we attend.  I watch the club ROTY video every time I need some motivation to do well and succeed – we have some very inspiring runners at our club that have been through a lot.  I played these songs at about mile 17 to give me a boost and they were just what I needed.  It was about here I also grabbed some Vaseline from a St. John's Ambulance worker to rub on the sore under my left arm from my vest.  I had rubbed some Vaseline in at the start of the day but clearly not enough!
My Garmin was gradually clocking up more mileage than a mile each marker I went under and I think I must have missed a few mile markers so I was a little confused as to where I was by this point.  I was certain I was around the 24.5 mile mark when I passed the Lucozade section marked as mile 23.  This caused me great issue as I had worked out in my head if I was at 24.5 I would have no problems making a sub 5.  I sulked for all of 5 seconds before realising I would still probably PB and made the decision to stick as closely as possible to the blue line on the ground as the road was much clearer by now.  I overtook so many people walking or on phones in these final few miles.  The VLM online stats say that 53 people passed me but that I passed 981 runners in the final 7.2k!
I thought there were crowds before but running the final couple of miles actually made me shudder.  It was packed full of supporters – several people deep.  I saw our club Race Director and his family and spotted Dan one final time despite not knowing that he was going to be there cheering me.  I failed to spot Kev with a handful of other club runners, although they didn't see me either and also missed my friend Sarah from BRJ and Erin who both spotted me.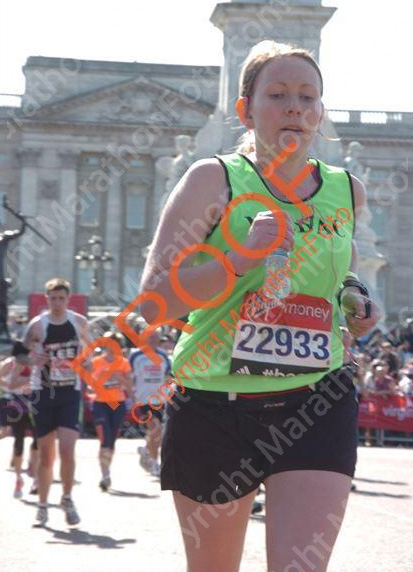 The end seemed to go on forever.  600 metres to go.  How far is 600 metres?!…It feels like forever when everyone's cheering you in and you know you can't stop but must sprint for the line and throw your hands above your head with what little energy you have left before you finish!
And then I was there!  All over.  We were ushered over to have our finisher's photograph taken…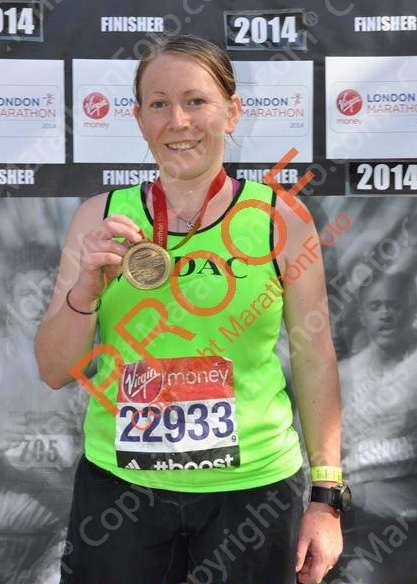 …before collecting our bags (a very quick process) and being escorted out to the waiting area (a much slower process!)
Where my #1 supporter was waiting for me along with the rest of my club.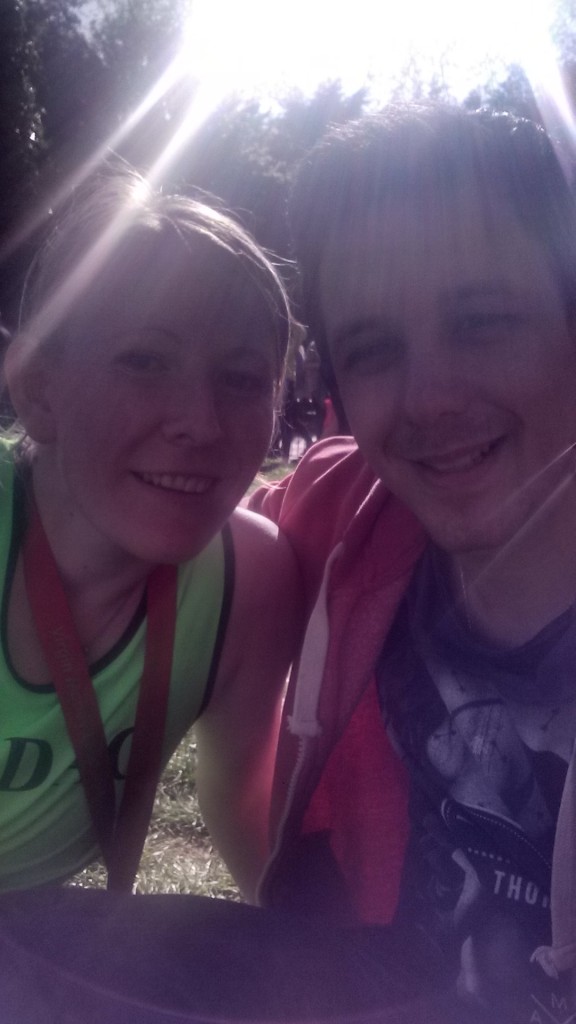 Randomly, Sarah ended up parked right next to me on the field, so we had a quick natter about the race.  It was her first London as well and she had PBd by a couple of minutes too, although much, much faster than me!
Checking out my splits online I was so happy about how consistent I had run the race.  Starting slow really does pay off!

Official finishing time: 5h 4m 15s – A new PB by 2m 37s.  But most importantly I felt strong at the finish.  Like I could have gone on to run several more miles.  In all three of my previous marathons I have reached a stage where I felt 'Meh.  Gonna walk this bit.'  And even though I walked a few sections of the London Marathon, it was never for more than a few seconds – to open a gel wrapper/fish out some jelly babies, etc.
Official finishing position: 26439 / 35766
Official ladies position: 8248 / 13228
Official age placing: (Senior Female) 4959 / 8069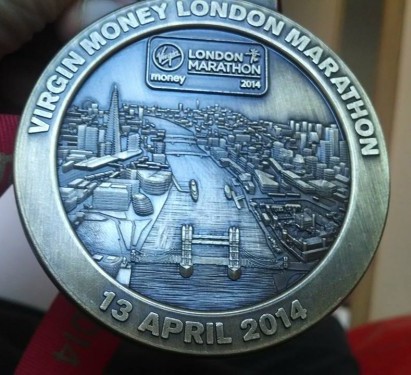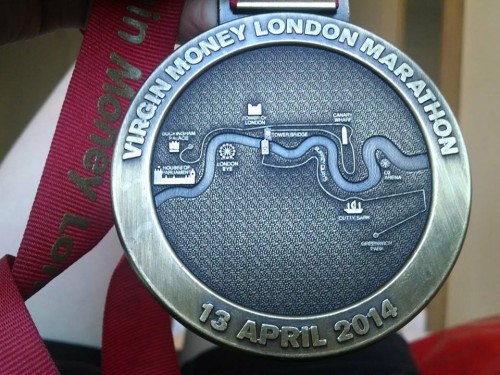 I love how detailed the medal is!
I rang Mum as soon as I could get phone coverage once more and she told me how her and Dad had been following me on the online tracker, along with my Aunt and Uncle and at one point when the tracker had frozen (between 25-30k) they had all feared the worst.  (Maybe it was a silly idea to let them have the tracker!) before the website finally updated both the 30k and 35k times together.  Dan said he was also concerned at that point, despite mentioning later how he had seen my times drop throughout tracking me and seen me going through strongly with his own eyes.
To be honest, I surprised myself yesterday.  I know that the heat is the worst weather for me to run in and that my training has been pretty poor this time round.  I did not really expect to PB, even if it was only by a few minutes.  I genuinely enjoyed the London marathon though.  The crowd support suited me and the fact that my mind was always busy throughout the whole course.  My Garmin finally logged me at 27.9 miles?!  What?!  Did I get lost somewhere out there?!  And running at a 10:53 average pace.  Checking the 26.2 mile mark on my Garmin, I went through at 4:45, so I know there's a much bigger PB waiting to come my way.  Mablethorpe in October?  Marathon #5?!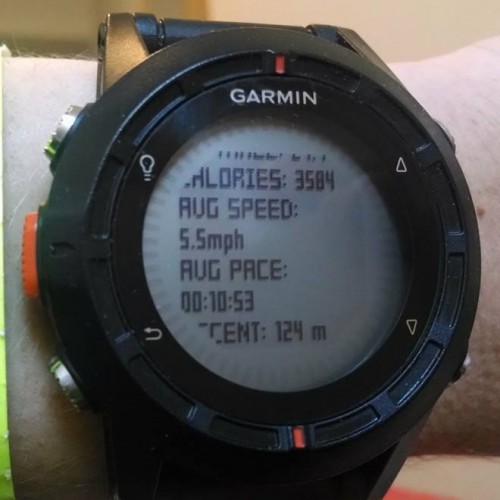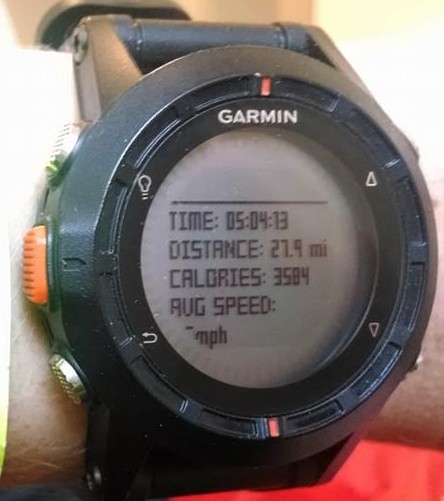 Phew!  That was a long recap.  Tell me about your weekend!  


Did you watch the London marathon?