Today I worked at the Northampton Running Festival in exchange for a free entry at the Shires & Spires 35m ultra in June.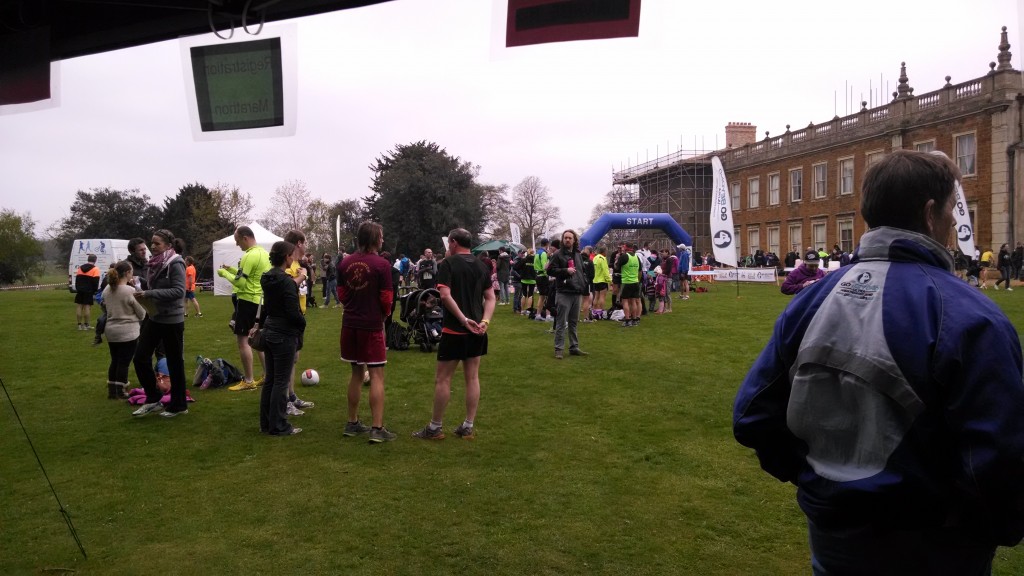 The Running Festival consisted of a 10k, half marathon or full marathon in short laps around the lake.  Three laps for a 10k, six for a half and twelve for the full marathon.  Each lap you ran you were given a coloured hair scrunchie so that you could easily keep track of how many laps you were on.  I've never run a lap race before and to be honest had been put off them in the past, but the feedback we received from runners was great and I'm now of the mindset that I would prefer counting to 12 than I would 26.2!  Lovely seeing your support every couple of miles as well I would imagine.
With the hot weather we've been having lately there have been a lot of flies out around the lake, but the weather today was forecast as rain all day.  Luckily, we got the best of both worlds – no hot sun and no real rain – so no midges and no soggy spectators either!
My first job was on the registration desk and this was got busy very quickly!  I vaguely remember hearing that we had had an extra 70 people sign up on the day at one point.  My main task was to hand out packs for pre-registered 10k runners but I jumped onto the half marathon pile when Laura got busy and passed race t-shirts out as quickly as possible!
After this I got to play with all of the shiny awards for winners on the prize table.

Probably the closest I'll get to any of these beauties.  Boo hoo…One day…!  😛
Then I moved over to the drinks table where my fingers got progressively more and more purple as the cold wind blew over the spilled water on my hands!  As runners went past us for their next lap we had two people each side of the track handing out water/energy drinks/jelly babies/gels and 9bars.  I filled water, moved water to front of table, cleared up discarded cups, repeat!
As I've mentioned before I love being able to support runners at races and feel like I'm giving something back by cheering runners on.  This was a great spot, and with it being a multi-lap course we got to know several of the runners' quirks over the next five hours.
A gesture that really touched me though was from Carol-Ann, a member of the 100 marathon club.  I've seen her several times before – chatting to her for quite a while at the Milton Keynes marathon last year, and then passing her at Shires & Spires last Summer.  She is quickly heading up to the 300 marathon mark at the moment!  I love hearing from runners in the 100 Marathon Club and we had quite a few in Northampton today!
She sped through the finish on her final lap to ask us how many more laps 'David', the youngish runner behind her had to go.  He thought he was on his last lap, although his Garmin was telling him he was only at 22 miles.  Carol-Ann thought he had probably miscounted but he was getting very frustrated that he would have to go round yet again, having spent the last twenty minutes believing he was on his last lap.  We confirmed that he did indeed have another lap still to go, and despite having just finished the last lap of her own marathon Carol-Ann quickly grabbed a bottle of water, removed her chip and number and encouraged the remaining crowd to cheer the guy through, then went on to run the final lap with him so that he didn't give up on his goal.   Such a small gesture, but one which I know was appreciated immensely by David and his family.
We had been giving out spot prizes of Easter eggs throughout the races, and these two each received an Easter Egg.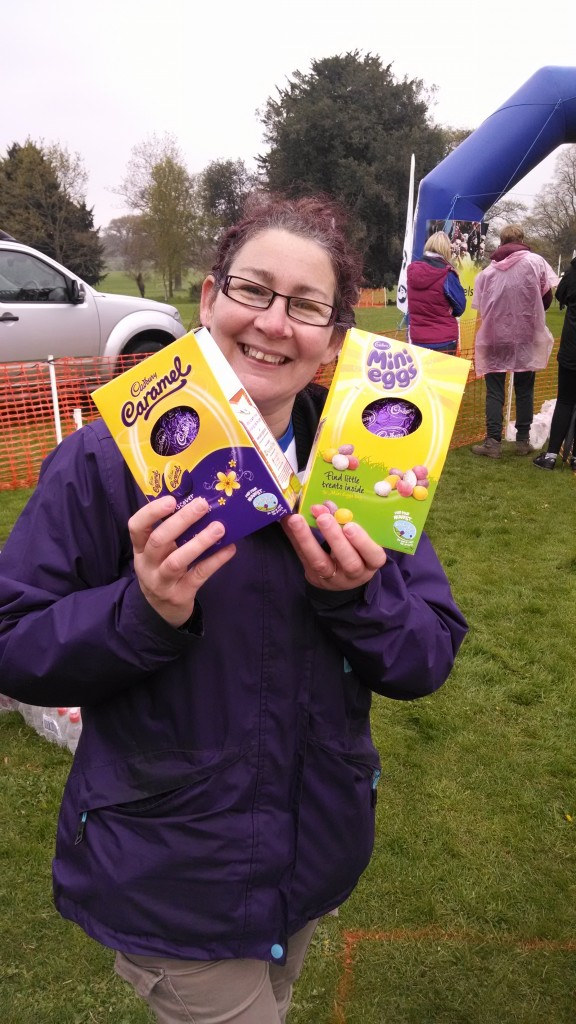 The last lady through the marathon was over six hours and it was nearly 5pm by the time I left Delapre.  I was ready for a calzone tea when I got home!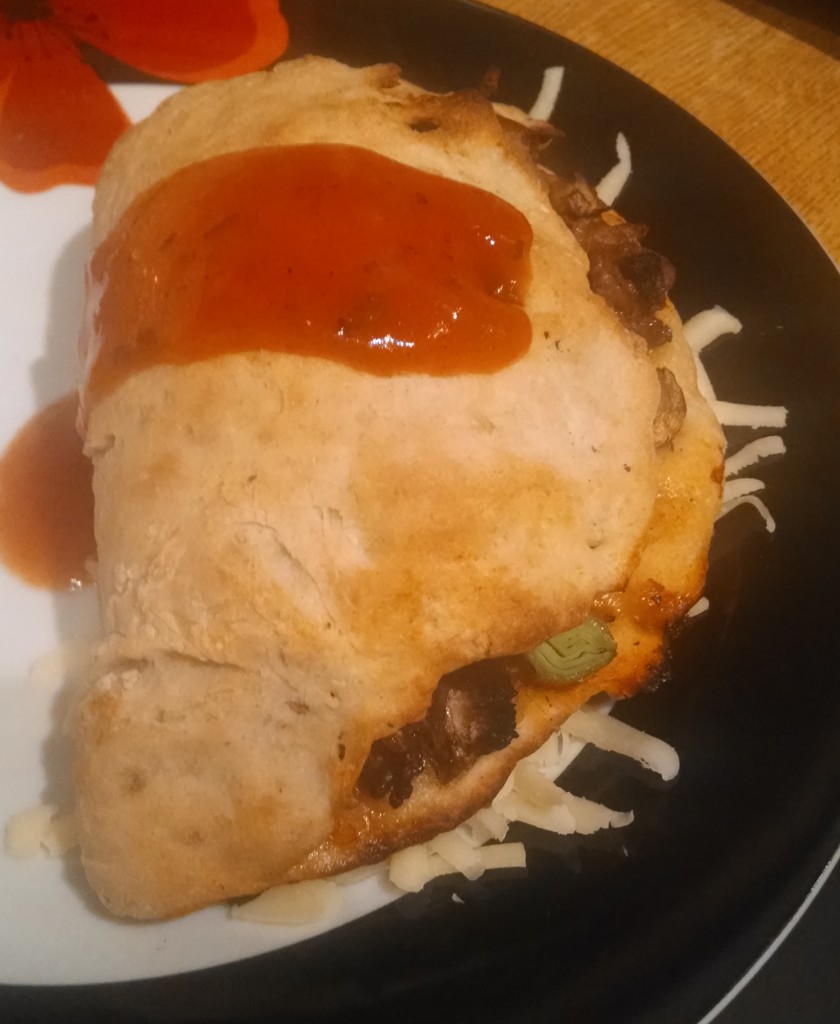 This time I put beef, sausage, leek and mushrooms inside.  Yum!
Dessert was a nibble on my Easter egg from Dan.  I picked him up a Guinness egg yesterday, and he got me a ChokABlok berries egg.  I love white chocolate and berries, so this was the perfect dessert!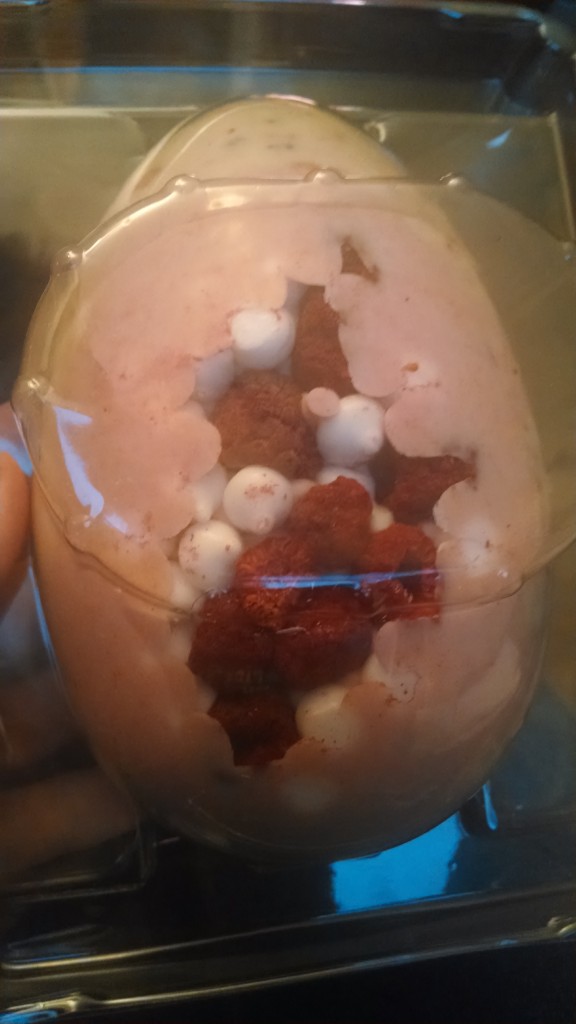 What small gestures have touched you or have you seen make a difference to somebody this year?
How many Easter eggs will you be munching this week?!  Did you have a more traditional Easter dinner?