So today Dan has headed back to work and tomorrow it'll be my turn.
To be fair, this holiday has felt like it's lasted quite a long while, but I'm still not ready to go back!  I had the first week off on my own but Dan had last week off as well.  Is it just me, or is it much harder to get anything done when your boyfriend/husband has time off too?!  I feel like I'm behind on housework, schoolwork, blogging, marking, running and everything else I normally fit into each day!
Yesterday I got up early and met with two others from running club to run the Stanwick 10k course before the race began.  None of us were entered for the race itself (a sell out every year!) and I'd never run the race, despite it being within walking distance of my house.  I did go down and spectate last year though and cheer the club runners on.
Karen and Laura are much quicker runners than me, with 10k PBs of Sub 50minutes (mine stands at 58:35).  I was rather worried about slowing them down but they assured me that they were just after a casual social chatty run…Well it might have been casual and chatty for them!  Running Sub 9:30mm pace was easy to begin with, but then we hit several hills that took quite a lot out of me!  I'd started off chatty but it soon turned to grunts in response to questions!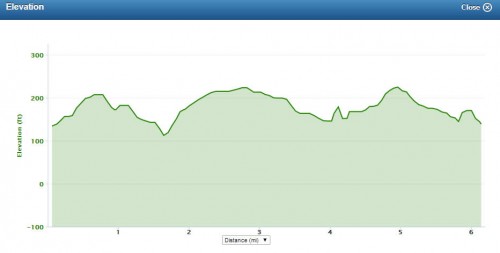 We got round though, and the guys running the chip system who had been setting up the start/finish line as we began cheekily told us that we were too slow and had taken over an hour!
After this Laura and Karen picked up some bacon rolls, we all grabbed a drink from the pub and set up by the finishing corner to see our club runners start/finish the race.
We had quite a turnout!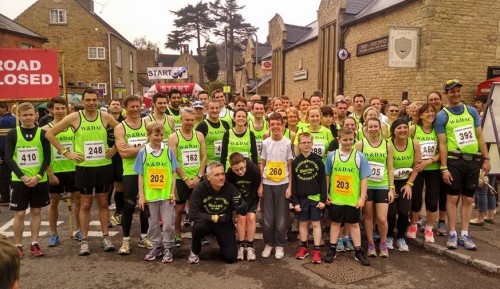 And just as many local runners from our club turned up to support which was great.
The juniors ran a speedy 2k, with W&DAC taking second place.  I love watching the kids race.  They move so quickly and are so enthusiastic.  I watched the boy who came second come running up to his coach (stood near me) after the race and excitedly give him a race breakdown and inform him that he had taken second place.  One poor girl was crying with her arm across her front, clearly with a stitch.  Our supporters made so much noise and encouraged her through the final 100m to finish where she beamed as she received her medal.
The club took first place for the 10k race as well.  Stuart took third place two years ago, second place last year and this year was finally his year, where he finished first in 33:32.  How is it even possible to run that fast?!  He had a 100m lead on the guy in second at halfway and had taken more than a minute's lead by the finish!
After I'd seen the last runner in I headed home to enjoy some more of my Chokablok Easter egg from Dan and make myself a quick Jacket potato with cheese and beans.
After the football (Dan was very happy with the Wolves result!)  we rushed off to catch an afternoon showing of The Amazing Spiderman 2.  It was OK.  Quite cheesy in places and I think I prefer the first take on the Spiderman story with Kirsten Dunst and Tobey Maguire.  Dan and I both agreed on a 5/10 rating.
I feel like I've been all out of routine over the past few weeks so it was odd to see Dan ironing shirts after dinner last night.  Although I've obviously still been running, my meals have been different due to Dan being home and feeding both of us for two meals daily.  I'm looking forward to getting a bit more variety back in my diet again.
Did you find it tough heading back to work and normality this week?