I can't believe it was already two weeks ago that I ran the London Marathon!  I've already written my race recap but before too much more time passes I wanted to put together a list of more general things I wanted to remember about the race itself in the hope that I will get a chance to run it again, or if not, it might help someone else.  I read lots of blogs and spoke to lots of people about the race beforehand to try and get a good idea of what to expect and I don't want to forget the advice for future years!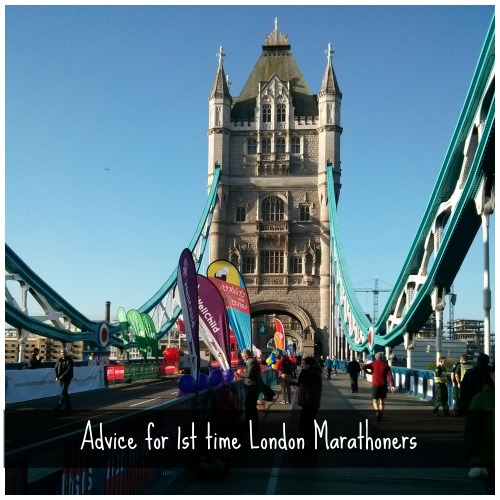 1) If possible head down to the expo before the Saturday to collect your number.  I went down with a friend on the Thursday and we didn't queue for anything yet still had achy legs by the end.  I can only imagine how many people must leave it until the Saturday and how crowded it must get.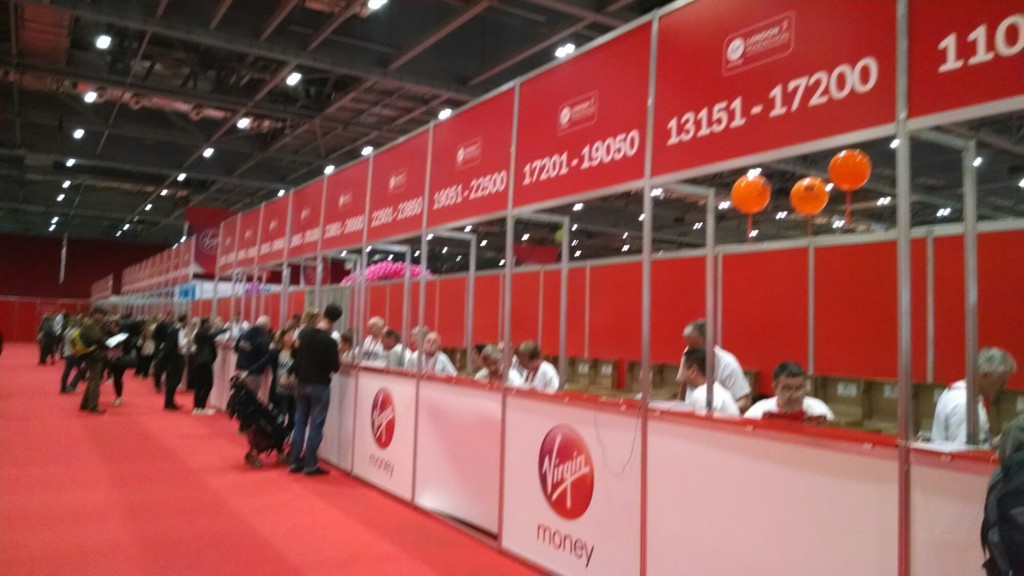 2) Pick up two pace bands at the expo.  One for you and one for your supporters so they know roughly when to be looking out for you.  If they aren't regular race supporters they might be better off stood by a mile marker and then they can check this alongside their pace band to work out when you should be coming through.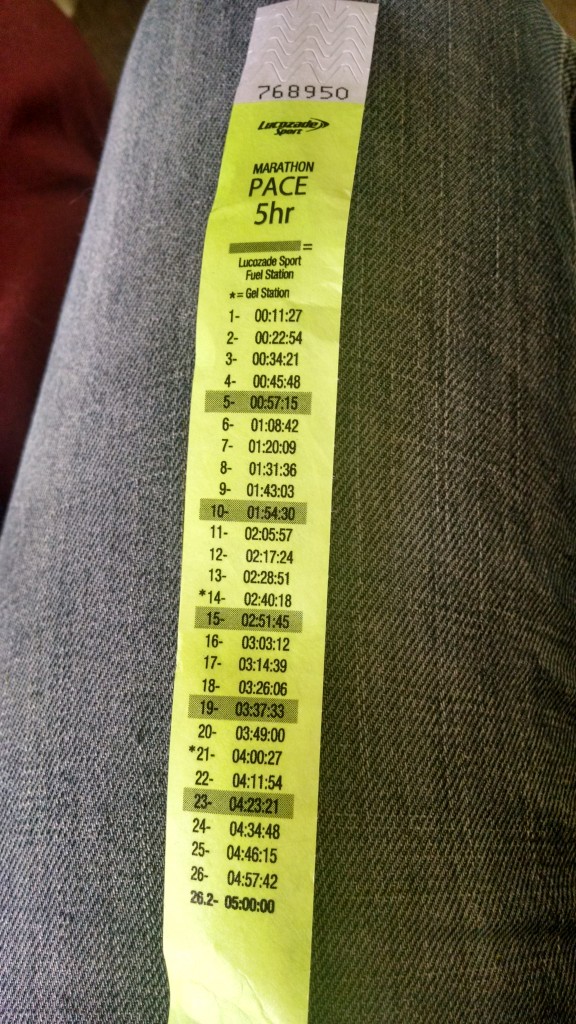 3) Book where to eat the night before the race.  I picked up this tip from Marathon Talk.  I knew I needed to eat pizza the night before the race so when we reached our hotel we hunted out a local Italian restaurant to go to that evening.  When we rang, we booked the last table for that night.  It was vital for me that I ate around 7:30-8pm and a vegetable pizza.  Otherwise panic would have set in!  😛
4) Allow extra time to get to the start of the race.  Dan is normally King of organisation but he would have had me aiming to arrive at 9:30 for a 10am start.  I put my foot down and planned on getting there for 8am.  A closed station, missed train and crowded platforms meant I made it by 8:20 – giving me enough time to Vaseline up, take two toilet trips, add suncream and place my bag onto the baggage lorries before casually strolling down to the start and chatting away with the other guys in my pacing group.
5) Don't take supporters to the start line with you.  The trains are incredibly crowded and as soon as you reach the starting field you will have to show your number as a pass in.  Anyone without a number will have had a wasted journey.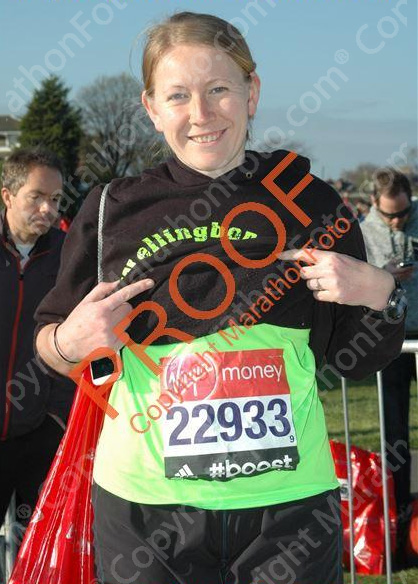 6) Not everyone with a sign above their head is a pacer!  As I found when trying to hassle a poor guy about Sub 5 tactics!  He was in fact a guy wearing a charity flag!
7) There are nine speed humps about a mile into the blue start course.  I wasn't aware of these before the race but the pacers briefed us about them, and there were volunteers with signs stood at either side of each hump intermittently bellowing out "HUMP!"
8) The number of people running the course is immense.  In the build up to my first marathon I ran a couple of 'larger' races, such as Silverstone half marathon to try and prepare for crowds of runners but Silverstone was nothing compared to the London Marathon and not being able to see the road I was running on for the first quarter of the course!  The first three miles it was easy to 'go with the flow' but then we started to hit water stations and bottles were tossed across the road everywhere.  My eyes went from the crowds to the floor to ensure my first VLM experience wasn't cut short by tripping over a stray water bottle!  The pacers warned us that the first couple of miles would most likely be slightly slower due to the huge amount of starters getting over the line.
9) The crowds are amazing.  They do not stop.  Ever!  If you let them, they will carry you round the course.  Watching the London Marathon coverage on TV I felt rather sorry for the elites, as they appeared to have less than half the numbers of supporters that we had going round the course.  As a relatively slow marathon runner I expected the crowds to have died down a little towards the end but they were so strong and so very loud!  The signs were amazing, the chants were amazing.  The supporters are what make me want to run this course again.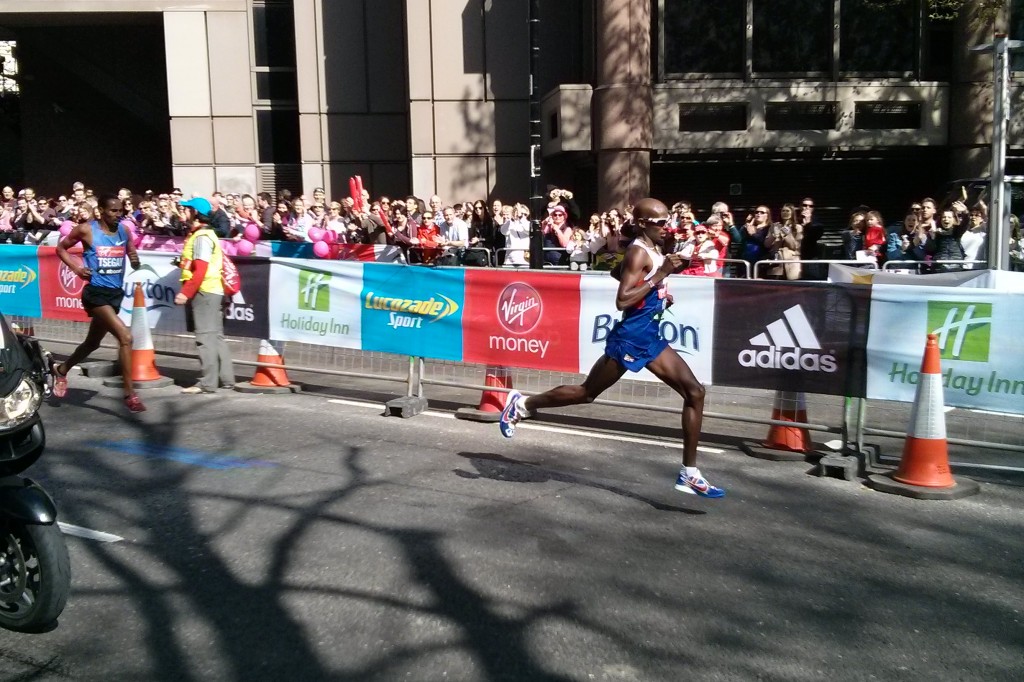 10) If you do have supporters visiting agree on one spot where you will see them.  Any more is just a bonus but if you decide on a couple of places and then don't see them you will be heartbroken!  If you have several supporters you can break them up into cheering squads. Dan and I agreed that he would be at about the halfway point beforehand and when he got in place he texted to say that he was just after the bridge, on the right hand side, with a load of other members of the running club.  Luckily I saw him and although I thought I would not see him again until after the race, he managed to catch the tube up to see me at mile 25 as well.  Bonus!  

11) Give spectators your race number so they can track you easily.  Other than one brief blip I was told the tracker worked fantastically for all those following me both out on the course and back home.  I had no problems with it when I followed our runners at home the year before either.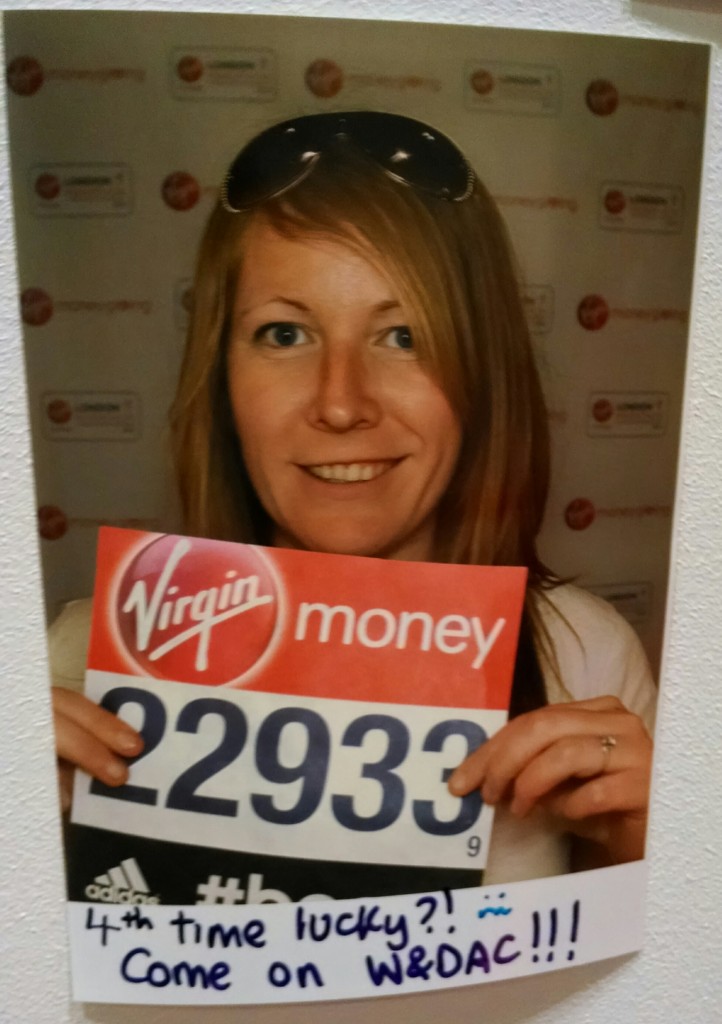 12) Your watch may lose signal under the bridges towards the end.  Mine did briefly, although regained it quickly as I came out the other side.  Just be prepared for your watch to tell you you are no longer ticking off any miles!
13) Be prepared to run more than 26.2 miles!  My Garmin recorded 27.94 miles!  I think mainly due to weaving around walkers but often on the large roads I was a long way away from the blue line on the ground (the line the elites take which is the route that has been officially measured as 26.2miles).
14) Take food for the end of the race.  There was an apple in the goody bag and a bag of craisins…I think that was it.  The queues for the baggage lorries were non-existent and I collected my bag very quickly after the race.  I'd packed a Honey Stinger bar as my treat for finishing and as the queues leading out into the Horse Guards Parade forced us to stand still for a long amount of time despite not feeling like food, I knew my body needed it by this point!
15) Arrange somewhere to meet afterwards.  I wouldn't have thought of this, but luckily our club mentioned that they always meet in the same spot after the race on the right hand side of the exit on the grass by a tree.  It didn't take me long to spot them, and everybody seemed to find the area OK.  My phone had no reception due to the large amount of calls finishers were making so I was glad I was aware of the pre-arranged meeting spot.
16) Remember to look up and take in the race!  For a while I found myself glancing down at my feet and being super careful of where I placed them but after the race I realised that I never spotted Big Ben or The Cutty Sark.  In fact all I do remember spotting whilst out on the course was Tower Bridge (hard to miss when you're running over it!) and a Jamie's Italian restaurant!  Whoops!  Now I'll just have to run again!