How do you prepare for a 12 hour race?
I don't know.
People keep asking me "What are your tactics?", "Are you going to walk?", "How are you going to approach the distance?"
Some of their questions I can answer, but a lot of the information I probably won't know myself until the day.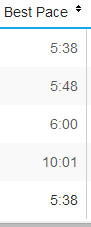 I'm pretty sure high on my list shouldn't have been running a speedwork session at club on the grass track for the first time this season on Tuesday night, – really pushing myself to maintain a 6:30mm pace on the reps.  (Super happy about being able to achieve this though!)  Legs still a little achy, and after a 7 mile trail run last night to stretch my legs out I'm taking the rest of the week off running until race day.
My running history?  In the past two years I have run four marathons, a 35 mile trail ultra and a 50 mile extreme trail ultra at night where I completed about 40 miles.  I have run nothing like the Conti Lightning 12 hour run this Sunday before and I kinda like that!  No expectations, no stress over time or distance.  Just me, running and doing my thing!
There are three other solo runners going from my club and a team of five female runners.  The idea of the race is to see how many 10k laps you can run within the 12 hour time limit.  You can finish the lap you are on when the 12 hours is up.  The winner is the person that runs the most amount of laps in the least amount of time.   The teams run one at a time and then pass a baton over to another teammate to continue for the next lap.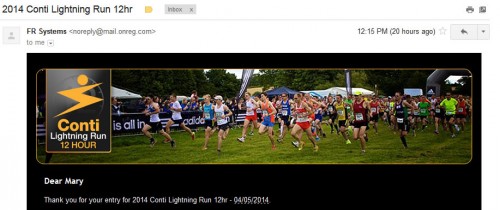 What I've narrowed my tactics down to…
* I will walk every hill on the course.
* I will set off at a slightly slower than marathon pace for the race.
* I will get through a lot of Jelly Babies and flapjacks.
* I will aim to start my last lap five minutes before time is up so that I can continue the lap I am on without pressure after the finishing buzzer has gone.
* I WILL NOT STOP.  Even if I'm only walking along I'm ticking off extra miles towards another lap.  It makes no sense to stand still!
* I will chat to as many people as possible, cheer on other runners from my club and have an amazing time.
I would like to complete at least 50 miles ideally (I'm pretty sure I'm capable…I completed the hilly Shires & Spires 35mile course last year in under 8 hours), but ultimately I'm viewing this race as a big social event and will be taking cider and burgers for the Sunday evening!
I'm not even a little nervous about the running, but the getting there, camping overnight and making sure I remember to take some food for pre-race and post-race are all facts that are scaring me immensely right now!
Has anyone taken part in a similar event before?  Any tips to send my way?!