For the past few months it has seemed as though there are several family members on a daily wedding countdown to our wedding.  As well as the year 10 girls at school…they update me each morning with how many days I have left!
I have never really instigated conversation about the wedding with people, but it's still a hot topic of conversation at school right now!  Each Thursday morning, when I'm on break duty with a couple of other teachers, their favourite question seems to be "So how are the wedding plans coming on?!"  Every week I've sheepishly said "Ermm, I haven't done anything this week."  I don't know if it's just me, but when we first got engaged we were busy, busy, busy and there was loads to do – bookings to be organised and decisions to be made.  Now we've been engaged for nearly a year and there's not a whole lot to do at all.  Although I have a feeling the month before the wedding it will all kick off again.
From the start of April we started passing out invitations gradually as and when we saw people in order to save on postage costs.  We still have about 20 or so to hand out/take to the postbox before the box on the dining room table is completely empty but I was starting to get a little concerned that we had had very few responses back, and they had all been 'Decline with regret' responses.
Today that changed!  We got the first response back with an 'Accept with pleasure' tick!  It was the Best Man's parents.  Unfortunately they have poor taste in meals, choosing Dan's dishes over mine(!), but I'm excited that my meal choice spreadsheet finally has it's first entry!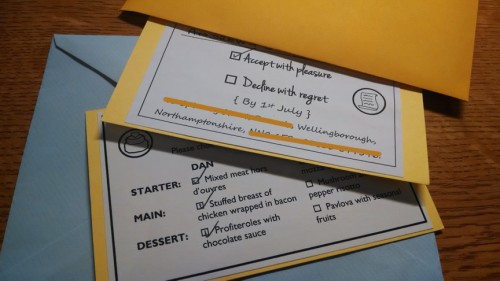 I can't wait to see what choices everyone makes for their food.  And we're both really looking forward to people enjoying our wedding breakfast meal.  The tasting session we had back in October left us both feeling very confident and happy with our choice of caterer.
What has been your favourite meal at a wedding?