Today, six days after running 70k at the Conti Lightning Run I ran a 20mile training recce of the first half of the Shires & Spires course along with five other runners.
The most important thing I learnt today was that orange and green Jelly Babies are my favourites.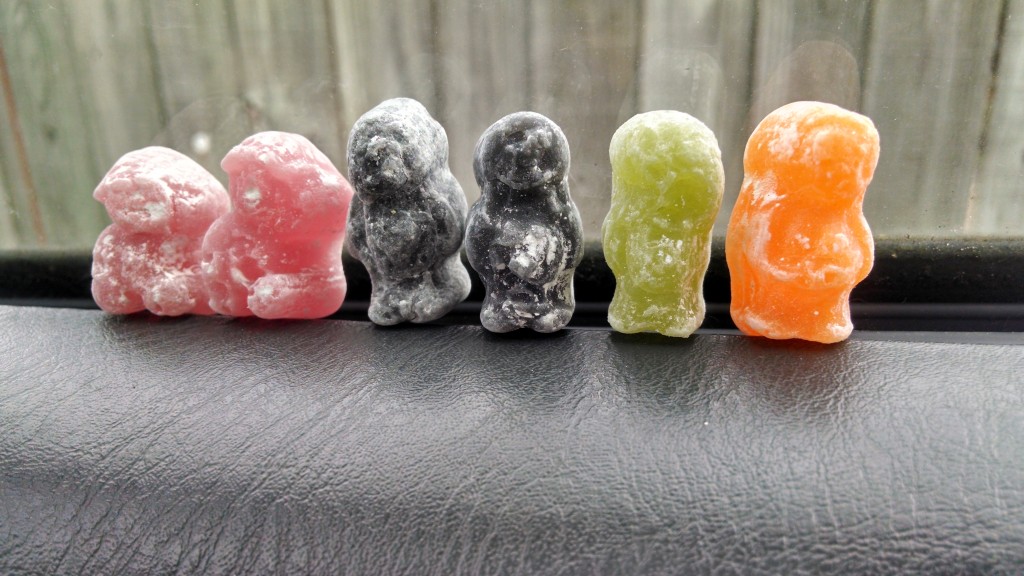 I also confirmed my suspicions that the black Jelly Babies should be reserved for my emergency ration only to be eaten if I'm having a tough run and have already eaten all the other colours.  I didn't like these ones so much!
I used to go to Youth Club from about the age of 7-13 back when sweets still only cost a penny each, you could buy bottles of crisps for 20p and it was cool to hang out next to the pile of Sugar magazines by the stage and pretend like you knew what the articles were about.  I can remember buying Jelly Babies back then and offering one to Mrs Gardiner, our leader each week.  She always requested the 'little boy ones because that way you get a little extra!'
On a more serious note, during the run this morning I also became aware that I should have taken more food with me today.  After my awful judgement regarding nutrition at The Conti Lightning Run last week I have been talking to as many people as possible about their choice of food on runs and trying to learn as much as I can so that I can improve for the next few races I have lined up.  I was reluctant to trial anything new on the run today, knowing I would be the slowest runner of the six anyway, and that we were running a point to point route with no toilet stops!  It is my hendo next weekend so I am unlikely to get runs of any distance in then but hopefully on the Monday I shall pack up a couple of mashed potato and mature cheddar cheese filled pittas and give them a whirl over 15 miles or so…on a route with toilets…just in case!
I know I need to begin eating real food earlier on during long runs.  Before the stage when I can no longer produce saliva and struggle to get anything but a hoard of Jelly Babies and water down my neck.  I'm becoming very aware that it is a very difficult thing to adapt to.  Chatting to Tim earlier today he pulled out some baby food, courgette muffins, mini blocks of cheese, jelly beans and bars.  It seems like variety works well for most runners.
The run was lovely today.  Six members of our club (including me) headed out – three guys, three ladies.  Between us we'd already clocked up several miles this week.  Amongst other runs Kev had run 80k at the Conti run followed by Milton Keynes marathon the day after, Tim had run Milton Keynes marathon, Kevin had run Milton Keynes half marathon and Jo had run 20k at the Conti as part of the team.  I ran 70k at the Conti and then backed it off for the rest of the week.  Monday I walked for a couple of hours out on the Milton Keynes marathon course as a supporter, Tuesday and Wednesday I took off completely.  Thursday I ran/walked slowly around the school field for 50minutes and then on Friday Dan and I went out for a 45 minute walk after work so I've kept my legs going without putting them under too much strain.
My alarm went at 5:20am this morning and all I could hear was the wind and rain outside the bedroom window.  Not encouraging me to leap out of bed!  When we arrived at Lamport Hall just after 7am it was still raining and windy so I made sure to stay in the car as long as possible whilst everyone else got ready.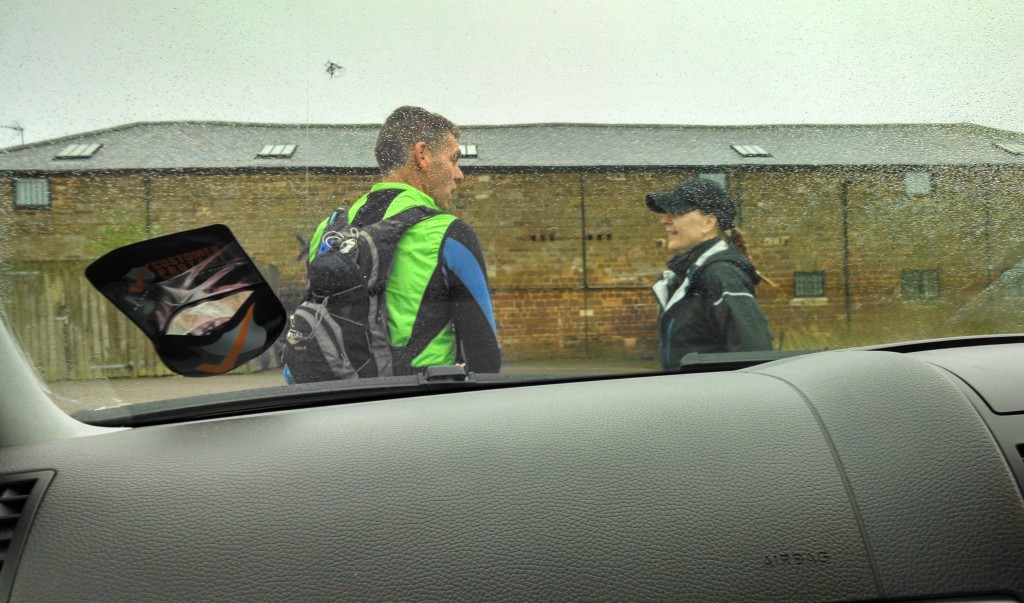 The others mocked me for my shorts but it wasn't long before the sun came out and it turned into a really warm morning.  We all tied jackets round our waists or packed them away into Camelbaks and then the others were rather envious of my shorts and bare legs!
The next two pictures were taken by Kevin and it looks like he's used a filter on his phone so it doesn't fully show how truly sunny and beautiful it was after a couple of miles into the run but it turned into such a lovely day after the rain.
I found the road sections tough – I'm a trail runner at heart and looked forward to the second half of the run, knowing it was mainly through fields and grass verges.  I was very happy to remember the route (good job too, as none of us thought to take a map!) for the whole distance, so I should be able to concentrate on running (and refueling!) at the event in June.
At the twenty mile point we sat down at a cafe for some drinks and snacks (me with my water and Jelly Babies!) and spent 15 minutes chatting whilst Tim and Kev recharged before they headed off to complete the remaining 15 miles of the course.  The rest of us got picked up by Jo's husband who returned us back to our cars so that I could come home, drink a chocolate milkshake and take a little nap.  Good times!
Road or trail for walks/running…what do you prefer?