I never have five things on a Friday, so I'm going to stick to posting my Five Things posts when I feel some randomness on a weekday instead!
#1. I've been experimenting in the kitchen this week.
Yesterday I made my first omelette.  Yep, I'd never made one before.  But now I have, I just know these are going to feature more often.  So quick and easy and I can add meat or cheese or peas to Dan's omelette, and cram lots of veg into mine.
Yesterday I settled with a mushroom and goat's cheese one and loved it.  I made Dan a plain cheddar cheese one.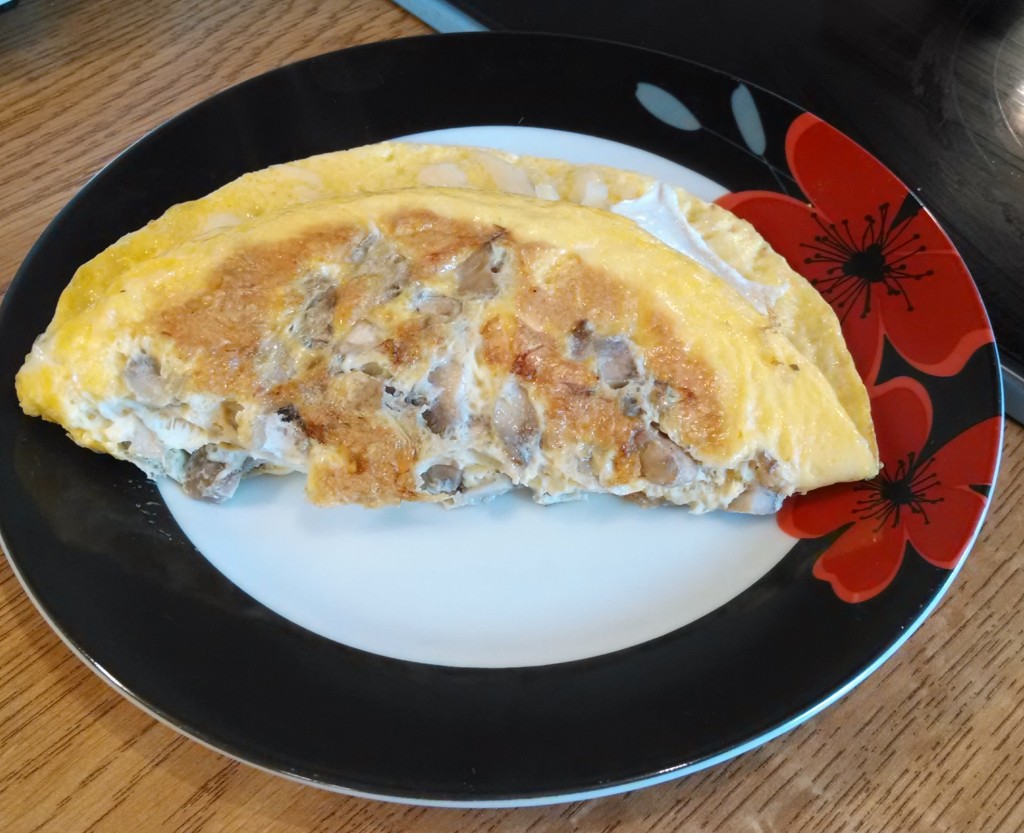 On Friday night after school I was really craving lots of vegetables.  Dan was in charge of meals on Wednesday and Thursday night last week and when he cooks there's never enough vegetables involved for my liking so I decided to go all out for dinner on Friday to make up for that.
I set some potatoes to boil on the hob so that I could make mashed potato for the side then chopped up several button mushrooms, half a courgette, a carrot and a leek which I threw into a pan of tomato sauce on the cooker with a handful of sweetcorn and one of peas.  We had some meatballs to use up in the fridge so I added them to to the pot as well.  Dan at least got some veg in his meal with the peas and carrots, along with the side of mashed potato and the tomato sauce.  He spent a good 10 minutes before he began eating picking out the odd pieces of sweetcorn that had strayed onto his plate though!  I topped mine with some goat's cheese.  Can't get enough of this right now.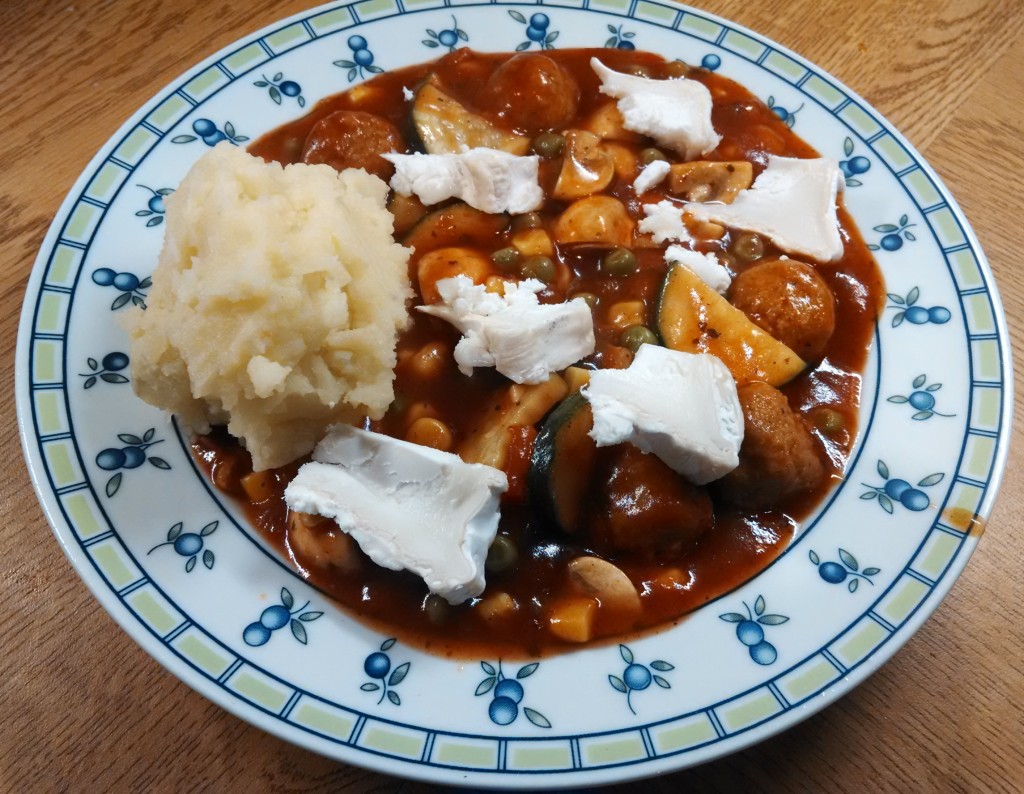 This really hit the spot and was exactly what I was craving!
#2. There's a video of the Conti Run start online.
This morning I discovered that the start of the Conti Lightning 12 hour race I ran last week was filmed and is now on Youtube.
You can see me towards the end wearing my green vest with a white top underneath and shorts.
#3. Wednesday is the Year 11 AQA GCSE exam.
The first time I will have had students go through a course under my watch.  This is my fourth year of teaching but first year in a Head of Department role and with the responsibility of making all the decisions for the course teaching content.  I am pretty sure I'm more nervous than the year 11s that I teach and have been waking up with bad nightmares several times this week where the moderator has refused to mark any of their work.  Hopefully I'll be able to relax a little after the exam on Wednesday as there'll be about a month before they sit their Computer Science GCSE when I'm sure the same nightmares will reoccur!
I'm hoping to throw the four students a little celebration party on Wednesday afternoon, once the exam is over to say 'Well done' and let them relax a little before beginning revision for the next one.  One of the students is dairy intolerant though and there are lots of foods he avoids so I'm not sure what I should take?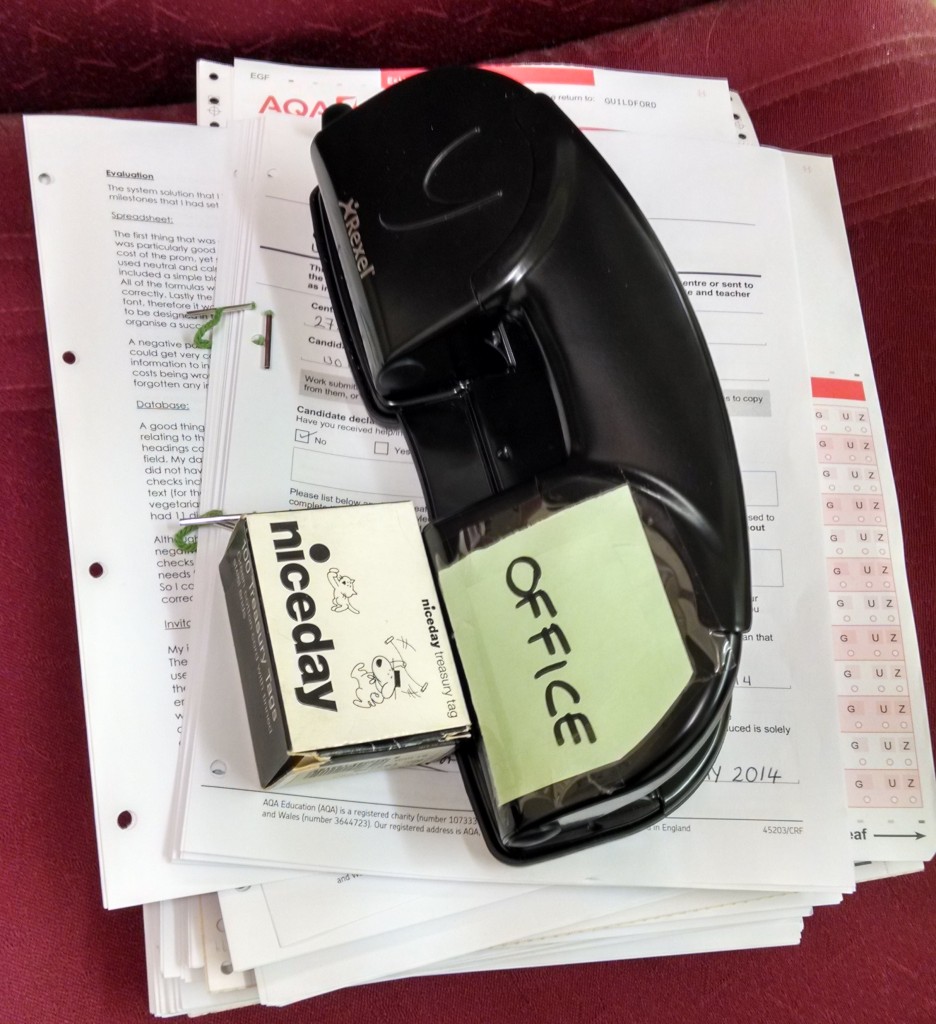 #4. My Dad has had an operation.
Last week Dad went in to have the tendon in his left arm repaired.  He stayed in overnight and was released the following afternoon with instructions to rest for several weeks, and that he would not be able to return to normal daily activities for six months.  This does not suit my Dad at all who is always on the go.  When I spoke to Mum a few hours after him returning home she was already shouting at him to stop using his left arm to lift up his cup of tea to his lips.  He's not even left handed but he just wanted to see how much pain he could tolerate!  I think he's pretty fed up of having to rely on other people already, and if Mum wasn't around I am certain he would already be heading out for drives in the car to the shops or his friends' houses.  When I spoke to him on the phone the day he was released he told me of how Mum had left him the day before for his operation, took his phone and his money home with her and so when he came round he had nothing to do, no phone to ring friends, no money to buy a newspaper or pay for a few hours of TV.  (This still amazes me that you have to pay to watch TV or use the internet in hospital!  Prisoners can watch TV and so many supermarkets and libraries have free wifi…the prices in hospital are extortionate!)  Mum was supposed to collect him at 2pm and by the time she'd faffed around (I clearly take after my Mum when it comes to getting ready!) she never arrived until 4pm and Dad had no way of getting in touch with her to find out what was going on!  Mum's organised a few trips out for him this week to keep him entertained and less grumpy!
#5. I should be racing the Rugby 6 on Wednesday.
Put me at the start line for a marathon or ultra and I'm as calm as anything, but with about a year away from racing shorter distances (other than parkruns) it's these events that now leave me trembling waiting for the gun.
My current PB for 6 miles is 58:31 at the Rugby 6 in 2012, the week after returning to training from my very first marathon.  At the time it stood out from my other results as being slower than I was capable of as my 10k time from several months earlier was only four seconds slower in 58:35.  I found the race tough at the time and my legs were still tired from the marathon.  Last year I focused almost solely on long distance but I would like to tick off a few shorter distance races over the coming months so I know where I am currently at.
I had a meltdown at Northampton parkrun the week before last.  Over the past few months I've been travelling to parkruns as the unofficial pacer for Dan, or my friend Vicki.  There's been no pressure (other than coming up with conversation the whole way round!) and it's been a fun event with friends.  The weekend before the Conti run I headed to Northampton with Dan.  Because he's taken so much time off his PB over recent weeks, and is now regularly running 27 minutes for a 5k I no longer feel confident pacing him, so we decided from the beginning to run our own races.
I ran the first mile in 8:49 but it felt easy.  After the initial holdup over the line I had been maintaining an 8:30 pace for the remainder of the mile.  I got halfway through the second mile and I really wasn't enjoying constantly checking my watch, trying to judge if I was overdoing it, or not pushing hard enough.  I pulled the pace right back until Dan caught up with me and I told him I was going to pull out.  Our course is a lap and a half of the park, so I slowly jogged back towards where I knew Andy, another club runner was and encouraged him round the remainder of the first lap.  I left him to continue with his race, and then jogged back to push Dan through for another strong finish – leaving him a little way before the line.  He had a big push when I reached him, and we ran the last section at sub 8:30mm pace.  It won't be long before his times are in the 26:xx minute miles!  I pulled out because I wasn't enjoying the pressure I was putting on myself at the time and I really need to get out of that mindset for the Summer races.  Any tips on doing so?…
Any ideas for recipes/foods I can take in for my year 11 group which the student who is dairy intolerant can enjoy as well?
Have you ever had a meltdown in a race that you weren't enjoying at the time?