So apparently I am becoming one of those runners now.
The runners that purchase baby food sachets, study protein content in meals and have a whole cupboard dedicated to Jelly babies, bars and energy gels.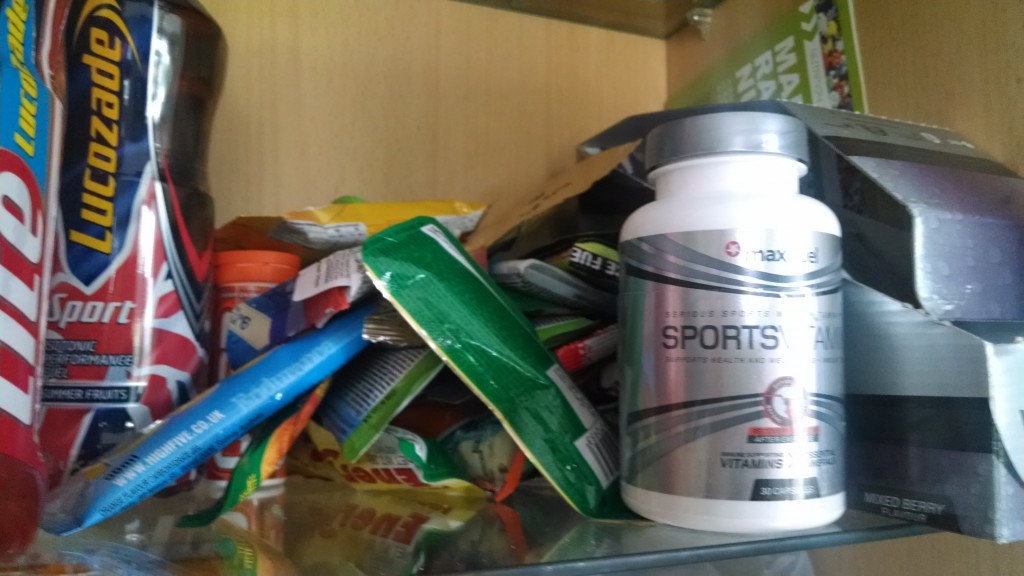 Last week I even picked up a tube(?) of baby food on my weekly shop as a method of attempting to get more calories in on a run.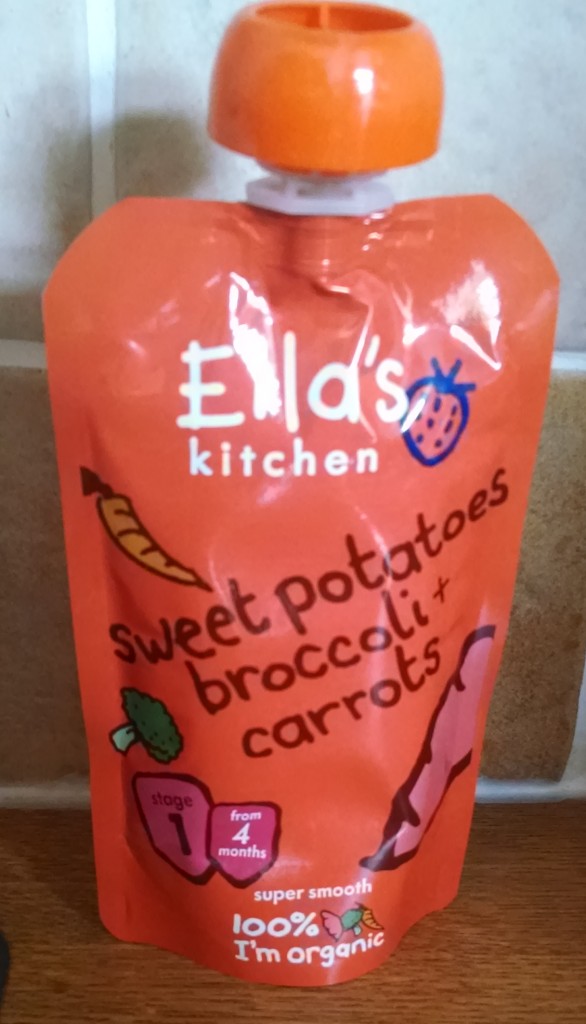 It took me a while to choose a suitable flavour.  I didn't want to go too sweet, as that's what gels are for!  I was surprised at how few calories were in the tube though.  (78 calories)  I'm going to need several of these to get me through an ultra if I find this is what works for me!
I would love to complete the Grim Reaper 70 in August (just one week before my wedding!)  Check out the beautiful medal from last year…Club colours too!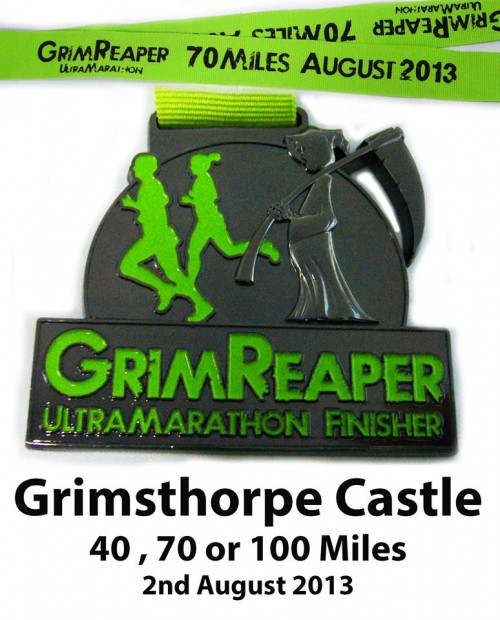 …but I know that if I am to even consider entering my main focus for upcoming long runs needs to be nutrition, after that being the area I flopped in at the Lightning Conti run last month.
Last year I was entered for the 40 miles, but withdrew when I won my place on Operation Ultra with Women's Running.  For a while I've been ummming and ahhhhing about the 70 miles – there's a 26 hour time limit, so as long as I can get the calories in to keep me going, I should be capable of coming in under the cut off point.  I actually feel kind of committed to the 70 now after my Facebook comment made an appearance on last week's Marathon Talk.  (Check out around 7-8minutes in to the show.)
Therefore, when the weather was lovely on Monday I decided to head out for a long run and practice my nutrition on the way.  I vaguely had the idea of running for about three hours in my head – but along a new off-road route, and I wouldn't be bothered if I ended up walking parts of it.  I planned on just taking it easy and feeling comfortable the entire time.  Time on feet and eating on route was what it was all about!
I packed up a salted mashed potato and cheese sandwich for my trip.  The first time I've tried what felt like a picnic on a run before.  It sounds rather random, but in actual fact, tasted rather nice!  It's supposed to be a good mix of carbs, protein and salt.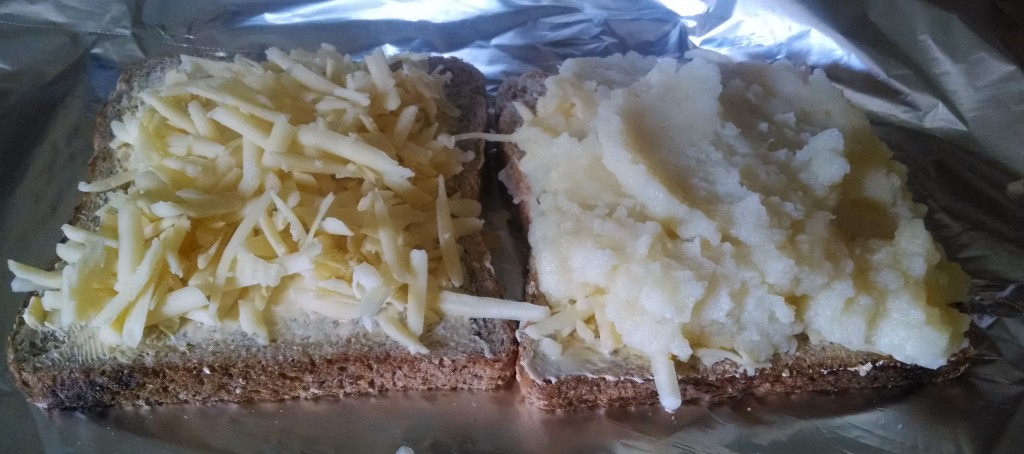 Mistake #1: Making the mashed potato five minutes before heading out on the run.
I put it into my Camelbak and could already feel the warmth of the sandwich pressing into my back.  Not great on a hot day.
Mistake #2: Wrapping it in tin foil.
I'm going to try cling film next time as by mile 5 my sandwich had just become a big squishy, warm mess which had leaked out onto the purse in the bottom of my bag.  I guess the constant movement in my bag had caused the foil to rub and grow holes because it definitely didn't resemble the neatly packed sandwich I'd placed in my bag an hour earlier!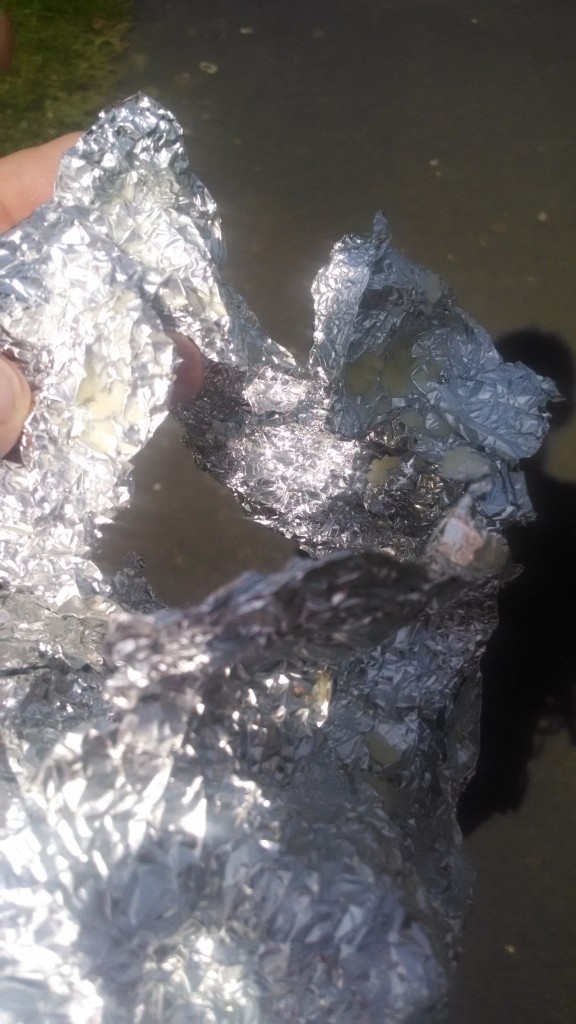 Mistake #3: Eating the sandwich just because I knew I had to.
Something I am frequently guilty of with food at home.  I know I have to have lunch / tea at some point so eat it to 'get it out of the way' so I can get on with the day, not necessarily because I need to at that point, or was hungry.  I ended up eating half of the sandwich at mile 4 and finishing it off by 6.5.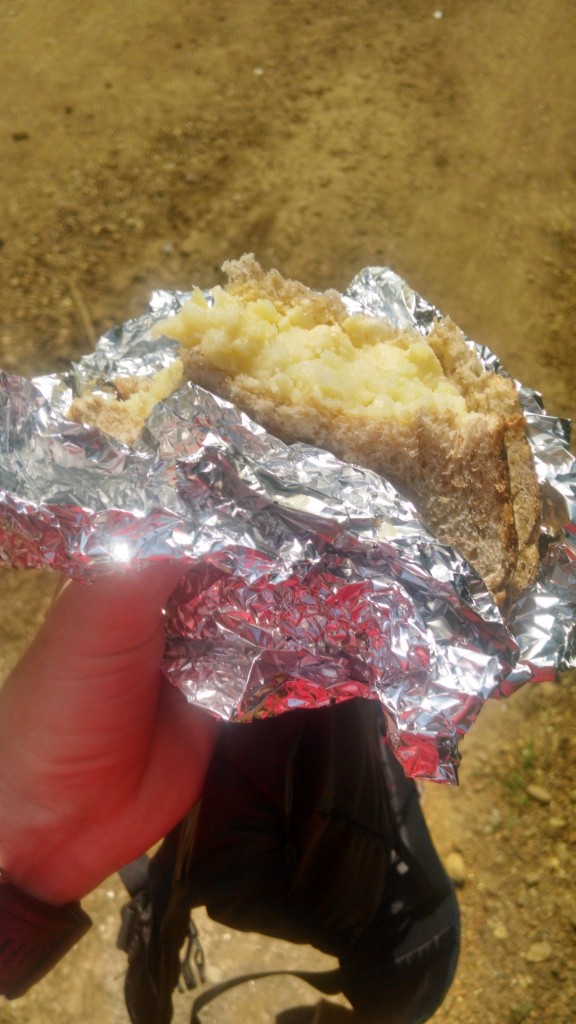 All in all, I had no problems with the sandwich in my belly.  I tend to prefer to run before I eat, as I have had bad cramps in the past.  But ultras are obviously run so much slower that I guess small mouthfuls of food should affect me less.  This is a sandwich I will pack up again on my next long run!
Do you have any random sandwich choices?  As I type this on my lunch break, I just realised my lunch of last night's left over dinner in a sandwich was probably rather random for some…a prawn korma and rice sandwich.  I've never seen it in a pre-packaged box at Tesco anyway!