"I WILL run a negative split, I WILL run a negative split…"
Apparently it doesn't matter how many times I tell myself that before a shorter distance race, I still get too excited at the klaxon and shoot off too fast.
The aim was to run a consistent 9:30mm but with such a nice downhill to start, my legs found it tough to slow from the 8:30mm pace I kicked off at at the very beginning.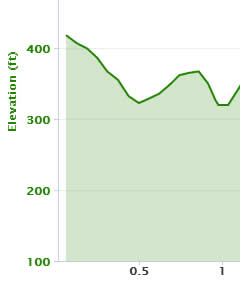 Unfortunately, what goes down must go back up again and I can't say the next stretch of uphill was my favourite in the course!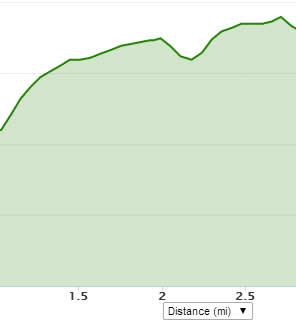 The worst sort of hill – long and drawn out!  I ran it all though.  After this uphill the rest of the course was relatively flat, or with only very small up/downhills.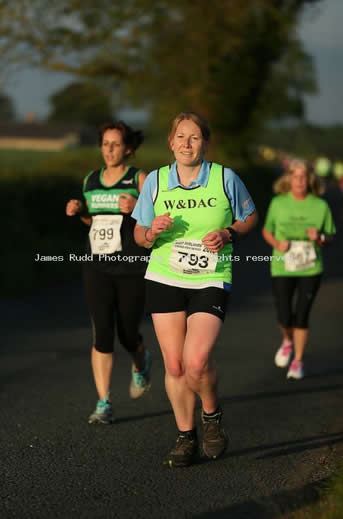 Why is there always a photographer at the top of a hill?!  I look like I'm barely moving here.
The course is a PB race for many in the club and I can see why.  Although the uphills slowed everyone down, it was easy to make up lost time on the rolling downhills and use some of the forward going energy to push you back up at least the start of the next hill!
My splits ended up as:
Mile 1: 9:20
Mile 2: 10:04
Mile 3: 10:19
Mile 4: 10:24
Mile 5: 9:19
0.04: 7:29 pace
So none of them actually resembled the 9:30mm pace I was aiming for at all!
A total time of 49:47.  Finishing position: 383/410, Female position: 109/127, Category position (Senior Female): 28/34.
I was vaguely aware throughout the race that I was roughly where I should place in comparison to other club runners around me.  That's the thing about regular races in the County, – you recognise the runners that surround you each time!  As soon as I crossed the line, I congratulated those around me on their races.  Derek, a relative newbie to our club had pounded up behind me with 0.4 miles to go and his running alongside me had encouraged me to pick my pace right up.  Up until that point I felt like I had been plodding along.  With the addition of competition suddenly my brain decided to push my legs into gear and I managed to hold a sub 9mm pace to the finish.  Throughout the race I had had no stitch, my breathing had been fine, then when I began to head to the finish all of a sudden my legs were no longer heavy…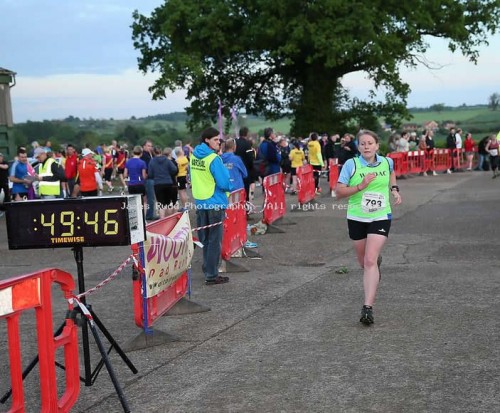 …Derek had pulled away at this point and I knew I would no longer be able to catch him, but I still put in a good finish.
Once I'd reached my club mates to cheer the remaining two from our club in, people began asking how I'd gotten on, if I was happy with my time…  I wouldn't say I was happy with my time but I was at least satisfied it was an average sub 10mm pace.  The thing I find most frustrating about my running at the moment is that I cannot seem to run consistently.  Between miles 2.5-4 I walked sections of the hills, exactly the same as I had resorted to doing at Rugby a week earlier.  The hills at this point were nothing major and did not need walking.  I was only running 5 miles in total and last month I ran all but a few steps of the 28 miles I covered at London marathon!
I know a lot of the reason my legs feel so heavy is that I have concentrated on higher mileage this year, frequently running 50+ miles each week.  I feel like I should be getting at least a little quicker over shorter distances though.  I'm still right towards the back of the club runners at races and seem to only be getting slower, not quicker in the slightest.
Running the pace I did for the final half mile or so without any issues did pick my confidence back up a bit, although still left me frustrated that I hadn't managed to maintain that pace on my own.  It has made me seriously consider seeing if somebody would pace me around a shorter distance race though to pick me back up from the slump I seem to have fallen in at the moment.
Have you ever been informally paced before?  I've informally paced others, but other than at London this year, have never used pacers before, and never run with someone to help me achieve a certain time.