One year ago today Dan asked me if I would marry him.  (Spoiler: I said yes!)  You can read about how he proposed here.
We are now 75 days away from becoming a married couple!  Scary times!
In honour of the day I made us a tasty breakfast of waffles…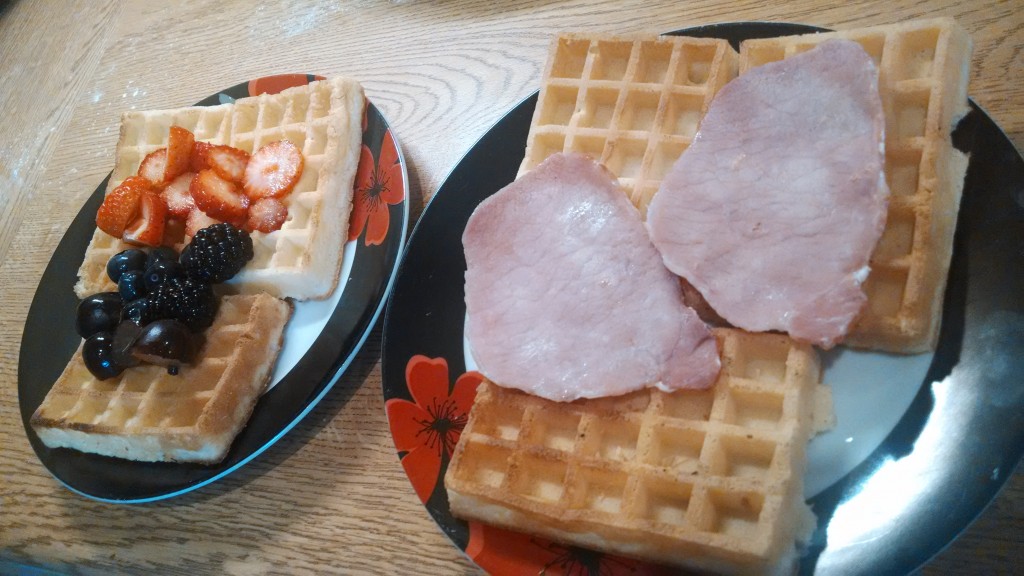 His 'n' hers breakfasts.  Dan's were topped with bacon, mine with berries.  Strawberries, blackberries, blueberries and some grapes.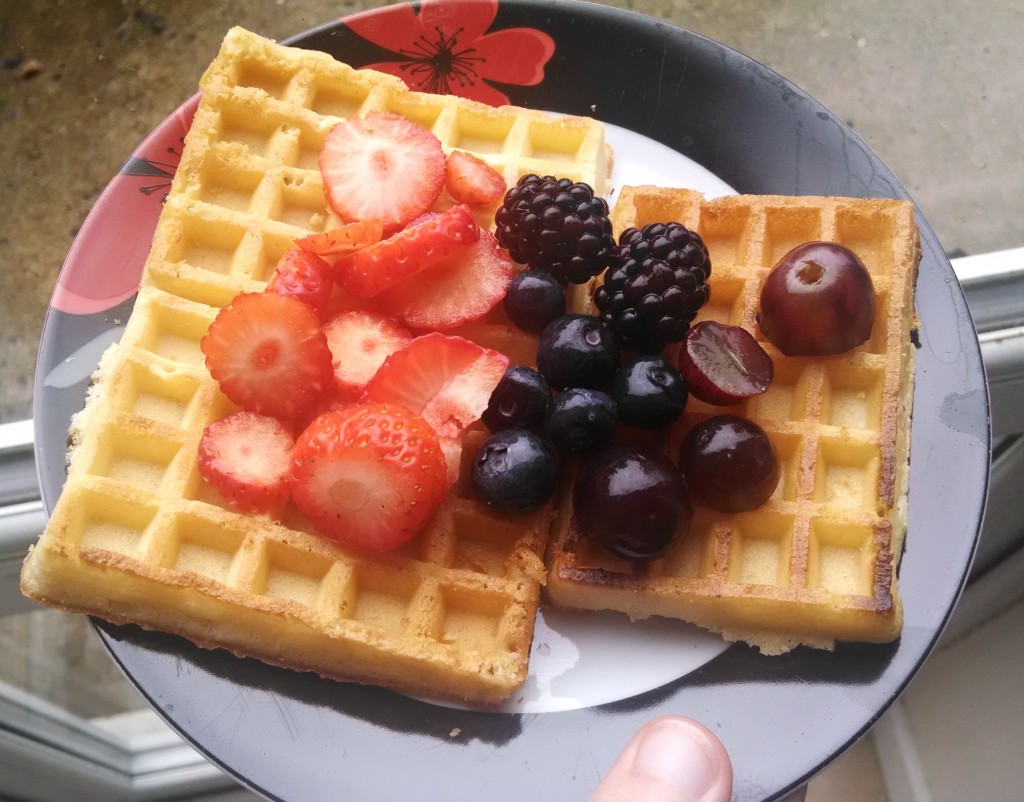 …and it was gooooood!
After breakfast and a quick house tidy the rest of the morning was spent making lists for the wedding.  I feel like we have a million and one lists going on at the moment.  A guest responses list, meal choices list, to do list, payments list, photography set list, running order list…
Today it was the running order list we worked on…
* 6:30am – Bride run (crossing my fingers the hairdresser lets me!)
* 7:30am – Breakfast for all staying at my parents (My Mum, Dad, brother, Me, Mother-In-Law, Father-In-Law and Nan-In-Law…does that title even exist?!)
* 9:00am – Put out car parking signs to church and venue.  (Possibly me and my brother?  It'll be too crowded at the house in the morning and I'll need some space!)
* 10am – Hairdresser arrives.  Mother-In-Law to be styled first, then bridesmaids and me last.
* 11:30am – Makeup person arrives.  Mother-In-Law, Maid of Honour then Me.
* 12pm – Ushers arrive at church.  (Hopefully!)
* 12:30pm – Caterer arrives at venue (again, hopefully!)
* 12:45pm – Bridesmaids and Mum to the church.
* 12:55pm – Bride and Father to the church (It is literally only two roads away so will only take a matter of minutes.  I'm very excited about arriving in a horse and carriage.  Although this is the bit my Dad is dreading the most…he has seen too many videos on You've Been Framed!)
* 1pm – Wedding ceremony begins.
* 1:35pm – Place half of my bouquet on my Nan's grave.
* 1:40pm – Posed photos with family members outside the church.
* 2pm – Bride and Groom leave in horse and carriage.  (Will be nice to finally talk to Dan!)
* 3pm – Bride and Groom arrive at the venue (It's only four miles from the church but we're hoping for some photos on route if it's a nice day.)
* 3:25pm – Meet and Greet line with Bride, Groom and both sets of parents.  Ushers direct guests to seats.
* 3:30pm – Meal begins.
* 5pm – Father of the Bride speech.  (I have no idea how long the speeches will take, so I've allotted them all 5 minutes.  I'm pretty sure my Dad's will be over in one minute flat!)
* 5:05pm – Groom speech.
* 5:07pm – Distribute presents to bridesmaids and mothers.
* 5:10pm – Maid of Honour speech.
* 5:15pm – Best Man speech.
* 6pm – Band arriving to set up.
* 6pm – Bride and Groom photos.  (We've planned to have some photos taken on the rustic playpark alongside the venue.
* 6pm – Ushers to move some chairs through from marquee to hall and parents to pick up evening food.
* 6:30pm – Band starts.
* 7pm – Ensure starlight ceiling is working in the marquee.  (Not sure if this comes on automatically?)
* 7:20pm – First dance.
* 8pm – Cutting the cake.
* 8:30pm – Evening buffet laid out in front room.
* 10:30pm – Last dance for the Bride and Groom.
* 10:40pm – Bride and Groom leave.
It's gonna be a busy day!
Have I missed anything out?!