I've been intermittently absent from social media over the past couple of days and to be honest it has been a relief at times.  Social media is a fantastic tool for catching up with people who might not live so close, sharing photographs or news events, chatting to others with a similar interest and interesting potential customers for a business.  But at times, it can also become a big pain in the arse.
For A Healthier Moo, I use Twitter (@ahealthiermoo), Instagram (ahealthiermoo) and Pinterest (moo101uk) and then I also have a personal Facebook account, and run several Facebook and Twitter accounts for local businesses including the school I work at.
About six weeks ago I changed my phone contract to EE, as I was assured I would receive a much better coverage of the UK – able to use internet and check emails on the move when I am about the country.  I have received fantastic coverage with EE, but that has been a problem in itself!  Lately I've gotten into the bad habit of reading things as they pop up onto my phone – Facebook alerts, comments, etc but holding off replying/acting upon them until I am at the computer.  Completely forgetting how quickly they mount up!
Emails are the worst.  I had over 180 new in one email account today after not checking them since Wednesday – probably only half of which were of the junk variety.  I'm pretty sure online life could take over if I let it!  I do think it's very important to live life offline as well as online.  Hence the switch off over the past couple of days.
Thursday morning I woke to discover that our boiler had given up and there was no hot water for a shower!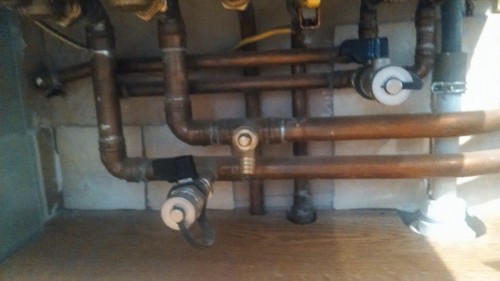 A mad dash followed as I loaded the car with my things and headed to my parents' house for a shower.  A two hour drive away.  (I had planned on heading back for a few days anyway!)
On the Friday I agreed to help Mum look for a dress for our wedding.  She had her heart set on heading over to the shopping centre at Spalding, so after a quick early morning 10k (nothing starts the day off better than collecting an extra 9 zones on Fetchpoint) I drove her and Dad over to Spalding on a dress hunt.  Stopping at the auction in Snettisham on the way at Dad's request.  He's addicted…Seriously.
No dress, but a Subway sandwich for lunch.  Winner!
When we returned home we were going to pop over and visit my uncle, but my Dad was experiencing a lot of pain in his shoulder.  He went in to hospital for an operation to have the tendon repaired in his arm about three weeks ago and recovery had been going well up until this point.  The pain was really intense though, and I ended up driving him up to North Walsham emergency centre to be seen, stopping briefly to call ahead on the way.  As it was the out of hours service, they dosed him up on some more drugs and told him to head into his regular doctor's surgery on Monday after the weekend.  His drugs cabinet is getting rather cramped with everything he has to take!
Whilst I was back I also popped over to the local Church Warden's house in my parent's village who has offered to lend Dan and I quite a lot of items for the wedding.  Her daughter (two years younger than me at school) had a wedding in April and they still have a shed full of bits that they used for the day.  So we have been supplied with outdoor lights and tealight holders along with some car park signs and barriers to place in the church field.
The Church Warden had written a piece for the local paper recently which Mum had saved me a copy of.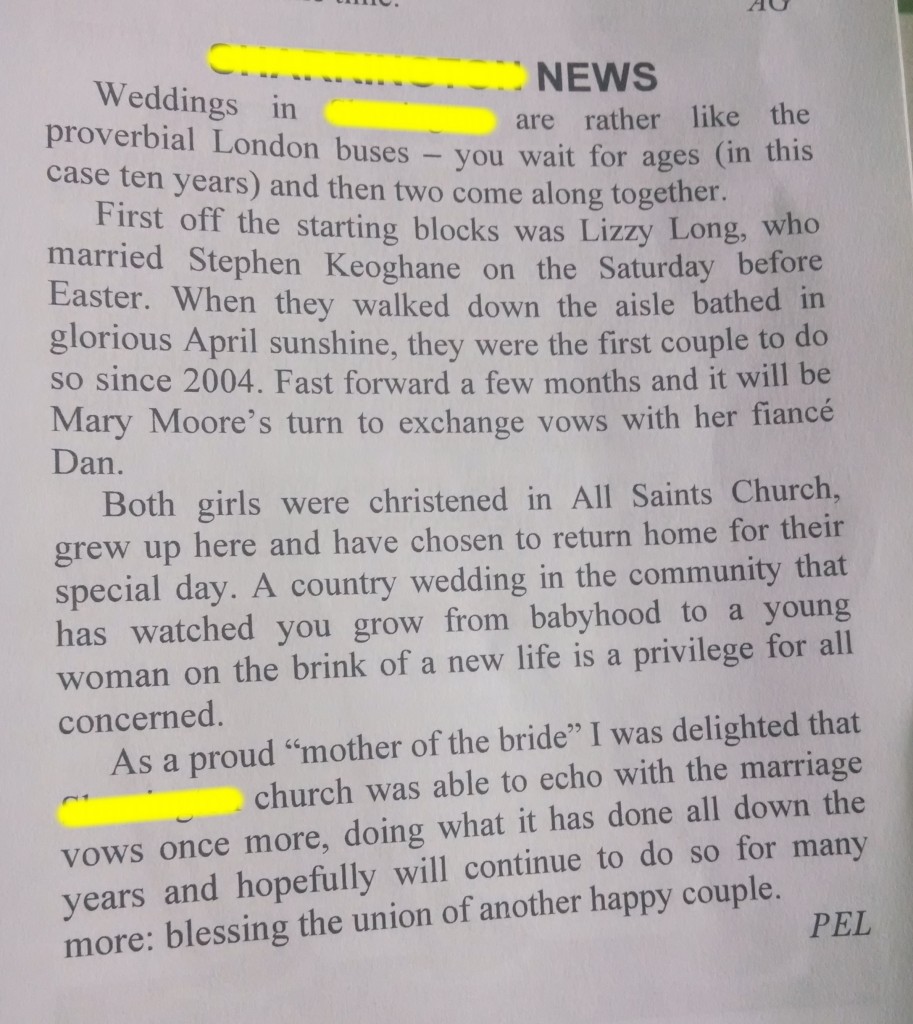 Dad very proudly showed me how the flowers my parents have been growing for the wedding day have progressed.  They've really begun to take off now and there's a bright mass of marigolds along the back of their house beginning to take over the old walkway!
I'm back home again now, and although it's been nice to have a break, it's nice to return to a bit of normality again, and I've been on Pinterest for the past 15 minutes searching for meal planning inspiration for next week!
Social media – love it or hate it?!
Any tips to keep on top of it all?!