Yesterday I ran the Shires and Spires 35 mile race (or Northants35).  This was my second pop at the race and I loved it so much last year.  You can read my 2013 race report here.
I didn't really have a goal in mind for yesterday and planned on using the race purely as a training run with the bonus of receiving a medal at the end.
The day started much earlier than usual, with me waking at 4:30am and boiling several saucepans of water in order that I could have some sort of bath/shower as our boiler is still not co-operating.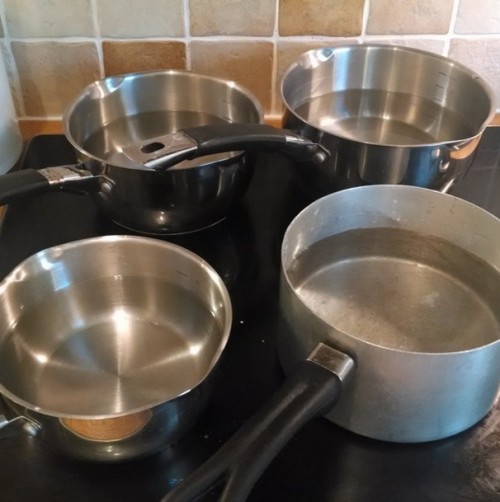 Not an ideal start to the day!
I knew that I needed to really focus on ensuring I got enough calories in compared to the number of calories I expended on the race, especially as a known salty sweater when I woke up to glorious sunshine…at 4:30am!  I usually have a bagel with peanut butter for breakfast on race day, but in order to feel a little more full and ensure there were enough calories in from the very beginning, I swapped my regular race morning breakfast for a large bowl of cereal with milk and nibbled on a piece of chocolate.  At 4:30 in the morning that was about all I could stomach!
Kev from running club had offered to give me a lift to Lamport Hall, along with two other runners and I met at his for 6:30am.  We'd all run recces of sections of the route before, and there was only one person between us that hadn't raced the event previously.  We made the decision not to bother taking a map between us.  There were eight of us running altogether at the back with the aim of it being FUN!  Four of the eight were taking on their first ultramarathon – one of them not having run more than 15 miles this year, three of them having not run more than 20 miles this year, and one of them having never run a marathon before.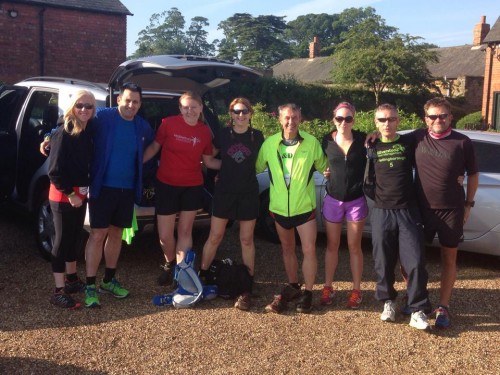 L:R – Kim, Kev, Me, Jo, Kev, Emma, Neil, Stuart.  (These weren't the eight I ran with, but were eight out of the impressive 21 members of our club that ran the ultra yesterday.)  This photo was taken just after 7am and you can see how warm and sunny it looks already here!  We were later told that it was a much hotter day than it had been last year and I remembered that that had felt incredibly warm at the time.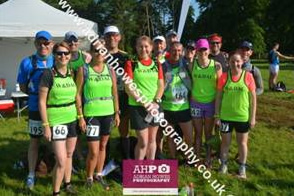 I had had no worries in the lead up to Shires and Spires and had barely thought about the race all week.  I had run it without issue last year and I have run further on two occasions since.  Kev always sticks with the slowest runner and I knew that would be me from our club, as the sole representative of Group 5, especially with the heat.  Nine hours is a generous cut-off time and achievable by most – especially as our group of eight had the added bonus of knowing the course like the back of our hands.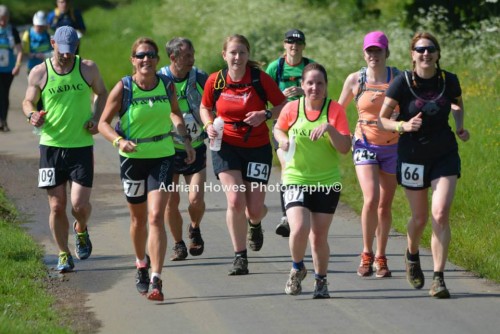 Our club is unofficially known locally as 'The Green Army' – due to our bright green running vests, but I've named this post 'Kev's Army' as he posted himself at the back of our little group shouting out commands to 'Slow down!', 'Walk this hill', 'Take a little trot', 'Make up time downhill'.  He really was barking orders from the back like a Sergeant Major and within a couple of miles our little group was automatically slowing to a walk whenever a slight incline appeared on the horizon!  We walked a lot more than we had last year when had I run with just Kev and one other.  I knew there would be no chance of me repeating my time of 7:56:52 but that was OK.  It was a fantastic fun run out with friends.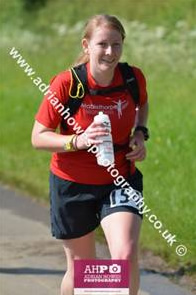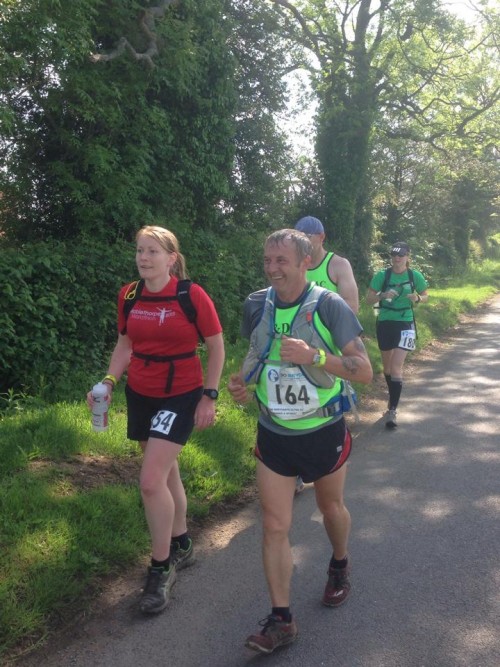 Most of us had Camelbaks or similar.  Kev had been getting annoyed with his running bag over recent training runs though as it had no bottom clip to hold it in place at the bottom of the bag – causing the bag to leap around wildly on his back.  For the race he modded his bag, using a buckle from home which had a number combination lock on the front of it!  He made sure to tell us all his combination number so that if he was struggling to get out of it later on we would be able to release him!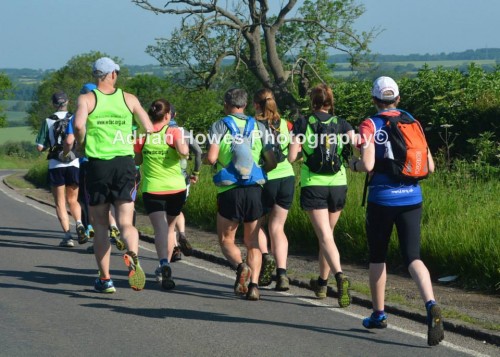 The majority of marshals working for Go Beyond are W&DAC runners and there is nothing better than reaching a checkpoint tired from the last 6-7 miles only to see smiling familiar faces and cameras pointing in your direction, along with the best food being brought out!  Paul from our club always brings Kev some onion bhajis as he knows they are his favourite!  Laura on checkpoint one ensured I took on plenty of salty pretzels, having seen how much salt I had lost at the Conti run at the start of May.  I tried so hard to eat throughout the race, and also gulped down a handful of Jelly Babies, despite not really wanting anything at this early point in the day.
About 6 miles in we picked up a stray runner, Claire, who had run a couple of ultra events before but didn't know the course and was a bit nervous of missing the cutoff times.  Kev told her to stick with us and she would be fine so she joined in with our military routine.
Checkpoint two came around quickly – just a marathon distance left to go!  Checkpoint two had real toilets and actual showers which were very tempting in the heat!  No pretzels at this stop unfortunately although they made an appearance later again in the race.  Must remember to pack some myself in future!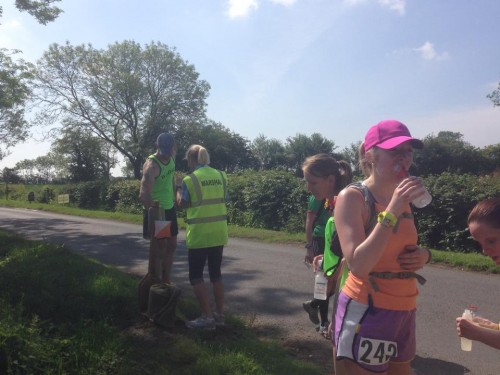 This year the race was chip timed and we had electronic chips around our wrist which we had to use to 'check-in' at each checkpoint.  Chip timing is fantastic and it's always so great to receive your splits and overall time the second you cross the finish line.
Around mile 9 Claire began retching and throwing up.  The heat by this point was very intense.  We rallied round in our little group and found her some pretzels, salt tablets and water.  By mile 13 as we passed some shops in a small village, Kev disappeared and came back out with a bottle of coke for her which we then passed around.  Coke is supposed to be good for settling your stomach if you are feeling queazy.  An odd fact I never knew before!  Whilst we were waiting for her to feel a little better I sat down on the pavement at the side of the road.  I'd started to get a really bad headache in the heat and was concerned that there were still more than 20 miles to go to finish the race.  This was the first time I considered the possibility of having to pull out.  I've been having very bad migraines over the past month or so, including the lead up to my hen weekend, around the time that we were having issues with our house sale (another post to come) and as I rushed around at my parents earlier in the week.  I put them down to stress and have been taking Nurofen tablets as directed by Dan, but I think I need to get them checked out at the doctors now.  A mile up the field and Kev let me have a tablet, which gradually took the pressure away from my head over the next few miles.  Emma lent me a hairband which I soaked in cool water and placed over the top of my head.  Also a huge relief on my head.
The first several miles of the race are mainly road, but then there's a large section through fields and this is the part of the race I love.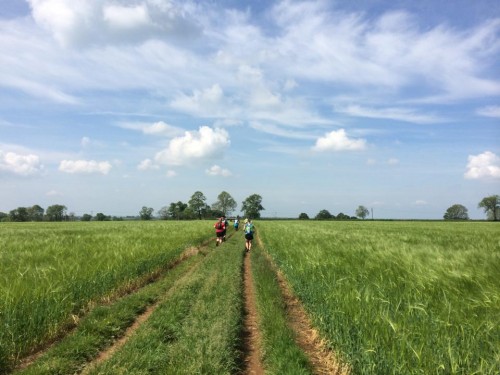 Feeling at home running along a grass track!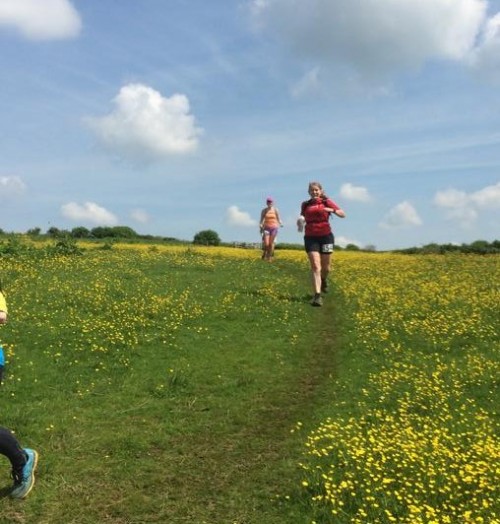 The third checkpoint at mile 16 is known as 'The Feeding Station' and I helped myself to a pork pie, mini sausage roll, some Jelly Babies and more pretzels.  I struggled to finish everything but it became my mission!  When I raced last year I only took on a few Jelly Babies throughout the entire race.
Mile 20 and we were all beginning to feel the heat.  Kev ran on ahead and bought two boxes of six Calippos.  He passed the spare four onto four other runners close by.  This ice lolly was seriously the best thing I had ever tasted.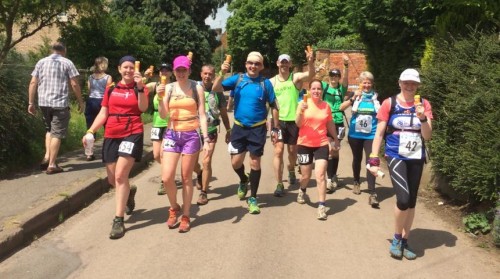 They were enjoyed by all!  For anyone else running a long distance event in the Summer – top recommendation to get one of these mid route!
At the third checkpoint one of the marshals had mentioned that we were quite close to the time limit (we were 20mins inside at this point, mainly due to the stops we had made for Claire on the way between 2 and 3.  She decided to continue, but ran off ahead of us at this point, so we continued with the original eight of us.  I think the comment about being close to the time limit worried a few of our group and the pace picked up substantially at this point, with me always at the back with Kev who stuck by me.  Although we continued to walk the hills.  A couple of times my Garmin clocked sub 9mm pace and I knew this would destroy me if I continued to run at this pace.  Although my headache had faded my chest was very tight and I could feel my heart almost beating out of my chest at every hill we climbed.  I wasn't at my best at all.  After struggling to keep up with the others to Checkpoint 4 I asked them to go ahead.  Kev continued to run with me but the others continued at their own, quicker pace.
We ran on and off alongside two runners from MK Lakeside and an unattached gentleman.  As we crossed another field my chest felt extremely tight and I started to feel a bit dizzy.  Kev helped me to lie down in the field and the others started to run back to check that I was OK.  Kev shooed them on ahead to continue.  I heard rustling above my head and saw Kev light up a fag!  Once he'd finished he helped get me back up and we continued.  My dizzy spell was over and I shoved some more Jelly Babies and peanut butter and banana balls into my mouth.  He commented on how white my top was from the amount of sweat I'd lost.  Once more my salty sweating was letting me down!
I felt much better by the time I got to the final checkpoint and we were into a regular run/walk routine.  I sat down briefly and was fed a chocolate chip muffin by one of the guys from club.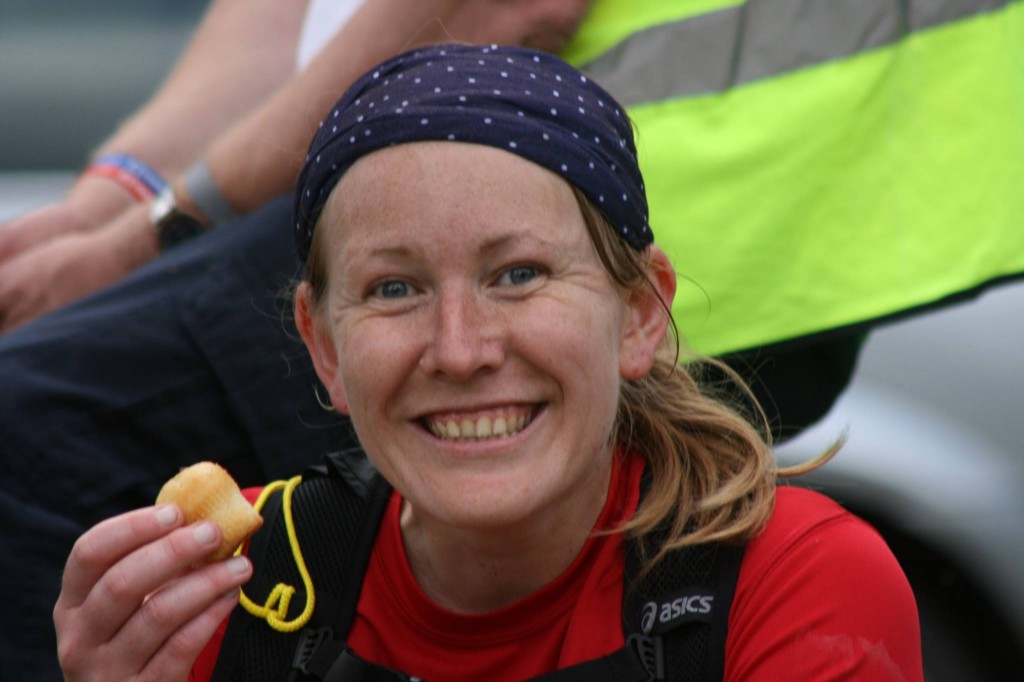 A couple of miles later we passed a pub and Kev checked with me I could remember which way the route was headed.  I told him I did, and could see the MK Lakeside ladies just ahead anyway.  He said he would catch up with me in a minute and I presumed he was going to make use of the pub toilet.  I caught up with the MK ladies, who were debating which way to head at a crossroads and after I'd pointed them in the correct direction we picked up a little speed once more.  Ten minutes on and we heard Kev come singing up behind us.  "Bloody marvelous Guinness that was!"  He'd only gone and stopped for a fag and Guinness with the locals, who found it hilarious that he was in the middle of a 35 mile race yet downing a pint at the pub!
One last uphill and we could see the finish line through the trees.  We began running from before the entrance to the Hall, and as my feet hit the grass and the Welly runners ran over to cheer us through my feet found a little speed for the finish.  As soon as I made it over the line I let myself lie down in a heap on the floor.  That is what I'd been looking forward to over the past few miles!
After a few minutes I shuffled my way over to the rest of our group to receive congratulations and to congratulate other runners.  I was the last one through from our club, with the first coming through in about 6 hours.  We were there for about 15 minutes before the group dispersed and I started to make my way back to the car park only to feel a wave of sickness and suddenly have to lie back down onto the ground.  The Kevs rushed over to check I was alright and when Kev tried to lift me from the floor cramps hit my leg so badly I ended in tears.  I've never cramped as bad as I did yesterday before.  They stretched out my leg for me whilst I writhed around in agony and then the others collected my belongings from around me and I got back to my feet to stagger back to the car.  We organised where we were meeting for pub dinner but I just wanted to head home, so jumped into the car ahead of the others.  I had to ask Julie to stop twice on the way home as I felt I was going to be sick and I got out and just lay on the side of the road until the feeling passed.  They rang Dan and he met me back in Wellingborough to take me home.  Everybody was absolutely fantastic, as always.  Can't believe I ended up such a mess!
Dan bought me a KFC chicken burger under my instructions on the way home.  Not something I would usually enjoy, but I knew it would be incredibly salty and it would help to eat something warm and 'real' quickly as apposed to the snacky foods I'd been picking at all day.  It must have taken me over an hour to eat but was incredibly salty and picked me back up.
I was pretty tired, having been up since 4:30am and lay in bed with the aim of going to sleep.  I was soaked through from both sweat and frequently tipping bottles of water over my head and Dan managed to get my clothes off and then was nice enough to warm me up with the hair dryer under the covers.  (Another amazing find!)  About half an hour later though and cramp and severely taken hold in both legs and feet simultaneously and I was sobbing and wailing like a wimp.  Loud enough to bring Dan upstairs and help try to relieve the pain.  I have never had cramp like this before.  After a few hours kip I woke feeling more refreshed and although the prospect of having an ice bath has never seemed appealing in the past, knowing that we currently had no running hot water it seemed the perfect time to try it and I managed an attempt at soaking my feet and legs and washing myself down before returning to bed for the night.
Despite my struggles yesterday I still LOVE this race and it was fantastic to see the race field double in size this year.  Some amazing times by our club members and super support as always.
My final finishing time was 8:40:22 – 44 minutes slower than last year, but time didn't matter to me this year.  It wasn't a goal race.
Checkpoints as follows:
| | | |
| --- | --- | --- |
| Checkpoint #: | 2013: | 2014: |
|  1 (4.53 miles) | 47m |  49:09 |
|  2 (8.44 miles) | 50m |  56:41 |
|  3 (15.94 miles) | 1h 43m |  1:55:32 |
|  4 (22.95 miles) | 1h 46m |  1:45:50 |
|  5 (28.64 miles) | 1h 37m |  1:37:19 |
|  6 (35.55 miles) | 1h 27m |  1:35:51 |
I find it quite interesting that from checkpoint 3-4 and checkpoint 4-5 it took me pretty much exactly the same time to cover the distance as last year.  We walked too often at the beginning for my liking and with so many of us it took much longer to get through each checkpoint, which also cost us some time.  I was still in within the cut-off time though and still got my medal.  That's what it's all about!