I've received bucket-loads more advice since other runners heard about how white from salt my t-shirt was by mile 18 during Sunday's race!  Telling people about it isn't a favourite pastime of mine and I learnt a while ago now that if I want to remain friends with some of the non-runners I spend time with, all running talk is best avoided full stop.  Never mind the dirty, disgusting or yucky stories!
I've always found during the Summer months that after a run my arms have been covered with a thin film of white salt on their surface by the end, but I just assumed this happened to all runners.
I was more concerned though at the Conti Lightning Run in May when my arms were pretty much white by the end and my shorts had a clear salt line on them after 10.5 hours of running.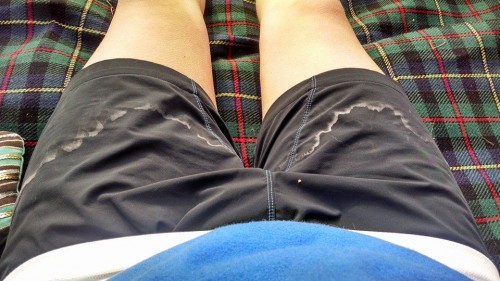 I thought it was a one off…I hadn't fueled correctly for the distance I was running so was certain I would do a better job at the Shires and Spires race this past weekend, taking a wide selection of goodies for my bag and knowing I had to eat more to balance out the amount of water I was taking on board.
However, same problem!  Despite eating Jelly Babies, pork pies, sausage rolls, salty and sour cream pretzels, along with some homemade peanut butter and banana oat balls my red t-shirt began showing patches of white by mile 18 on the course.
After the race Dan found me this link > > Salt in their sweat …"Research is increasingly showing that salty sweaters are at greater risk for muscle cramps and dehydration."  <<  Oh yep, I can vouch that we salty sweaters can have some awful muscle cramping experiences after my horrific experience on Sunday night!  The article talks about the differences in sodium loss in different athletes and how important it is to add more salty foods, or to salt more foods in your diet as a salty sweater runner.
A guy from club also sent me the link to H2Pro as he had sat in on a lecture they had put on in Milton Keynes last year and has used their products since.  I think it's rather interesting that they produce different products to help with rehydration dependent upon how much salt the individual loses.  Their website has a link for a quick questionnaire where you can check which product would be best for you based on your answers to questions about previous races.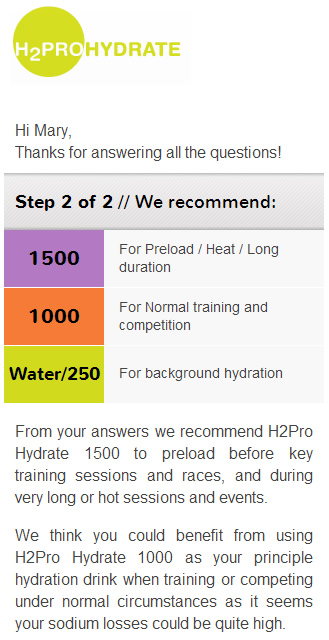 I'm planning on ordering some of the H2Pro Hydrate 1000 to see if it makes a difference to my running and will be crossing my fingers that it helps to replace some of the salt that I'm losing when I run long distance!
On Sunday I alternated one sip of nuun tablet water with three sips of plain water towards the end of my race, but thinking back I probably should have stuck with the nuun water, in order to ensure my water intake was not too high.
Hydrating with an ice lolly mid race was something I plan on repeating though!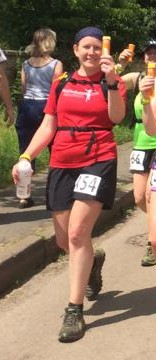 Are you a 'salty sweater'?!